Specialized Turbo Como SL 5.0 Review: A Solid E-Bike With a Hefty Price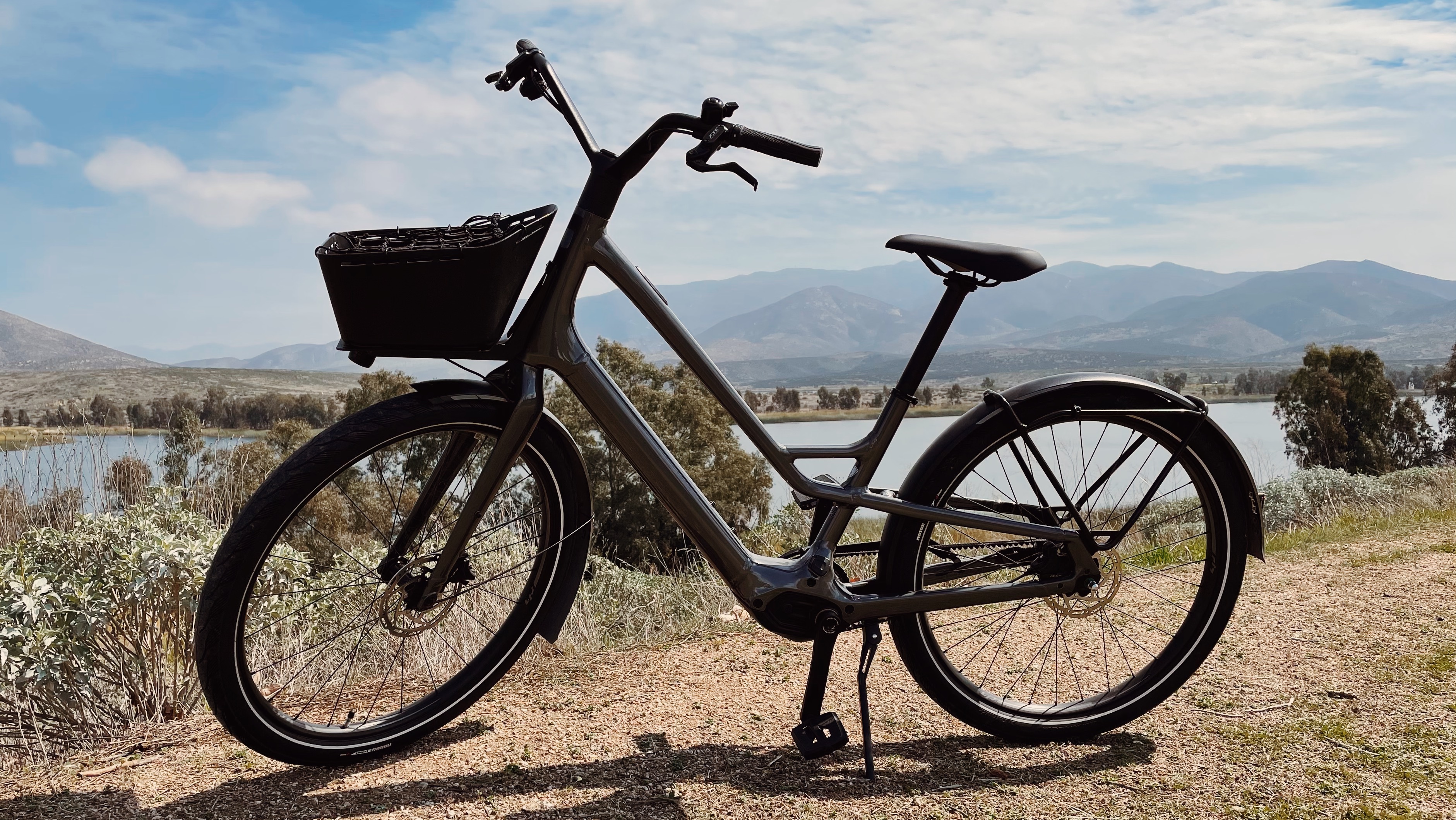 Seemingly, the world has changed in the last 12 months. Technology and future ideas that were promised to take over someday have come more quickly than they might have otherwise, without a global pandemic. Food service and ordering from even independent shops is more ubiquitous and accessible than ever. Similarly, e-bikes and new forms of local transportation are no longer on the fringe. They're finally gaining their promised popularity.
Specialized's newest e-bike series is ready for this new world where people bike to the grocery store, work or just out for fun more often. The pedal-assist electronics it features are generous enough to make all types of terrain bearable. The sticking point is that while it's a bike that everyone could enjoy, its price will put it out of reach for many. The Specialized Turbo Como SL 4.0 starts at $4,000, while the Como SL 5.0 comes in at $4,800.
The price may be steep, especially for first-time riders, but the e-bike does deliver a great overall experience.
Design and Feel
The Specialized Turbo Como SL is a mostly undercover e-bike. There are not a whole lot of external design elements that divulge it has a motor and battery tucked away. This is great. I've tried other e-bikes that revolve around their battery and wires—a look that's not flattering. The Como SL features a nonremovable battery inside its frame to accomplish this look. This will be limiting for those who can't park the bike near an outlet—either at work or home. Luckily, an additional battery can be added for external charging, but at an additional cost of $450.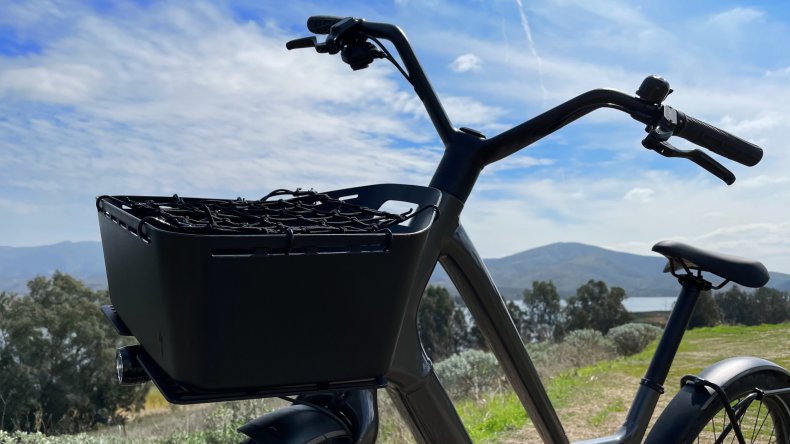 The bike's frame allows for step-through functionality with an angled-down bar. It resembles a beach cruiser in some ways, with handlebars and seat positions that will have you sitting up straight. The Como SL design is one that suggests a more casual experience. This is especially true with its front basket attached. This basket is standard on both models. Its functionality may be useful, but I felt silly riding around with it.
The 5.0 bike should come with a small LCD display, but my review unit was missing it. I actually had no idea it was even supposed to be there until near publication, so there wasn't a chance to see it in action and test its usefulness. The bike worked without it, of course, but the visuals would have been nice. The 4.0 does not come with the LCD, but one can be purchased for $90.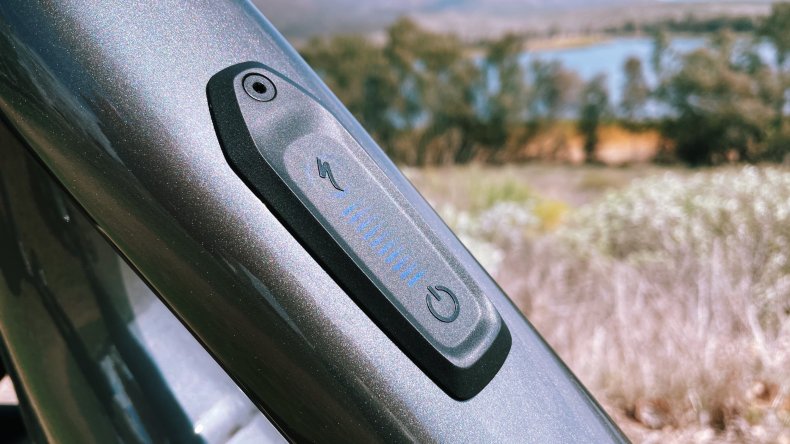 A small plastic interface on the down bar in front of the rider contains the battery level, on and off button and mode selector. Once the bike is on, pressing the mode selector button multiple times will cycle through its different pedal-assist power levels. This design is a neat way of packing in the electronic parts without drawing much visual attention to them.
Como SL 5.0 is an overall lightweight e-bike. Some other e-bikes can get heavy because of their extra parts, but Specialized noted to me that weight was definitely a priority when designing this model. Its size and weight match up visually. It's around 47 pounds, depending on the specific model variation—no heavier than you'd expect a bike this size to be.
How an E-Bike Works in Practice
It was easy to tell this Specialized e-bike is well built the first time I hopped on. From the pedals to the frame, it all felt strong and durable. This bike is made for all kinds of city cycling, but it can also handle gentle path riding without problems. It has wide, stable tires and a comfortable seat. It's fun to ride. It's also easy to imagine how this bike would make a great commuter bike with its pedal-assist electronics packed in.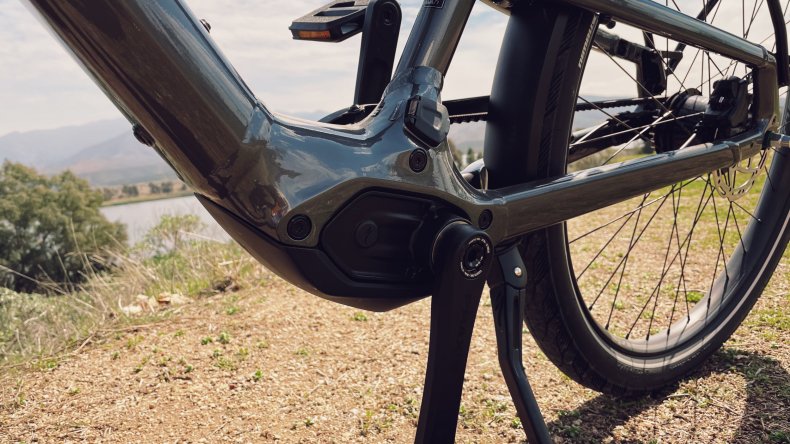 For those less familiar, the pedal-assist terminology means there's no throttle for a rider to control. The bike only adds power when pedaling takes place. You can't hop on and start cruising at 25 miles per hour. There are three power settings on this bike. The lowest setting only adds a little power to keep inclines from being so intimidating. The middle setting is very capable of tackling hills. The highest setting, of course, helps the most and makes riding feel fairly effortless.
I've ridden a few pedal-assist e-bikes, and this one compares favorably. All the speed modes provide a dedicated level of power regardless of your gear setting. I tended to live in the two highest modes. I think most people who've tried an e-bike will tell you the same thing. The lowest setting probably won't get used much unless you're concerned with battery life or really want to get some exercise.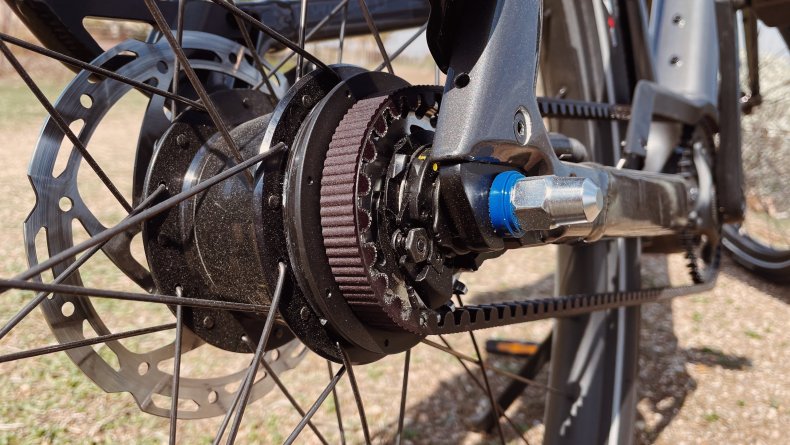 The battery is stated to last about 60 miles, considering multiple factors. Riding primarily in the middle and high modes, I never saw that high number. I've heard from a friend with a different model e-bike that his never seems to reach its advertised range, either. It's also worth being aware that you may have to carry the charger with you at some point while riding.
Immediately upon the first ride, it's noticeable how smooth and responsive the belt drive and gearing are. They're a big part of what makes this bike feel so premium. The bike is also constructed well. Riding several miles on a packed-dirt path was just as nice as riding on the street.
A testament to the Como SL's performance is that I had a pretty good feel for the bike after the first 5-mile ride home. After the first 60 miles, very little had changed in my impressions of it from the first ride. There were no surprises, even as I continued to ride further. It's great for biking in various conditions. It really is suited for mainstream cyclists and can fill a lot of roles.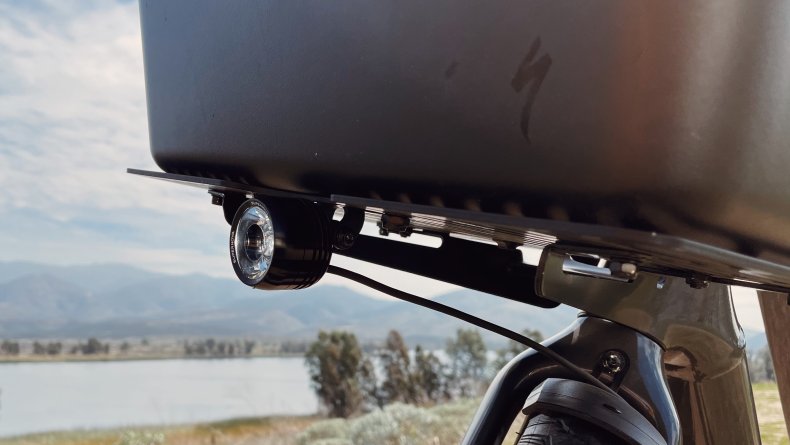 While I didn't have the LCD display on the bike, Specialized's Mission Control app will provide some visual information. Inside the mobile app, you can tune different settings and diagnose the bike if something seems off. To view past rides, you do need to record each one ahead of time. They will not be recorded automatically. Personally, I hated having to open the app and mess with it before every ride. Half the time I forgot, and plenty of times I didn't want the GPS to stay activated on my phone for the entire trip.
My Apple Watch provides a map when I select a cycle exercise, so I touched the Mission Control app less and less as I rode. When I tried a similar, high-tech focused e-bike from VanMoof, I thought it had a little better app experience because of its automatic ride detection—no starting a ride required. VanMoof's app also includes security features, which are neat.
One unique thing Specialized's Mission Control app can try to do is extend the bike's range. You can use Smart Control to use the company's special machine learning sauce to take over the power levels and adjust them automatically. This could be helpful if you have a really long commute.
Should You Buy the Specialized Como SL?
If Specialized's Como SL fits in your budget, it's a great e-bike. The company has a legacy of quality that may convince you to drop $4,000 plus on an e-bike when there are other cheaper ones. Even among nonriders, Specialized is a known premium brand. The price can be justified—it might just be hard to swallow.
Because personal electronic transportation is growing, it means that the Como SL e-bike isn't alone. You can find bikes that may be suitable for close to half the price. Those may not last as long, though. You'll have to decide how much legacy and reputation factor into your e-bike plans.
Buy at Specialized and Mike's Bikes.
Newsweek may earn a commission from links on this page, but we only recommend products we back. We participate in various affiliate marketing programs, which means we may get paid commissions on editorially chosen products purchased through our links to retailer sites.