Spectacular Drone Footage Captured of Planet's Largest Group of Nesting Green Sea Turtles
Researchers have captured spectacular drone footage of the largest group of nesting green sea turtles on the planet.
The video, taken in December 2019, shows more than 60,000 green turtles near Raine Island—located on the Great Barrier Reef off Australia's northern tip—as they wait to come ashore and lay clutches of eggs.
Scientists recorded the video as part of research to conduct an accurate population survey of the animals that nest at the world's largest green turtle rookery.
"We're seeing the world's largest aggregation of green turtles captured in these extraordinary drone images that are helping to document the largest turtle numbers seen since we began the Raine Island Recovery Project," Great Barrier Reef Foundation Managing Director Anna Marsden said in a statement, referring to an ongoing conservation project that aims to protect and restore the island's nesting habitat.
"This important research combines science and technology to more effectively count endangered green turtles," she said.
According to a study recently published in the journal PLOS ONE, using drones, or Unmanned Aerial Vehicles, to film the turtles and then determine their numbers is the most efficient way to carry out this kind of survey, although capturing underwater video with a Go-Pro was also found to be a useful alternative.
During past population surveys, researchers painted white stripes on some of the turtles' shells while they were nesting on the beach using non-toxic paint that washes off after a couple of days.
The scientists would then head out into the water aboard a small boat in order to count the number of painted and non-painted turtles, using the ratio to estimate the total population. However, this method resulted in inaccuracies when calculating the overall numbers.
"Eyes are attracted much more to a turtle with a bright white stripe than an unpainted turtle, resulting in biased counts and reduced accuracy," Andrew Dunstan, an author of the study from the Australian state of Queensland's Department of Environment and Science, said in a statement.
"Trying to accurately count thousands of painted and unpainted turtles from a small boat in rough weather was difficult."
For the latest survey, Dunstan and colleagues painted some of the turtles—around 2,000 individuals—just like previous research. But instead of counting the turtles from a boat, they used drone footage instead, analyzing every frame of the video in the laboratory, which the researchers said reduced errors.
"Using a drone is easier, safer, much more accurate, and the data can be immediately and permanently stored. The ratio of unpainted and painted turtles allowed us to estimate the total population for last December to be 64,000 green turtles waiting to nest on the island," Dunstan said.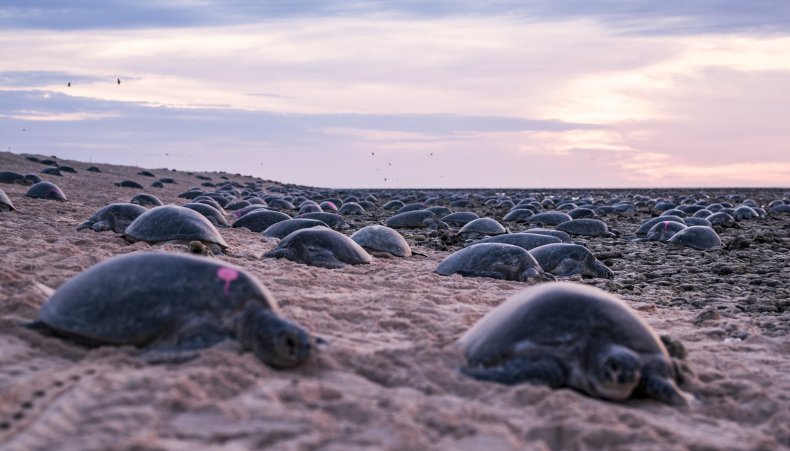 Another author of the study, Richard Fitzpatrick from the Biopixel Oceans Foundation, said that counting the turtles from boats led researchers to underestimate turtle numbers by a factor of 1.73 in the past when compared to drone-based counts.
"By using drones we have adjusted historical data. What previously took a number of researchers a long time can now be by one drone operator in under an hour," Fitzpatrick said in the statement.
According to the researchers, having an accurate estimate of turtle numbers is crucial to evaluating conservation interventions aimed at improving reproductive success among the turtles, such as those being carried out by the Raine Island Recovery Project.
"We're taking action to improve and rebuild the island's nesting beaches and building fences to prevent turtle deaths, all working to strengthen the island's resilience and ensure the survival of our northern green turtles and many other species," Marsden said.
Green sea turtles are found in tropical and subtropical seas around the world, although the species is classified as "Endangered" by the International Union for Conservation of Nature. The animal faces several threats, including loss of nesting beach sites, being caught in fishing gear, the hunting of adults and over harvesting of eggs by humans, according to the World Wide Fund for Nature.