'Speed Sisters' Documentary Spotlights the Middle East's First All-Female Racing Team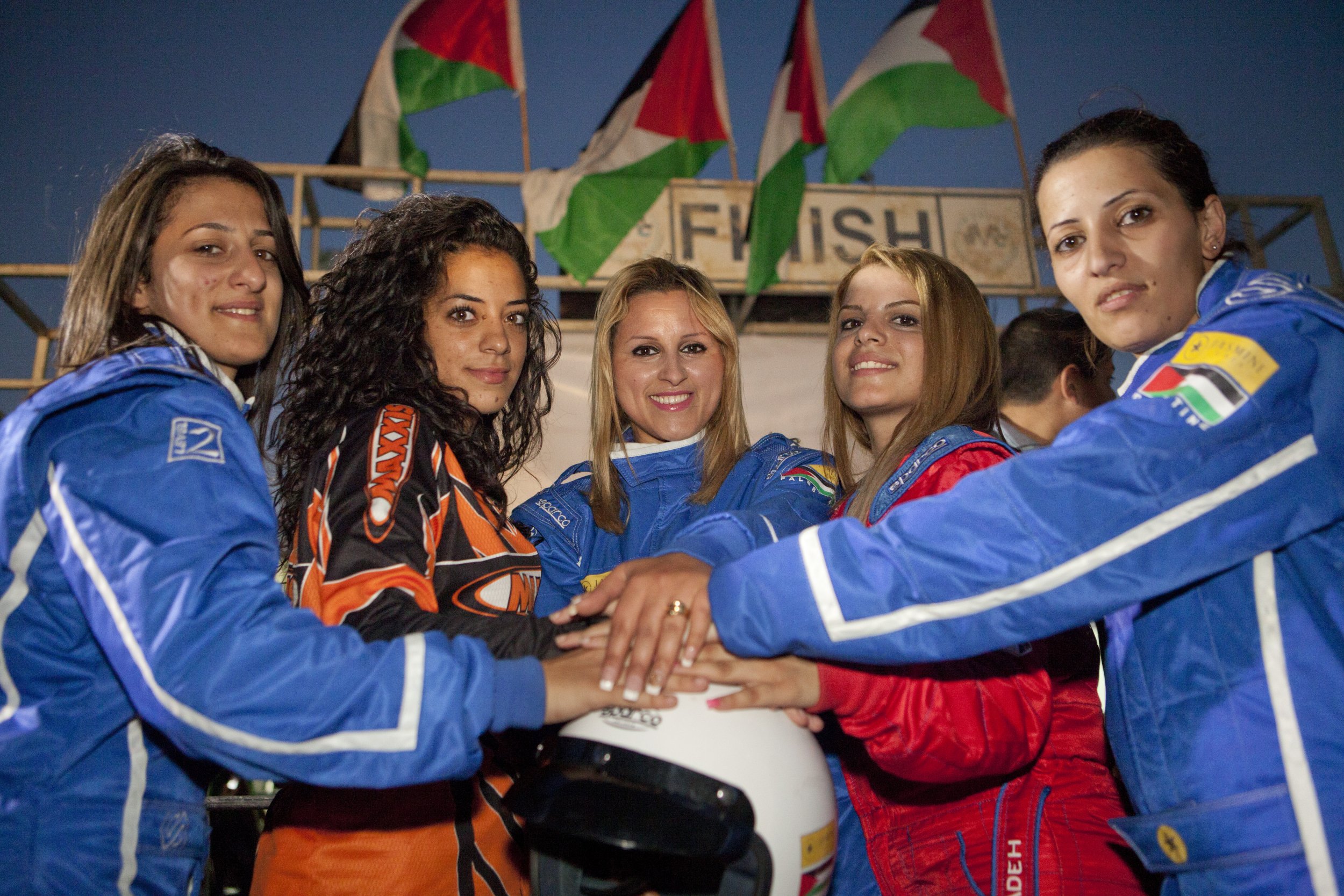 A makeshift racetrack in the Palestinian West Bank is edged with spectators on a clear day. The national flag is lifted to start the race and a red car bursts forth, followed by black, white and blue cars that drift around the track and weave in between cones.
Set to a soundtrack of Middle Eastern heavy metal music, this is our first introduction to the five women who belong to the first all-female racing team in the Middle East, the focus of Speed Sisters, a new documentary film directed by Amber Fares.
Filmed between 2011 and 2013, Speed Sisters captures the everyday lives and racing triumphs of the team—Betty Saadeh, Mona Quraan, Noor Daoud, Marah Zahalka and captain Maysoon Jayyusi Al-Jariri—as well as the difficulties that come with living and practicing competitive racing in a war zone. Over time, space to practice becomes limited and Saadeh is filmed getting hit by a tear gas canister, which results in severe bruising.
"The occupation is unpredictable and constant at the same time," Fares tells Newsweek. "You just don't know when things are going to happen, but they do happen with frequency."
While Fares's film covers the lives of all five women, it's two who stand out. Mexico-born Saadeh considers herself both Palestinian and Latina and is busy building her brand as a glamorous, ultra-feminine driver: In between shots of Saadeh at the wheel, she gets her nails painted red and topped with diamante hearts as she scrolls through photos of herself on her phone.
While she doesn't always score as many points as her biggest rival, Marah, whose supportive father is a constant presence in the film, she is fast and "demanded a lot of attention," says Fares. "But the dynamics were the same of any sports teams I've played on."
She adds: "Regardless of whether there were tensions, they always saw themselves as a team and acted as such." While she anticipated pushback because the film shows strong, fearless women, Fares says she was pleased to discover that audiences were drawn to them instead.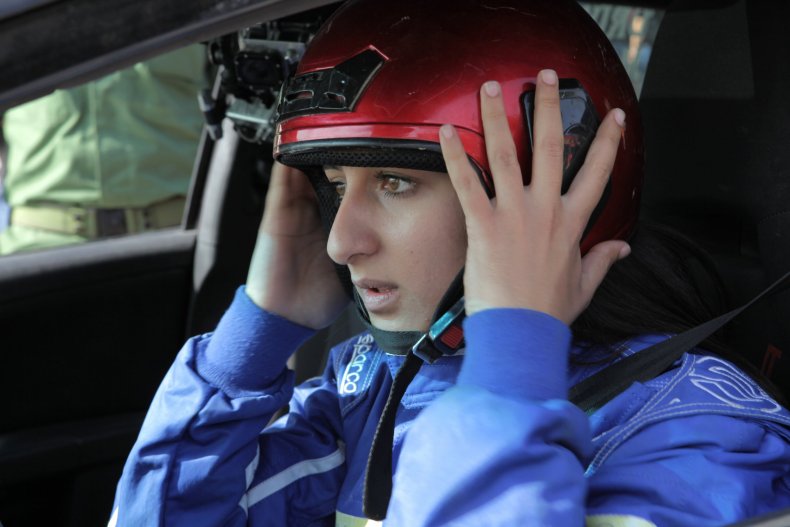 Fares, who comes from a Canadian and Lebanese background, was living and working in Ramallah, in the West Bank, when she was invited to see a race in Bethlehem in late 2009. The location of that race, it turned out, was the site of helicopter pad used by former Palestinian leader Yasser Arafat, says Fares.
"I just remember thinking to myself, I was quite surprised because with all of the impediments to lack of movement, mazes of checkpoints, and really little space, I couldn't figure out where they were having the races," she tells Newsweek.
Fares says there's been a positive reaction from Palestinian and Arab audiences, although Palestinian audiences have picked up on parts of the film that might evade American or European viewers. Zahalka and her family are from Jenin, a conservative part of the West Bank that includes a decades-old refugee camp. By the end of the film her family have saved up enough money to buy their own plot of land, which elicited cheering and clapping during screenings in Palestine.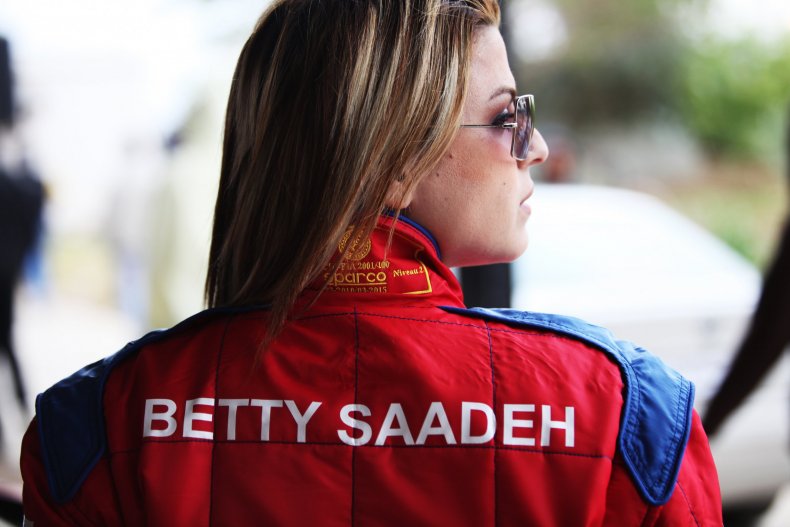 "To Palestinians, the fact that Marah's dad came from Jenin camp has a lot of symbolism. Jenin has it's own sort of place within the context of Palestine and their own regional stereotypes," says Fares. "To have a family like the Zahalkas come from what's considered such a conservative town, that hit home with a lot of Palestinians." She added: "We've made sure it's really accessible to Palestinians," who can choose where and how to screen it.
Speed Sisters has been shown across the Middle East, including in Qatar, Dubai, Egypt and Turkey. It was also shown to a group of Syrian refugees in Sweden, and on Wednesday it was screened at the United Nations by the Permanent Observer Mission of the State of Palestine to the U.N. Fares hopes her film will shatter myths that those in the region have about Palestine.
"For other Arabs, it's very difficult for them to travel to Palestine because all of the borders are controlled by Israel. It's very hard for them to get visas and come in," she says. "They rely on the news media to find out what Palestine is like and they have the same types of stereotypes that the rest of the world has."
Speed Sisters is showing in select U.K. theaters until April 29 and in Brussels, Belgium, until April 16. It will be available on iTunes in select countries on May 9. The film is premiering at film festivals across the U.S. with wider U.S. release plans and dates to be announced.