Jimmy Mondal Talks 'Speedrun,' eSports and the State of Gaming in 2020
Like other industries in the world, gaming has been greatly affected by COVID-19.
Whether it's the cancellation or alteration of eSports tournaments, delays to video game releases, or the cancellation of some of the industries biggest events like Electronic Entertainment Expo (E3), the gaming industry has had to adapt quickly this year.
Speedrun by Polygon, a video games-centric news show, was no exception to these harrowing changes.
"You don't expect what's going to happen so the Polygon editorial and management team and Quibi production team put their heads together and pivoted super quick," Speedrun host Jimmy Mondal told Newsweek. "They sent me a ton of gear to my one-bedroom apartment and they found a way to make this small space work beautifully for the show. Honestly it couldn't have gone smoother. It was a crazy pivot that I have to give them the utmost props for."
Speedrun gives the latest news in the world of video games in bite-size episodes on the Quibi streaming service. Whether it's the latest update of when a long-awaited game is set to release, or a look at how those in quarantine are building their dream islands in Animal Crossing: New Horizons, there's something for everyone in each episode of Speedrun.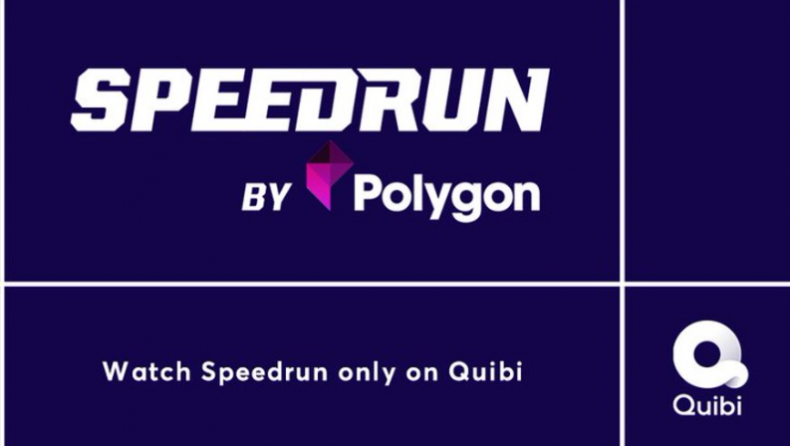 Video games are being consumed at a record pace. According to a Statista survey in March, people spent 45 percent more time playing video games than the week prior.
"So many people are playing games now and it's for a couple of different reasons," Mondal explained. "They're at home, trying to escape their own minds and their own worlds."
Mondal points to a few games where people are staying connected while in quarantine. Whether it's holding social events in the aforementioned Animal Crossing: New Horizons, attending a concert in Fortnite or simply teaming up with friends to play a few matches in League of Legends, video games have brought people together and given them an outlet.
"We actually spoke to Rebecca Ford--live operations and community director with Digital Extremes--and they work with Warframe and they are able to see in their data that country by country as quarantines are being implemented in that country, they are seeing way more people are playing," Mondal said. "More people are playing because more people are stuck at home."
Mondal himself is playing New Horizons, but has spent a lot of time playing Tekken. But it's Valorant, a new multiplayer tactical first-person shooter from Riot Games that's taking a lot of Mondal's time these days.
But as the summer months hit, the reality that annual events such as E3 and EVO can't happen as they were originally intended set in.
EVO, for example, is the biggest fighting game tournament in the world. This year, organizers have pivoted to an online format called EVO Online where competitors play online as opposed to being in the same venue. This has led to some interesting discussions regarding a game's netcode--the networking of online games--moving forward.
"EVO's decision to become EVO Online is intriguing and is going to be interesting to see the long-term impacts of this are," Mondal said. "[The organizers] nixed a bunch of games that were super popular because their netcode was bad."
Mondal has competed in eSports tournaments and has built a career as a play-by-play and color commentator for some of the largest global eSports Leagues. With that experience, Mondal explains that EVO Online's game selections have shined a light on some issues in the gaming community that need to be addressed. Specifically, these issues include how good a game's netcode is, how reliable someone's internet is, and studio's developing a game that works well over the internet.
While eSports look to adapt to a COVID world, so do video game publishers and studios trying to build anticipation around its latest releases. While go-to events like E3 and Comic-Con International have already been cancelled, it's been up to publishers like Sony, Microsoft and Nintendo to create their own hype.
"It makes more sense for Xbox to announce its own thing and have all that hype and publicity then to centralize it through something like E3," Mondal said. "Nintendo realized that a long time ago, Sony has realized that as well. They can build their own hype and run on their own schedule. Nintendo can pull out Paper Mario out of nowhere and the world goes crazy. They understand what their audience wants and how to give it to them."
While the pandemic has altered how people consume games and studios publicize them, 2020 is still looking to be a pivotal year for the industry highlighted by Sony and Microsoft releasing its first consoles in seven years, the PlayStation 5 and Xbox Series X respectfully. And that has Mondal optimistic about the outlook for this year.
"My outlook [for 2020] is still positive. I'm less excited for the single-player experience, but there are some good games coming out," Mondal said. "Having Valorant already released is huge. Personally, Riot Games announcing that so early has me excited for their fighting game, Project L. Other than that I'm really excited for what comes out of this period with so many eyes on this space. 2020 was already set to be a huge year and although we've had this setback where everyone is at home, I think given a little more time and influx of people playing, the games industry is set for an exponential growth in the near future. Even more so than we've seen in the last few years."
With so much happening in the industry, Mondal hopes people check out Speedrun on Quibi for some great insight in the world of gaming and for the latest updates. And the Speedrun team is growing with the addition of Smosh Games co-founder Mari Takahashi as a correspondent beginning the week of June 29.
"We have an incredible editorial team from the Polygon and Quibi side. Having the Polygon editorial is huge for their awesome deep dive and analytical pieces," Mondal said. "So Speedrun is a great magnifying glass to give the bird's-eye view for what's important from our day-to-day perspective in seven minutes that's going to be super relevant no matter what."
You can watch Speedrun by Polygon on Quibi on demand any time with new episodes premieres every Monday, Wednesday and Friday.