Spelling Bee Champ Zaila Avant-garde's Hoops Highlight Tape Has Internet in Awe
Zalia Avant-garde may be the national spelling bee champion as of Thursday night, but it's her basketball skills that have people talking online.
The 14-year-old from New Orleans became the first Black American student to take the 93rd Scripps National Spelling Bee title with the word murraya, beating out 10 other finalists who fell away in the competition's last rounds.
As if it weren't remarkable enough that the teen slam-dunked on the competition stringing together the dictionary's toughest terms, before her win, Avant-garde became a three-time Guiness world record holder for dribbling, bouncing and juggling basketballs. Her highlight tape circulated on social media Friday, garnering praise and astonishment from users congratulating her for her many talents.
"To finally have it, like the best possible outcome, it was really good," the soft-spoken Avante-garde told Good Morning America of her win. She added she hopes her victory inspires other Black students to compete in the national spelling bee.
But basketball, Avant-garde told her hometown newspaper nola.com, is what she's really passionate about. She hopes to play in or coach the WNBA one day, and with the level of giftedness seen in the footage she shares on social media, such a feat would be unlikely to surprise anybody.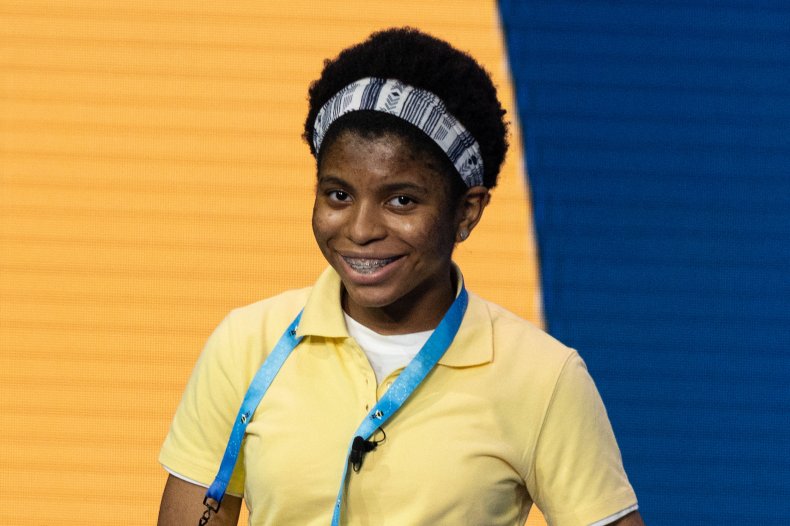 She holds the Guinness world records for most bounces juggles in one minute (four basketballs), 255, most basketballs dribbled simultaneously (six) and most bounces in 30 seconds (four basketballs).
According to nola.com, she started practicing basketball when she was five and became determined to win a world record when her parents gave her a Guinness book at eight. She attempted the world record at 13.
"Basketball, I'm not just playing it," Avante-garde told nola.com. "I'm really trying to go somewhere with it. Basketball is what I do. Spelling is really a side thing I do. It's like a little hors d'ouevre. But basketball's like the main dish."
In her highlight video, Avante-garde can be seen gliding across the court and tossing the ball into the basket again and again, untouchable as she swerves past her opponents. Other videos the middle-schooler shares online inspire just as much awe, such as one in which she rides a unicycle while dribbling multiple balls.
In addition to the $50,000 prize for the bee win, Avant-garde also drew the praise of First Lady Jill Biden and Martin Luther King Jr.'s youngest daughter, Bernice King.
"I think the more that the achievements and triumphs of women are promoted and publicized, the more likely it is that little girls all around the world will see that they can do any and everything that they put their minds to," Avante-garde said in a short film made about her in 2020 by Guinness World Records.