U.S. National Spelling Bee Contest: 12-Year-Old Girl Wins $40K Prize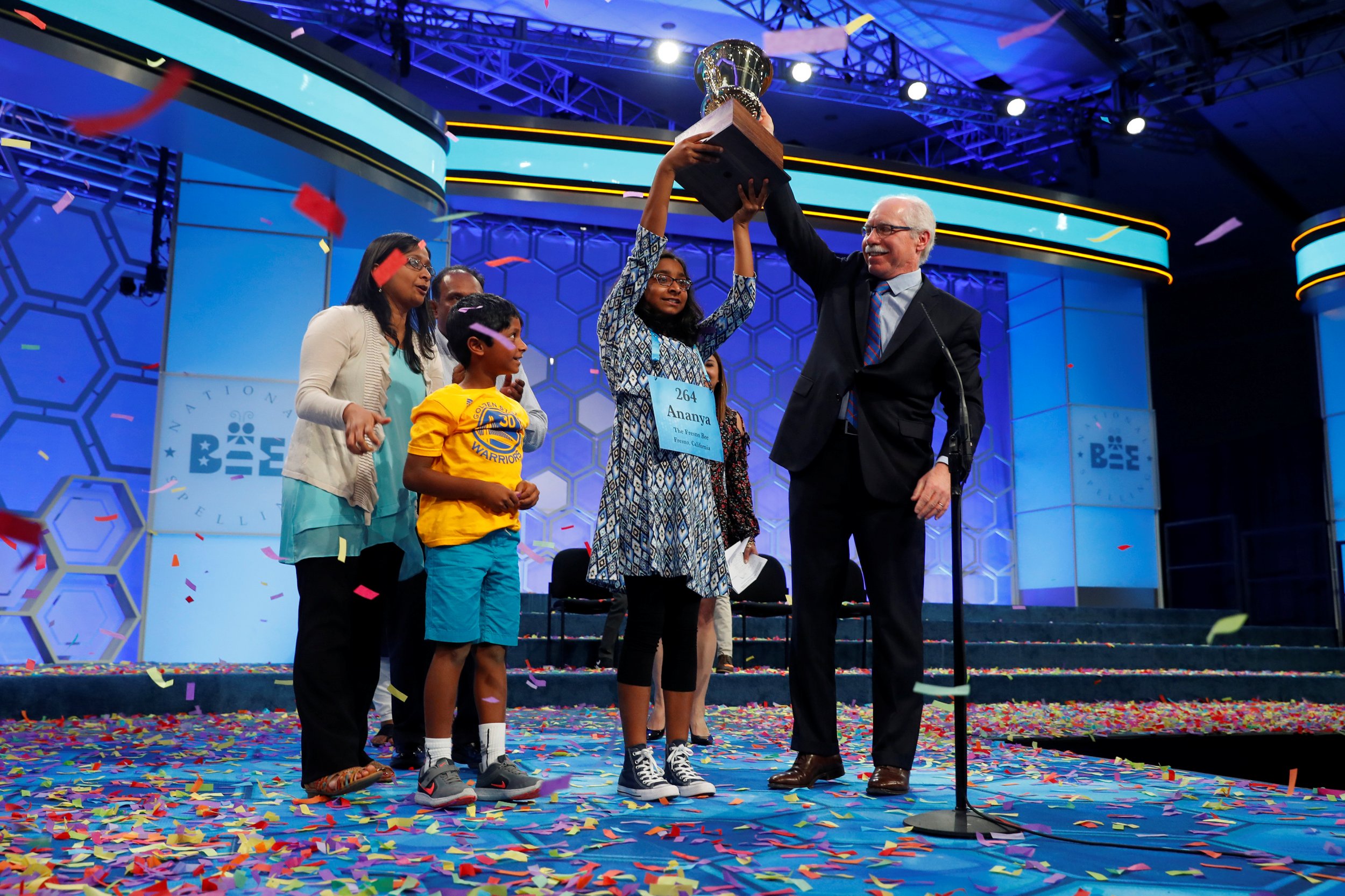 A late-night showdown between a girl and a boy at the Scripps National Spelling Bee has landed a sixth-grader the championship title and $40,000 in cash and prizes.
Twelve-year-old Ananya Vinay from Fresno, California, faced off against 14-year-old Rohan Rajeev, each correctly spelling "heiligenschein," "durchkomponiert" and sceloporus over 21 championship rounds in the lead-up to the winning word.
When Rajeev failed to spell the Scandinavian-derived word "marram" during his turn, Vinay spelled two in a row correctly. The word that broke the stalemate was "marocain," which refers to a dress fabric of ribbed crêpe.
Vinay didn't seem worried about the difficulty of the words and later said: "I knew them all."
At 11:30 p.m., Vinay was on the stage with confetti falling all around her as her parents and brother ran to embrace her in celebration.
When she was told that she would have to give a speech during the closing ceremonies Friday, she said it wouldn't be a problem. She had already prepared one week in advance to "motivate me to study more," Vinay told the Associated Press.
The 90th Scripps National Spelling Bee was broadcast on sports network ESPN and this year featured the youngest speller in the event's 90-year history: 6-year-old Edith Fuller of Tulsa, Oklahoma. In the first round she correctly spelled "nyctinasty."
Read more: Happy Scripps National Spelling Bee: Here are 90 crazy words for the contest's 90th birthday
Along with 100 other spellers, little Edith's test score wasn't high enough to make the finals. But she has other plans for the future and hopes to invent a new kind of refrigerator, she said at a press conference.
Vinay's win marks the first time since 2013 that a single victor has won. The competition, which hosts contestants up to age 15, has been tied for three straight years and introduced a tiebreaker test this year.