Spending Bill Likely To Pass Senate, Sparing Americans Shutdown Drama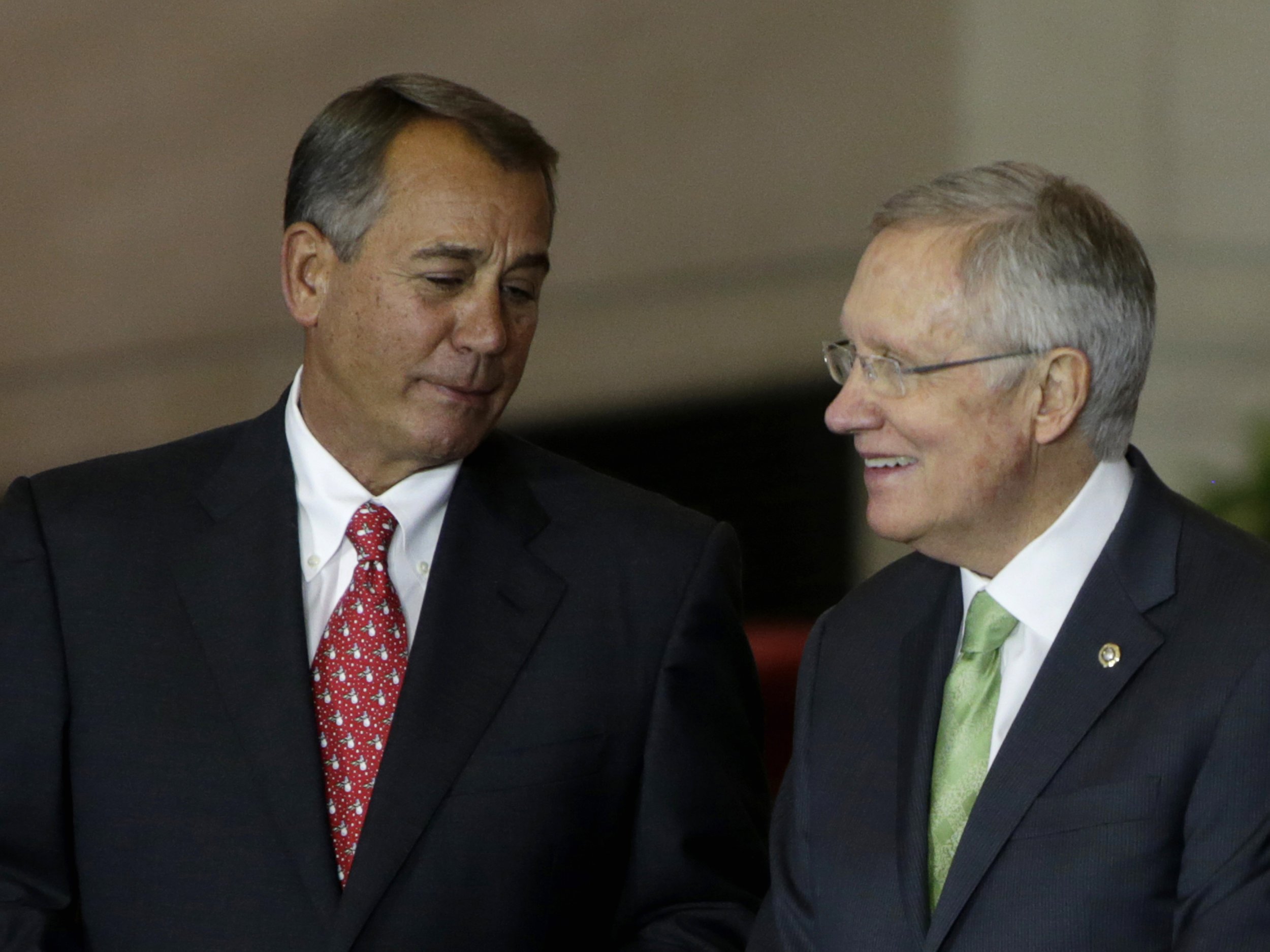 WASHINGTON (Reuters) - The U.S. Senate looked set to pass a $1.1 trillion spending bill in time for a Saturday night deadline, following a narrow House of Representatives vote that averted a government shutdown but exposed fraying unity among President Barack Obama's Democrats.
Senate Democratic leader Harry Reid said he hoped the bill would pass on Friday to spare Americans the drama of yet another budget crisis. While there could be some opposition to the measure from both the left flank of the Democrats and some Republicans, it appeared it would garner the 60 votes needed in the 100-seat Senate to overcome any procedural blocks.
A revolt over controversial financial provisions by House Democratic leader Nancy Pelosi, long a staunch Obama ally, led to a day of tension on Capitol Hill on Thursday.
Democrats, aware of the need for unity when Republicans take full control of Congress next year after their midterm election gains, tried to tamp down speculation of a lasting split between the president and Pelosi. One leadership aide said Pelosi had fired a warning shot to Republicans that House Democrats would fight hard in the new year.
Newsweek subscription offers >
The House vote was delayed for seven hours after Democrats balked at provisions to roll back part of the Dodd-Frank financial reform law, an early legislative achievement of the Obama administration that was passed in response to the 2008 financial crisis and aimed to rein in risk-taking by Wall Street. Democrats also objected to a provision allowing more big money political donations.
The Senate was armed with a 48-hour extension to allow more time to consider the measure and was likely to pass it more easily, although opponents could seek to delay the vote until the 11th hour using tactics such as insisting on a full debate. Reid urged quick passage.
"Since 2011 we have lurched from crisis to crisis with the country constantly under the threat of shutdown or financial catastrophe," he said on the Senate floor. "It's a very bad habit and the American people are very, very tired of it."
Senate Republican leader Mitch McConnell is also anxious to avoid another unpopular government shutdown as the Republicans head toward taking control of the Senate after the November elections that also gave them a larger majority in the House.
Newsweek subscription offers >
The 1,603-page bill, negotiated by Republican and Democratic appropriators and leaders, blindsided some Democrats and drew their ire when they discovered it would roll back a provision of the Dodd-Frank law due to go into effect next year.
That provision would kill planned restrictions on derivatives trading by large banks, allowing them to continue trading swaps and futures in units that benefit from federal deposit insurance and Federal Reserve loans.
PLAYING DOWN THE DIVIDE
Democrats seeking to play down the Pelosi-Obama divide noted that the two actually were in agreement that the Dodd-Frank measure and some other Republican add-ons were objectionable, but differed on whether to stop the bill because of them.
And while Pelosi put up a spirited fight to kill the add-ons, she stopped short of trying to slay the spending bill late Thursday by demanding "no" votes by her Democrats.
According to a source who attended a Thursday night private meeting of House Democrats as the legislation was hanging in the balance, Pelosi told her rank-and-file: "'I'm giving you the leverage to do whatever you have to do,'" as she refrained from asking lawmakers to vote a particular way.
The battle was a warning to Republicans against further "eroding Dodd-Frank or ACA," said a House Democratic leadership aide, referring to Obamacare, the president's landmark healthcare law.
If Senate Republicans manage to lure the support of enough Democrats in that chamber to advance objectionable legislation, "Should the president threaten a veto, the votes will be here in the House to sustain it," Pelosi said.
Democratic fervor against the Dodd-Frank provision was stirred up in part by Senator Elizabeth Warren, long critical of Wall Street and viewed as a possible 2016 presidential candidate.
She repeatedly railed against it this week in Senate floor speeches that talked of Wall Street being allowed to "gamble with taxpayer money" and that caught fire with many House Democrats.
In the 219-206 House vote, 67 Republicans rejected the spending bill, largely because it failed to take action to stop Obama's executive immigration order last month shielding millions of undocumented immigrants from deportation. But that was offset by 57 Democrats who voted in favor.
If passed by the Senate, the spending bill would fund all government agencies through September 2015, except for the Department of Homeland Security, which would get an extension only through Feb. 27. The DHS is the department mainly in charge of implementing Obama's immigration order.
Spending Bill Likely To Pass Senate, Sparing Americans Shutdown Drama | U.S.