With less than a month before the January 5 Senate runoff elections in Georgia, both parties are pouring more and more money into the campaigns of GOP incumbents David Perdue and Kelly Loeffler as well as their Democratic challengers, Jon Ossoff and Raphael Warnock.
Combined spending for both races surpassed $400 million this week. The total was $431 million as of early Friday afternoon, according to data from AdImpact (formerly Advertising Analytics).
The Democrats are so far outspending their Republican opponents. Ossoff has spent the most of the four candidates, with $74.7 million to date, followed by Warnock with $63.6 million. Loeffler has spent $47.1 million, while Perdue has spent $42.6 million.
Ossoff holds the largest share of voice in Atlanta and Augusta, with 27 percent and 29.6 percent of the market, respectively, while Perdue holds the largest share in Savannah, with 27.7 percent. Share of voice is the percentage of media spending by one candidate, compared with the total media expenditure by all four.
The Democrats' commanding spending lead was seen across the country in this last election cycle. Democrats greatly outspent their GOP counterparts, $1.14 billion to $769 million.
The 2019-2020 political cycle saw an enormous boom in political advertising. This year, $8.5 billion was spent across television, digital and radio—a 108 percent increase over the 2017-2018 cycle, which itself had been a record-setting cycle.
The advertising dollars bought 9.3 million TV ads in more than 4,300 federal, state and local races, according to AdImpact's annual Political Cycle in Review. Broadcast and cable made up just under 80 percent of paid advertising.
Digitally, Facebook saw roughly twice the political ad spending as Google did, although the bulk of spending for Facebook was on direct response ads, which ask viewers to sign up for mailing lists or to contribute and donate. Google spending was split almost evenly between persuasion ads, which aim to influence undecided voters, and direct response ads.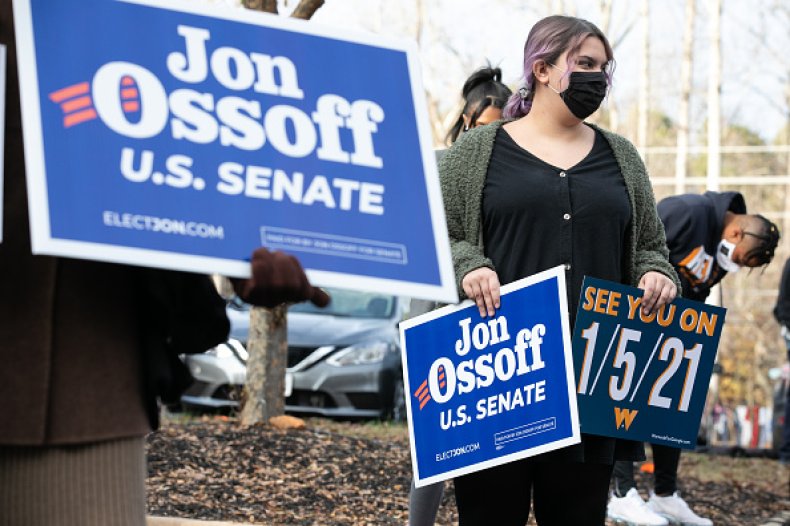 The record-shattering spending of the 2020 presidential race was driven by the three largest spenders in presidential history: President-elect Joe Biden, who spent $652 million; Democratic candidate Mike Bloomberg, who spent $582 million; and President Donald Trump, who spent $381 million.
Democrats accounted for more than half of the political ad spending this cycle, while Republicans spent roughly 32 percent of the total dollars. Independents made up the remaining 11 percent.
This year also saw 10 of the most expensive Senate races of all time, and the spending was largely driven by a flood of small-dollar donations to Democratic candidates.
The race in Georgia between Ossoff and Perdue was one of these races. Ossoff spent $25 million in the November general election, while Perdue spent $12 million. The Georgia Senate races had total spending of $128 million before the runoff elections were declared.
This week saw 40 political TV ads referencing the coronavirus pandemic. Only three of these ads aired outside of Georgia. The three ads targeting COVID-19 with the most airings were all from Ossoff's campaign.