Is the Spice Girls Reunion Happening?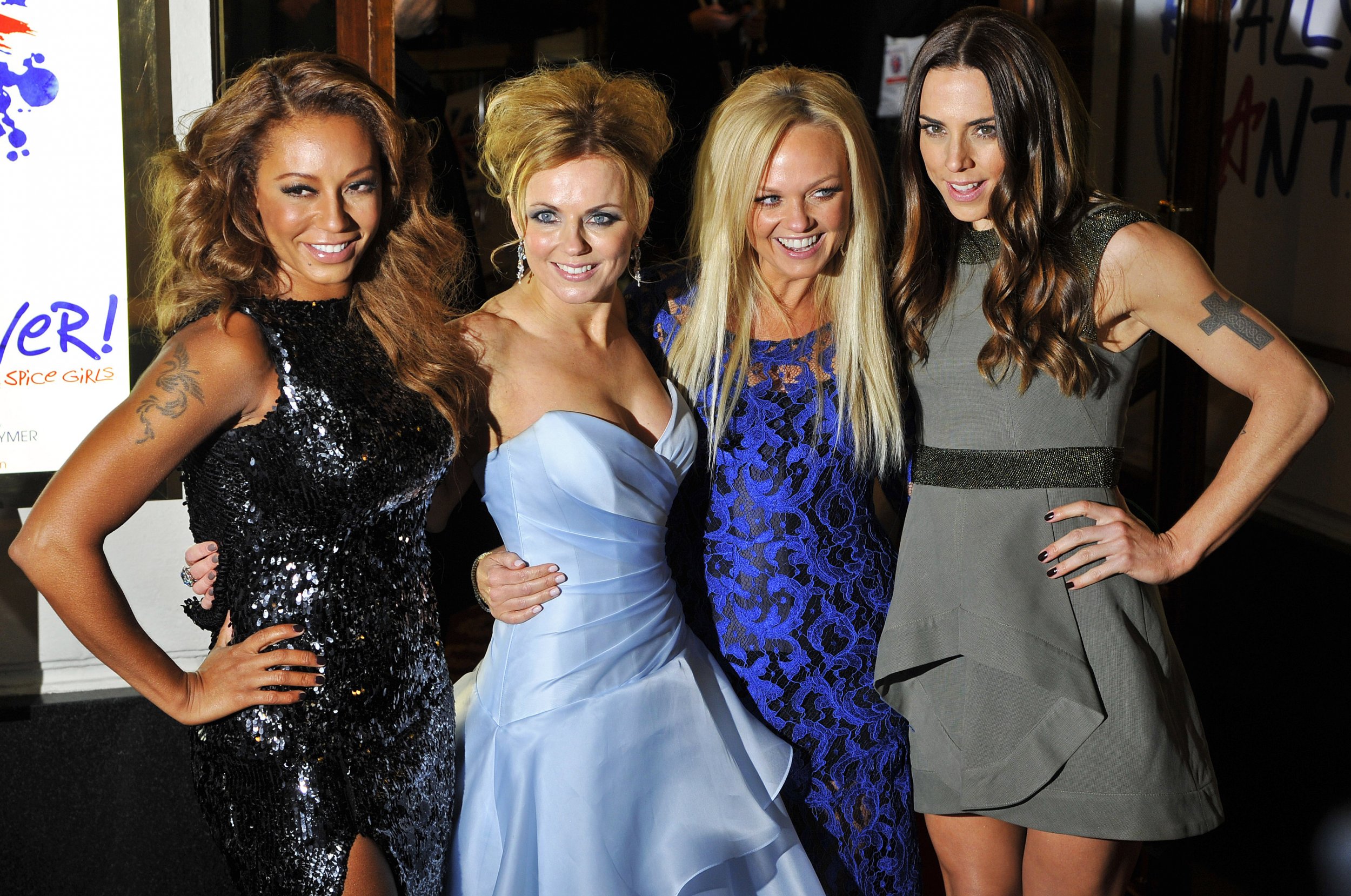 We're all just wannabe Spice Girls, living in a Spice World. So imagine our delight upon hearing murmurs of an impending reunion that would bring Scary, Sporty, Baby and Ginger Spice back together to wield peace signs, rallying cries of girl power and punchy pop songs—but not with Posh, who's apparently "too busy," according to The Sun, which first broke the news of the potential reunion.
According to the paper, the group is about start negotiations to select a new management and promotion team, and an international tour will follow. A source speaking to the paper said that the girls would each likely be raking in about 10 million pounds each, from "one of the biggest pop reunions of all time." As for Victoria Beckham? She's a bit swamped with her family and her fashion brand to rejoin, according to said unnamed insider.
On Friday, Emma Bunton—known colloquially as "Baby Spice"—asked a not-so-subtle question to her Twitter followers: "Do I need to put my pigtails in?!?!?" in response to her compatriot Melanie C's tweet, asking if she needed to begin practicing her characteristic backflips, as the group's resident Sporty Spice. Last week, Mel B ("Scary Spice") went on Jimmy Fallon's Tonight Show, commenting that it was high time the Spice Girls got back together. She reiterated this sentiment on the Today Show on Tuesday: "Hopefully we'll gather the troops around, and we'll get to do something to celebrate it next year."
All of this is promising, especially if you've watched Spice World so many times on VHS that the tape's unspooled, right? OK, maybe not.
Despite the provocative tease to fans, Bunton responded to The Sun's report on her morning radio show, Heart London, and said nothing was official. "If anything happens and it's concrete, and we decide on something, I will let you know. But nothing's happening at the moment," she said, much to the chagrin of hopefuls already clutching their Union Jack flags, hoping to spice up their lives soon.
This wouldn't be the first Spice Girls reunion, either. The band originally split in 2001, citing the desire to pursue their own projects (Never forget Ginger's Geri Body Yoga videos!). Back in 2007, the quintet regrouped for "The Return of the Spice Girls" tour, which featured performances of their beloved albums Spice and Spiceworld, as well as singles that each of them had been working on since. Following the tour, they swore it would be the last time they'd hit the stage together: Fast-forward to the 2012 London Olympics, when they hit the closing ceremony to perform a brief medley of their sugariest smash hits.
But as coincidence would have it, next year marks the 20th anniversary of the band's first smash single, "Wannable." And boy, does the Internet love anniversaries, throwbacks, and nostalgia. Yesterday, Posh posted a #ThrowbackThursday photo of the group's photo album on her Instagram that further fueled the reunion rumors.
Despite the photos and the tweets, it's still unclear whether or not Spice will be back in 2016. Dan Wootton, a columnist for The Sun, is firm that the group will be reuniting. He took to Twitter, saying that while it seemed that Emma "denied" the story this morning, it wasn't true. "No official announcement will come until later this year," he said. Yet if the reunion ends up happening, dear reader, say you'll be there?