Did Victoria Beckham Just Confirm Spice Girls Tour? Instagram Pic Sparks Reunion Rumors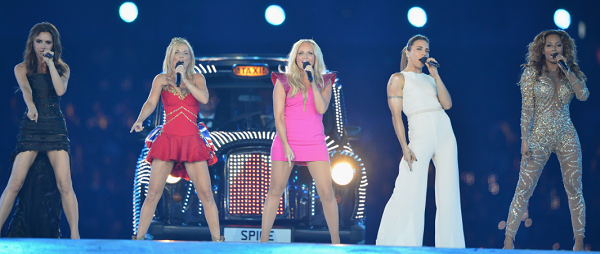 It's been nearly six years since all five members of the Spice Girls were on stage, performing together in front of a massive crowd. The British girl group briefly reunited for the 2012 Summer Olympics in London, staging a mini concert during the games' closing ceremony.
Fans have been itching for a Spice Girls reunion tour ever since. And they may not have to wait much longer.
On Friday, Victoria Beckham, aka Posh Spice, sparked reunion rumors when she posted a photo of her groupmates Melanie Brown (Scary Spice), Melanie Chisholm (Sporty Spice), Emma Bunton (Baby Spice) and Geri Halliwell (Ginger Spice). "Love my girls!!! So many kisses!!! X Exciting x #friendshipneverends #girlpower," Beckham captioned the photo.
Although Beckham didn't mention a reunion or a tour, it didn't stop fans and followers from speculating what the "Wannabe" singers may be planning.
Since their London Olympics performance, Brown, Bunton and Halliwell have teased the idea of touring as a group again, and British tabloids ran several covers hinting at a reunion. But Chisholm and Beckham consistently shot those rumors down.
Beckham, in particular, repeatedly shared disinterest in participating in a reunion tour. In 2017, the fashion designer appeared on British daytime show This Morning, and said: "At some point, you've got to know when it's time to say, 'That was great.' Girl power will always be out there and is something that we all still believe."
But their recent group photo, which marks the first time all five Spice Girls have been in a room together since 2012, may be a sign all the women—including Beckham—are actually considering performing together again.
Just a day before Beckham posted the image on social media, TMZ cameras snapped photos of Chisholm and Brown arriving at Halliwell's London home on Thursday. Even the group's original manager, Simon Fuller, was spotted pulling up to Halliwell's house. The photographers weren't able to capture Beckham or Bunton, but Posh's Instagram picture confirms all five Spice Girls were indeed there.
Not that British tabloid The Sun should be taken as a beacon of truth, but the publication reported the meeting at Halliwell's home was because of a new endorsement deal the Spice Girls accepted. The reported $12 million deal could potentially bring a new Spice Girls compilation album, TV appearances in China and their very own talent search show.
But, again, it's The Sun, so take that rumor with a large shaker of salt—or spice.