Spice Girls Reunion Tour Tickets: How, When to Get Tickets For Spice World 2019 U.K. Tour Shows
The highly-anticipated announcement of a Spice Girls reunion tour had fans across the globe pulling their platform shoes out of the closet and issuing a resounding declaration that "girl power" was back. Months before the actual shows, fans of the iconic '90s band will have their chance to see the group back in action.
Even without Victoria Beckham, also known as Posh Spice, the tour is expected to gain massive interest and only has a limited number of dates throughout the United Kingdom. So, only a portion of their fans will likely be able to "say you'll be there."
Tickets for the 2019 U.K. Tour go on sale on Saturday at 10:30 a.m. GMT. For those Spice World hopefuls on the East Coast of the United States, that's 5:30 a.m. and those on the West Coast will want to be ready bright and early at 2:30 a.m. Tickets can be purchased through the ticket selling website, Ticketmaster.
Along with being confined to the United Kingdom, the tour only currently consists of six dates, including:
June 1: Manchester Etihad Stadium
June 3: Coventry, Ricoh Stadium
June 6: Sunderland, Stadium of Light
June 8: Edinburgh, Murrayfield Stadium
June 10: Bristol, Ashton Gate Stadium
June 15: London, Wembley Stadium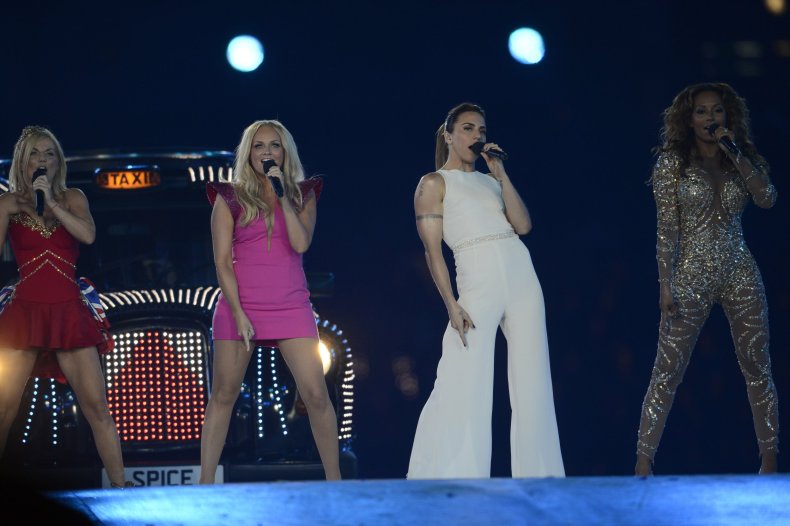 The tour will also only include four of the five members of the Spice Girls, Geri "Ginger Spice" Halliwell, Melanie "Sporty Spice" Chisholm, Melanie "Scary Spice" Brown and Emma "Baby Spice" Bunton. In a video posted on Twitter, Halliwell, Chisholm, Brown and Bunton announced the upcoming reunion tour.
The video began with a debate over whether Halliwell broke protocol by not wearing a black tuxedo and Chisholm chimed in, "We can't be falling out now if we're going on tour."
Beckham said in a press release obtained by BBC News that she would not be going on tour with the rest of her former group because of commitments she had to her business.
"Being in the Spice Girls was a hugely important part of my life and I wish my girls so much love and fun as they go back on tour, I know they will put on an amazing show and the fantastic fans past and present are going to have a wonderful time!" Beckham added.
However, not everyone in the group has ruled Beckham out of the tour. During an interview on Monday with ITV's Loose Women, Brown noted that Beckham may join for some of the shows if she can. Brown added that she's known for five or six months that they were going to get back together for a reunion tour, but she had to keep it a secret.
While the Spice Girls performed together for the closing ceremony of the London Olympics in 2012, the last time they did a full-on tour together was in 2008. Their "Return of the Spice Girls" tour spanned multiple continents over the course of three months. Tickets for the December 15, 2007, show in London sold out in 38 seconds, according to BBC News.
During their time as a singing group, the Spice Girls song "Wannabe" claimed the number one spot on the Billboard Hot 100 Chart. They also had three other top 10 hits, including "Say You'll Be There," "2 Become 1" and "Too Much."