White House Chaos: Sean Spicer, Mark Corallo Resignations Could Be Beginning of End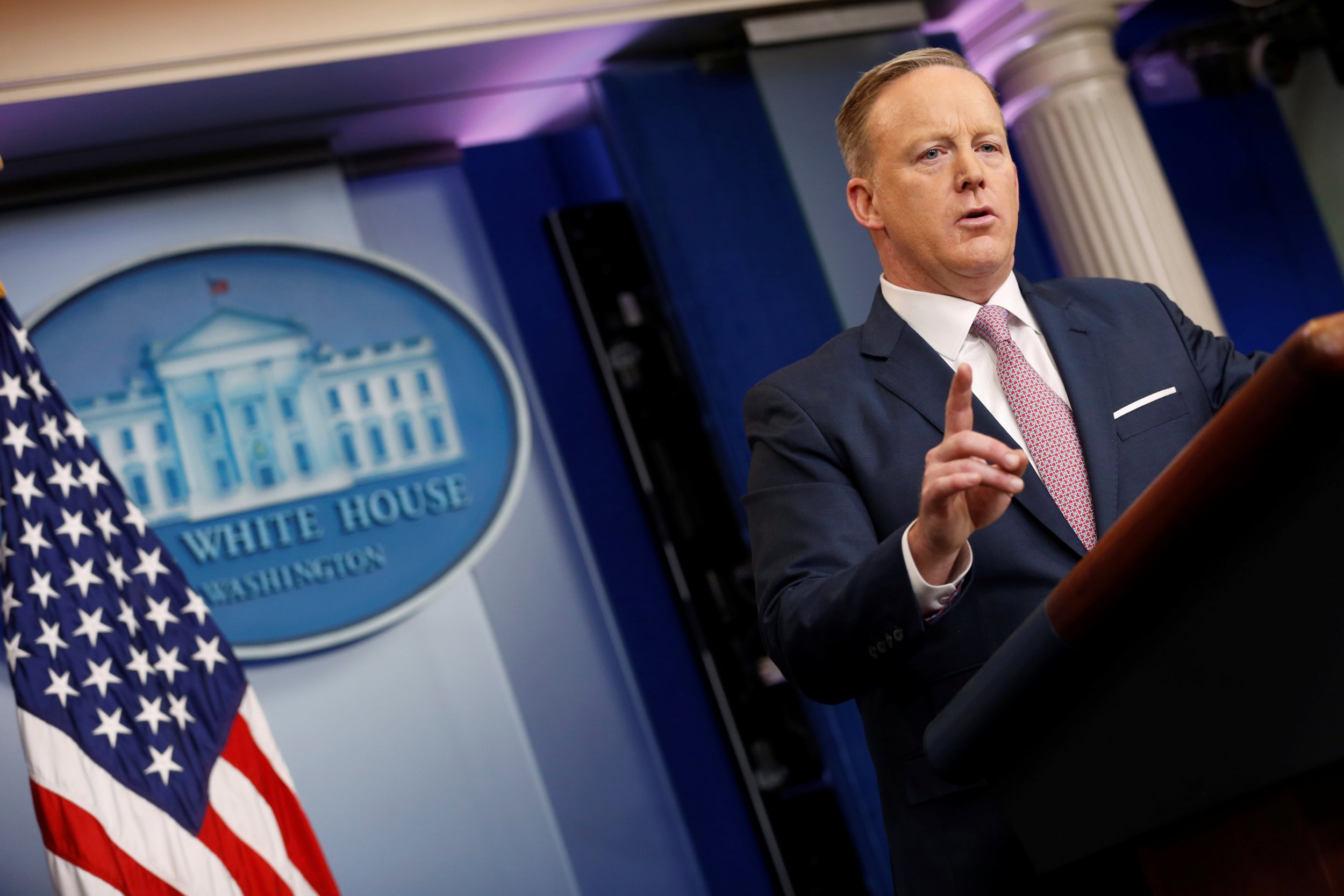 The sudden resignations of White House press secretary Sean Spicer and Mark Corallo, a spokesman for the president's legal team, are signs of a White House in deep trouble, and proof that it is becoming increasingly severed from Washington's professional Republican class.
Spicer announced his departure Friday, soon after the president named Anthony Scaramucci, a hedge fund manager and frequent TV surrogate for Donald Trump, his new communications director, filling a position that has been vacant since Mike Dubke left in March. Spicer was reportedly livid over the choice of Scaramucci.
Corallo, a widely respected PR professional in Washington, left the president's legal team without explanation on Thursday, though the move was widely assumed to stem from frustration with the president's chaotic legal representation. Thursday also saw the demotion of Marc Kasowitz, who had been leading the president's defense but had been caught up in a profanity-laced email tirade with a critic and had not obtained proper security clearances.
The resignations of the two seasoned PR professionals, who had demonstrated considerable loyalty to a beleaguered president, startled Washington and came amid a slew of breaking developments surrounding the Russia investigation—including more information about the 2016 meeting between the president's son Donald Jr. and a Kremlin-connected lawyer, not to mention the president raising the possibility of firing special counsel Robert Mueller.
Spicer's resignation was first reported in The New York Times by Glenn Thrush.
While Spicer had become in many ways an object of ridicule, including being mercilessly teased on Saturday Night Live, he was nonetheless an upstanding member of Republican Washington's PR class. A former spokesman for the Republican National Committee, Spicer had worked extensively on Capitol Hill and is in the Naval Reserves.
Corallo, an Army infantry veteran, was the main spokesman for the Justice Department during the George W. Bush administration when John Ashcroft was attorney general. Corallo was also a Capitol Hill veteran, having served on the House Government Reform and Oversight Committee in the 1990s, when the panel was frequently investigating the Clinton administration. He also was a spokesman for I. Lewis "Scooter" Libby, Dick Cheney's chief of staff, who was convicted on obstruction of justice charges stemming from the CIA leak case. (Disclosure: I was a witness at the trial.)
Trump asked Spicer to stay on for a while, and according to initial reports, he refused. But he later tweeted that he'd been honored to serve and would stay through August. Still, Spicer's leaving because of his anger over Scaramucci's appointment is a sign of how far the sandy-haired spokesman has traveled from being the loyal spokesman who began his White House tenure arguing with the press corps about the size of the crowds at the president's inauguration.
Scaramucci, a controversial financier, was one of the president's more effective surrogates during the 2016 campaign and often unflappable. The president cheered his pushback against a CNN story this spring accusing him of links to Russia. The network retracted the story, and three journalists who worked on it, including a Pulitzer winner, were fired or resigned. That kind of result tickled Trump, who had come to believe that his current communications team was ineffective.
The 53-year-old Long Island, New York, native made his debut at the White House Briefing Room podium; perhaps auspiciously, he couldn't be heard at first. He announced that Sarah Huckabee Sanders would become the press secretary, and he saluted Spicer, saying he hoped that "he makes a tremendous amount of money." Scaramucci tried to reassure official Washington by saying that he was close to White House Chief of Staff Reince Priebus, who reportedly opposed the appointment.
Scaramucci stayed at the podium while taking a long time to answer questions and even looked in the camera and spoke to the president, apologizing for a 2015 comment in which he called the mogul a "hack politician."
The resignations of two PR pros in a city full of them lack the high drama of Watergate, when Richard Nixon saw four attorneys general fall. But it shows the great tension between Washington's professional class of Republican operatives and a White House that's dominated by a mercurial leader.
Corallo, for instance, had close ties to two of the president's whipping boys: Mueller and fired FBI Director James Comey. Corallo had been on the same side as Comey in a 2004 showdown at the hospital bedside of then–Attorney General John Ashcroft, and he has repeatedly praised Mueller, saying he would not go negative on the former FBI director. He even called the 72-year-old lawman "the brother you want—the dad you want—he's the guy you want your daughter to marry."
The resignations leave the president's legal team lacking anyone to coordinate press strategy—a must-have for any White House caught in a wide-ranging legal investigation. The Clinton White House had a bevy of strategists, for instance, to deal with myriad congressional inquiries and independent counsel Kenneth Starr's investigation, which led to the president's impeachment by the House of Representatives.
It was widely assumed on Friday that Sanders, one of Spicer's deputies (and the daughter of former Arkansas Governor Mike Huckabee, Trump's onetime GOP rival), would replace Spicer. She's already been conducting most of the press briefings. While she has experience on Republican campaigns, including her father's, she's not of the D.C. lifer class that Spicer and Corallo represent.
There are still miles to go in the Russia investigation, but the flurry of breaking news coupled with resignations echoed the Watergate scandal of the 1970s that brought down Nixon. Trump's open flirtation with the idea of firing Mueller raised immediate comparisons to the famed "Saturday Night Massacre" in 1973, when Nixon ordered his attorney general, Elliot Richardson, to fire Watergate special prosecutor Archibald Cox. Richardson refused and resigned, as did his deputy, William Ruckelshhaus. The Justice Department's third-ranking official, then–Solicitor General Robert Bork, acceded to Nixon's request and fired Cox. (Bork would go on to be rejected by the Senate as a Supreme Court nominee.)
It's worth remembering, though, that Cox's firing did not slow the Watergate scandal. He was replaced by another aggressive prosecutor, Leon Jaworski. Congress continued its investigations, and the Supreme Court, in the coup de grâce that ended Nixon's presidency, ordered the White House to turn over its tape recordings, which proved Nixon knew about the cover-up from the beginning.
There are many differences between then and now. One of the most disturbing is Trump's seeming flirtation with pardoning himself and others who may be accused of crimes related to the Russia investigation. The Comey firing this spring was audacious enough, but firing Mueller or Attorney General Jeff Sessions would surely strengthen calls for the president's impeachment.
In his New York Times interview on Wednesday, the president broke another norm, saying he wished he had not appointed Sessions because he felt blindsided by the attorney general's recusal from the Russian investigation. Sessions told reporters on Thursday that he wasn't going anywhere. But now that Spicer and Corallo are out, no one will be surprised if more resignations or firings are in the offing.