Sean Spicer Threatens Reporter Mike Allen if He Texts Him One More Time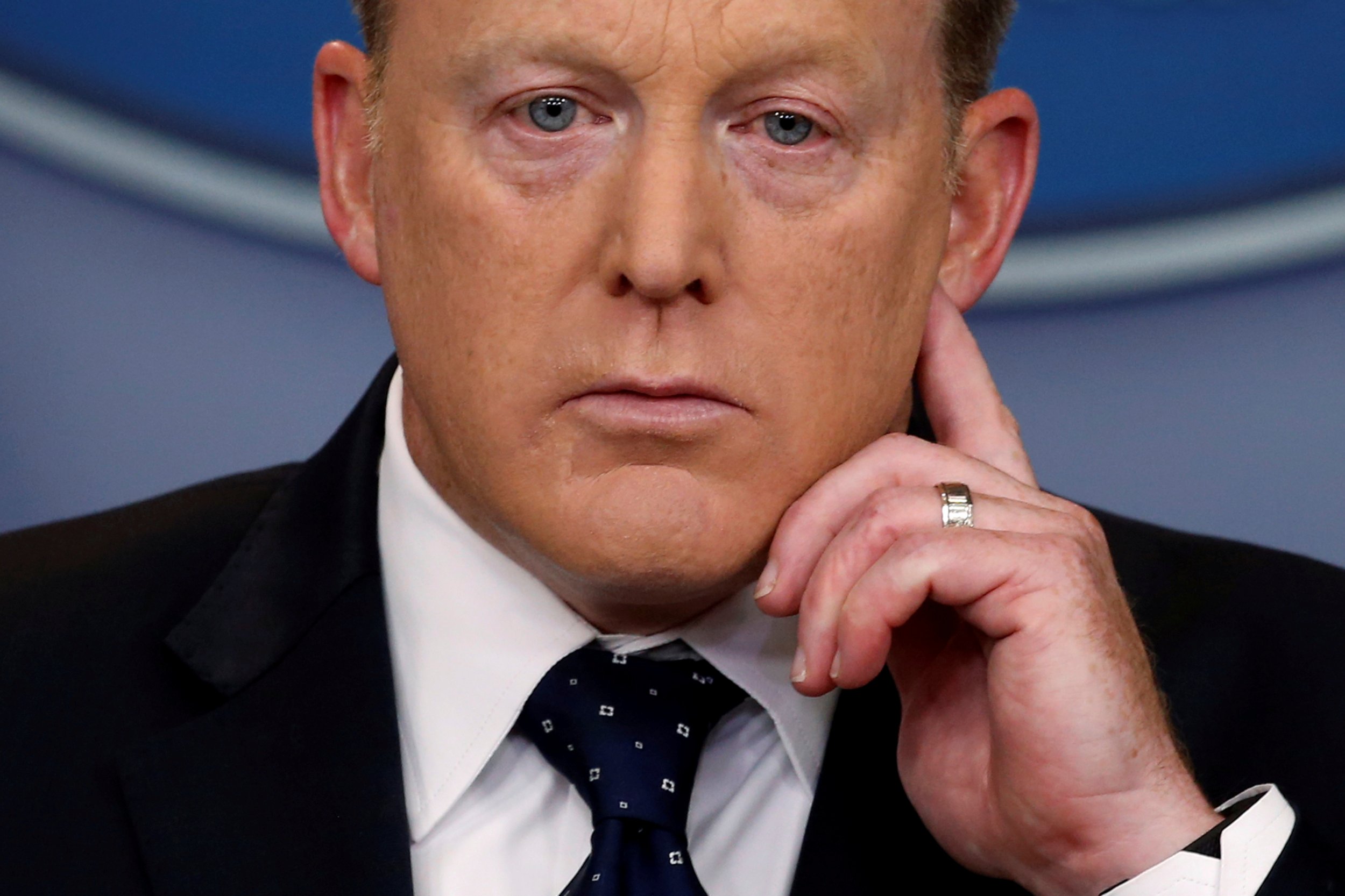 It's as if Sean Spicer never left his bully pulpit at the White House.
The former press secretary, known for his tempestuous—at best—relationship with reporters while serving President Donald Trump, threatened to report a reporter to the "appropriate authorities" if he continued to attempt to contact him, according to Axios.
The reporter, Axios's Mike Allen, was seeking comment from Spicer regarding notes he kept while in the West Wing, after unidentified sources told Allen that Spicer had "documented everything" and filled "notebook after notebook" about meetings at the Republican National Committee and at the White House.
Allen claims Spicer texted him: "Mike, please stop texting/emailing me unsolicited anymore."
Allen replied with a question mark and stated in his report that he has known Spicer, a former spokesman for the Republican National Committee, and his wife for more than a decade.
Spicer got back to him, texting: "Not sure what that means. From a legal standpoint I want to be clear: Do not email or text me again. Should you do again I will report to the appropriate authorities."
Following that exchange, Spicer also responded to an email sent earlier and essentially reiterated his text messages.
Spicer officially left the White House last month after a rocky tenure as Trump's first press secretary. Many of his press briefings were panned by critics either for his apparent negative attitude toward reporters and the language he used with them or what some have called his misleading statements or outright lies. His exit was reportedly precipitated by Trump's decision to name investor and pundit Anthony Scaramucci as director of communications. (That lasted all of 11 days, after "the Mooch" gave a wild, expletive-laden interview to The New Yorker.)
Spicer's tenure included a fervid defense of Trump's inauguration crowd estimate—statements he now regrets making, he told The New York Times in an interview published Tuesday—and an apology tour in April after he stated while discussing Syrian leader Bashar al-Assad that not even Adolf Hitler had used chemical weapons on his people.
Despite his regrets, Spicer on Thursday told Good Morning America that he did not "knowingly" lie while in the White House.
Spicer's cantankerous approach to the job inspired actress Melissa McCarthy to parody him on NBC's Saturday Night Live, a performance that won her an Emmy earlier this month.
Since his West Wing exodus, Spicer has been all over television, including making an appearance at Sunday's Emmys and participating in a full interview with ABC late-night host Jimmy Kimmel.