'Spider-Man' Attacks Grocery Store Employee in Video Viewed Over 5 Million Times
Graphic footage of a man donning a Spider-Man suit appearing to attack a store employee has gone viral online, and has inspired several union groups to advocate for stronger laws protecting retail workers.
According to a report from Metro, a man dressed as the Marvel superhero Spider-Man was caught on video attacking a female employee at a London Asda Clapham Junction grocery store on Thursday. The unnamed assailant was reportedly arrested in connection to the rampage.
Newsweek confirmed with the Metropolitan Police in the United Kingdom that law enforcement was aware of the situation and that several suspects were taken into custody. At least one store employee was also confirmed to have required medical attention, along with another five bystanders.
"Police were called at 22:40 hrs on Thursday, 22 July to reports of a group of people involved in a disturbance at a supermarket on Lavender Hill, SW11," a spokesperson told Newsweek in a written statement.
"Officers attended along with London Ambulance Service. A woman in her 20s was taken to hospital with a minor injury. A further five people were treated at the scene."
Footage of the altercation went viral on the Twitter account @ca99832245, also known as BlackGirlMagic on the platform. The 6-second clip, which has been viewed nearly 6 million times since posting on Friday, the man in the Spider-Man costume emerges angrily and charges toward a female employee.
"What a b***h!" he proclaims. "F**k you!"
The unnamed assailant then appears to kick the employee's chin and punch her in the face. The retail worker falls to the ground and her attacker walks away, leaving bystanders shocked.
Additional footage that has been viewed nearly 340,000 times shows the man in the Spider-Man suit wielding a steel pipe and hitting another man with it, as a larger group of people brawl on the ground.
"Asda Clapham Junction. A bunch a thugs attacking colleagues, elderly and children absolutely disgusting," the Twitter user captioned the video.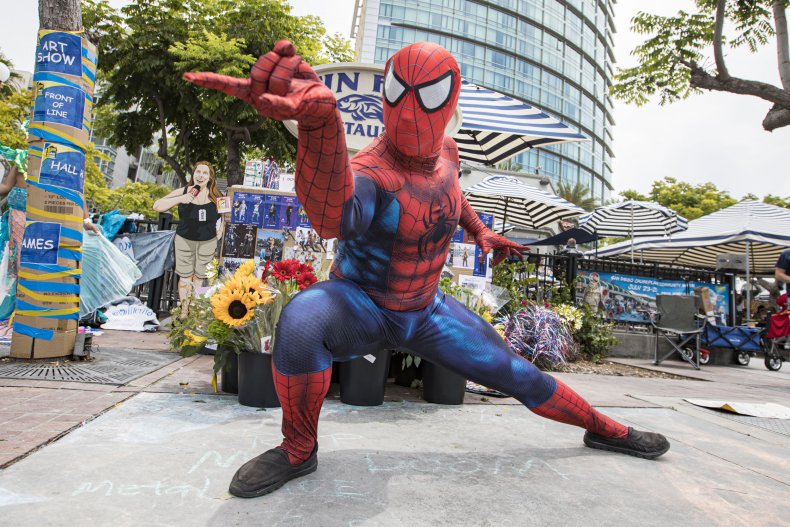 British trade union GMB, which represents Asda employees, condemned the incident and called for tighter laws to protect essential retail workers in a public statement released on Friday.
"GMB cannot condemn strongly enough the actions of these people, and we thank the police for their swift action in arriving to help protect our members from further harm," senior organizer Mark Wilkinson said. "The video footage is absolutely horrifying and we are offering whatever support is necessary to any member who was affected during the incident.
"We take the health and safety of our members very seriously and will be working with store management to establish how this was allowed to happen and to ensure that safeguards are in place to prevent recurrence."
While no correlation between COVID and this incident has yet been established, according to a report from the BBC released in May, instances of violence and abuse against retail workers has reportedly increased in correlation with COVID-19, with only 6 percent of reported crimes resulting in prosecution.
"Attacks on retail workers have risen throughout the pandemic and GMB is calling for urgent legislation to protect them," Wilkinson added in his statement.
"Despite clear evidence showing the escalation of violence and abuse against retail workers, the government has time and time again chosen not to act," British Retail Consortium CEO Helen Dickinson told the BBC at the time.
"These are not mere statistics, those affected are our parents, our partners and our children, all who needlessly suffer, just for doing their job. Many incidents arise as staff carry out their legal duties, including age verification and more recently, implementing COVID safety measures."
In America, workers within the Frito-Lay factory in Kansas have finally ended their three-week strike, which was brought on by allegedly unsafe and unfavorable working conditions. More than 800 workers began striking earlier this month to protest working conditions and long hours.
The Metropolitan Police Service also confirmed with Newsweek that five suspects in total were arrested in connection with the alleged assault. The man in the Spider-Man suit, 31, "was arrested on suspicion of actual bodily harm, grievous bodily harm, affray and violent disorder," the spokesperson reported.
Four more people, aged 37, 35, 18 and 17, were also arrested "on suspicion of affray and violent disorder." Police note that the five were "subsequently bailed to a date in mid-August," and they are actively seeking information about the incident from the public.
A spokesperson for Asda also told Metro that the company was "aware of an incident which occurred at our Clapham Junction store," and that Asda is taking the situation very seriously.
"We do not tolerate any form of violence or abuse towards colleague or customers and we are working closely with the police in their enquiries," the spokesperson added.
Newsweek reached out to Asda for additional comment, but did not hear back in time for publication.