Ultra Valuable 'Amazing Spider-Man' Comic Defaced By Angry Girlfriend Is Still Treasured By Collectors
An issue of Amazing Spider-Man #14 defaced by an angry girlfriend has become a hot item among comic book collectors.
Addressed directly to someone named "Chance," the infamous Amazing Spider-Man issue has an angry message written on the front and back covers in black permanent marker.
"Go to Hell," the front reads, the all-capital letters foregrounded in a black box. A separate message urges the recipient to flip the comic over for further beratement.
"In no way am I trying to be noble or anything like that," the message on the back cover reads, "I never thought I'd be able to destroy something that meant so much to me — as far as I'm concerned you're dead."
Aaron Meyers, comic collector and co-host of the Comics Therapy podcast, described to Newsweek how the "Angry Girlfriend" issue has become a part of comic collecting lore. "It used to pass from dealer to dealer and finally one dealer got it graded," Meyers said.
The issue resurfaced in a post to the Facebook group "Low-grade comic collectors," where people share comic book issues with low assessment scores, based on criteria laid out in The Overstreet Comic Book Price Guide and widely accepted by collectors. The issue of Amazing Spider-Man, known as the "Angry Girlfriend Variant" in collecting circles, scored a 1.8 out of 10, a rating which indicates a fully readable issue which may be "creased, scuffed, abraded, soiled."
The highly valuable issue sells for thousands of dollars, with copies ranging from "Very Fine" (a score of 7.5-9.1) to "Near Mint" (9.2-9.7) selling for $3,000 to $9,750. An issue with a score of 9.8, indicating an almost perfect "Near Mint/Mint" condition, sold for $125,000. Even copies of Amazing Spider-Man #14 as damaged as the Angry Girlfriend Variant have been sold for around $500.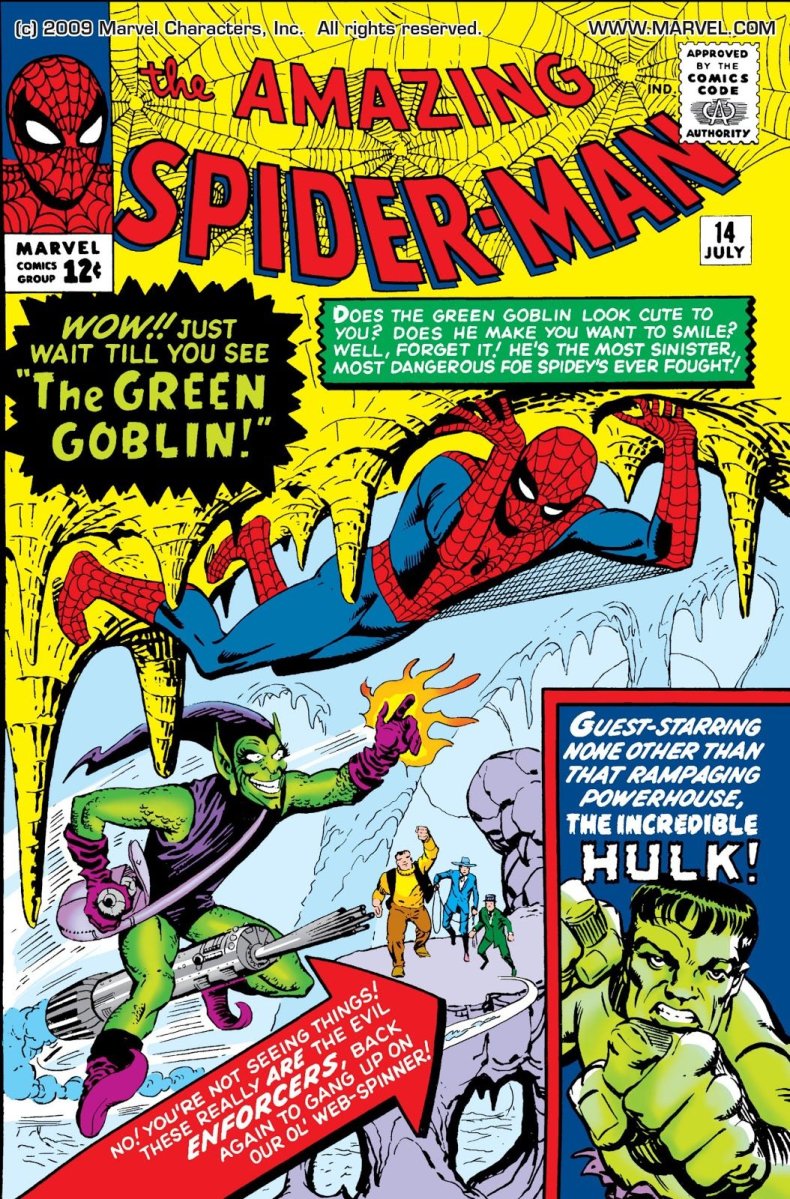 Written by Stan Lee, with art by Steve Ditko — the original creators of Spider-Man —1964's Amazing Spider-Man #14 introduces Green Goblin, one of Peter Parker's most persistent villains. Two years later, Green Goblin's real identity was revealed: Norman Osborne, industrialist and father of Parker's best friend, Harry Osborne. Norman would later be played by Willem Dafoe in the early 2000s Spider-Man movie trilogy, with James Franco as his son.
In Amazing Spider-Man #14, the Green Goblin convinces Spider-Man to perform in a movie from the director of the awkwardly titled The Nameless Thing From the Black Lagoon in the Murky Swamp, but it's a set-up: the Green Goblin has replaced the actors with real villains. While Spider-Man takes down the goons, he also accidentally awakens the Hulk. While the two heroes fight, the mysterious Green Goblin slips away.
The current owner hopes to get $5,000 for the "Angry Girlfriend" edition of The Amazing Spider-Man. One commenter in a Facebook group for collectors judged the $5,000 asking price too high, but described the issue as "legendary" and speculated that it might one day be "worth a ton."