DJ Khaled and Stan Lee Just Dropped Major Keys in Celebration Of 'Spider-Man: Homecoming'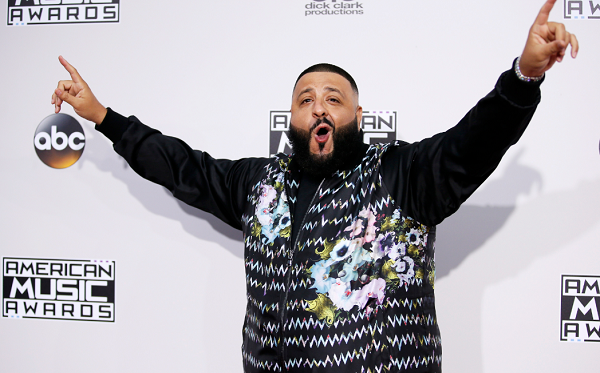 DJ Khaled might be giving Spider-Man the keys to success when he appears in the latest reboot of the comic book series, Spider-Man: Homecoming. The music producer recently announced he would guest star in the forthcoming Marvel movie, marking his first time on the silver screen.
Khaled, of course, announced his short cameo on Snapchat, which is generally how the radio personality and record label exec reveals all the news regarding his personal life (he even used the mobile phone app to share the birth of his first and only son, Asahd Tuck Khaled). Khaled didn't go into any details about his role, however, he told his Snapchat followers that he filmed a scene with comic-book legend and Spider-Man co-creator Stan Lee and Tom Holland, who will pay the role of Peter Parker, aka, Spider-Man. Twitter fan page Marvel Cinematic Universe tweeted out a photo of the trio after they filmed the scene Wednesday.
The movie, which follows Parker during his high school years, stars Michael Keaton as the villain Vulture and Robert Downey Jr., who will revive his Iron Man character in the film.
Although Khaled's Spider-Man: Homecoming role is his first movie appearance, it isn't the 41-year-old's first time in front of the camera. Aside from the steady flow of video content on Khaled's Snapchat channel, the DJ, who's latest album Major Key topped Billboard's Hot 200 upon debut, has also appeared in his own documentary, DJ: Khaled: The Keys to Success, which he directed and produced.
The documentary was inspired by the social media megastar's Snapchat, which he often uses to share words of wisdom he refers to as "keys" like, for instance, the "key to more success is a clean heart and a clean face" or "the key to more success is cocoa butter." More often than none, Khaled is seen spreading his life lessons on Snapchat while he's partaking in leisure activities like watering his plants, eating steak and eggs or showering with a neck full of gold chains.
Khaled's keys have led to the Palestinian-American producer's first book, aptly titled The Keys, which listed more than 200 pages of Khaled's life philosophies. During a January interview with NPR's Morning Edition, Khaled explained the idea behind his keys and how his book could inspire a younger generation.
"Well, The Keys is the keys to success, keys to life, you know what I'm saying, keys of winning, keys of joy, keys of happiness. The keys never run out — each key leads to the next key. And then every time, if you text me, I'ma hit you back with a key," he said. "And, you know, this book is definitely to uplift the young world, because, you know, we just have different ways of saying it. I was just doing an interview earlier, and I was like, you know, our moms and dads always taught us to do great things, you know what I'm saying? We blessed to have family, but you know, sometimes we've got to get somebody to translate in a different way."