'Spider-Man' Joins New York Protesters on Manhattan Bridge in Viral Video
A man in a Spider-Man costume joined the Black Lives Matter protest in New York on Tuesday night as demonstrators took to the Manhattan Bridge.
Anya Volz, a protester at the bridge who shared the clip for Spider-Man on Twitter said: "A huge development at the Manhattan Bridge protest right now."
The video, which has been viewed 2.4 million times at the time of writing, sees Spider-Man sitting on one of the bridge's towers, holding a sign as the crowd cheers.
Somebody in the crowd quotes the 2002 Spider-Man movie by shouting: "You mess with one of us, you mess with all of us!" while another asks Spider-Man to "do a flip."
The Spider-Man was initially identified as Japneet Singh, who goes by Spidey Singh, who also attended the New York protests earlier in the week. However, it turns out that the Spider-Man on Manhattan Bridge could actually be another Spider-Man called CosplayNay.
In an Instagram post, CosPlayNay said: "So I missed out on quite a few press 'opportunities' due to that guy claiming that he was the Spider-Man that climbed on the bridge."
CosPlayNay accused Spidey Singh of tagging media outlets and asking for credit and using ghost accounts to credit himself.
He goes on to say: "But you know what. I'm totally ok with that. That's not why I was there. The only thing that's actually upsetting from all this is feeling like I missed an opportunity for me to potentially help out on a bigger scale down the road."
Newsweek has contacted CosPlayNay for comment. In the meantime, this gif has never felt more appropriate.
Speaking to Newsweek, Singh said his experience of the protest was "actually very, very pleasant and people showed so much love.
"One of my biggest concerns going into it was how people will take it. But people loved it and really got behind me."
Singh has been protesting since Saturday: "The first few [protests] kind of got crazy, especially the night ones," but Singh explained that the Manhattan Bridge protest was "very, very peaceful," and less rowdy than earlier protests.
In earlier protests, Singh said: "There were people arguing with each other. Some wanted to be more aggressive than others. But nothing to do with me."
On Tuesday night, in a video posted on his Instagram Stories, Singh said: "It's so crazy to be seeing things first hand and to be out there as opposed to seeing it online or on TV. You really get to see how crazy it really is out there, man."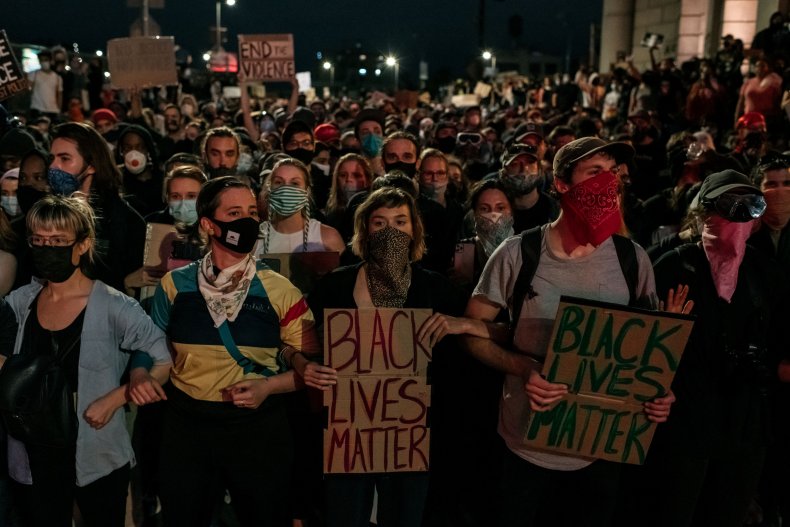 "I just hope whoever is out there... be safe, be smart, and at the end of the day, make sure this movement that has started, that the message does not get lost in translation. You don't want the message to get directed in any way, 'cause we can't afford any more lives, man. We can afford any more lives and we can't afford these injustices."
Speaking about his personal experience with racism, Singh said: "Being a minority myself, I'm with everybody that's out there man, everybody that has such strong sentiment towards this issue. I've dealt with plenty of racism growing up and even now sometimes, and I'd be damned if I sit this one out, no way."
The protesters marched from Brooklyn to Manhattan last night after the city's 8 p.m. curfew. The protesters were stuck on the bridge with blockades on both sides and police waiting and ready to make arrests in both Brooklyn and Manhattan.
However, Volz, who shared the Spider-Man video, said in another tweet: "The vibe here is overall very fun despite the impending doom." Attached to the tweet was a video of the protesters singing "Move B**** Get Out Da Way!" by Ludacris.
The protesters were eventually allowed to leave the bridge following a standoff with the police.
Update 6/5/2020: This article has been updated with CosPlayNay's claim that he is the Spider-Man on the bridge, not Spidey-Singh.