'Spider-Man: Miles Morales' PS5 Game is Not a Sequel
Spider-Man: Miles Morales, the new PS5 game announced on Thursday, is not a sequel but "an expansion and an enhancement."
The 2018 Spider-Man game for PS4 featured Miles Morales as a minor character, but the latest title will see Morales as a friendly neighborhood Spider-Man. However, in an interview, Sony clarified that Spider-Man: Miles Morales is not a sequel.
Sony's VP head of European Business, Simon Rutter told The Telegraph: "I guess you could call it an expansion and an enhancement to the previous game.
"There's a substantial Miles Morales component—which is the expansion element—but also within the game as well there's been major enhancements to the game and the game engine, obviously deploying some of the major PlayStation 5 technology and features."
Rutter continued: "I think what is very interesting for everyone to see is how familiar games might be to some degree changed through the workings of PlayStation 5."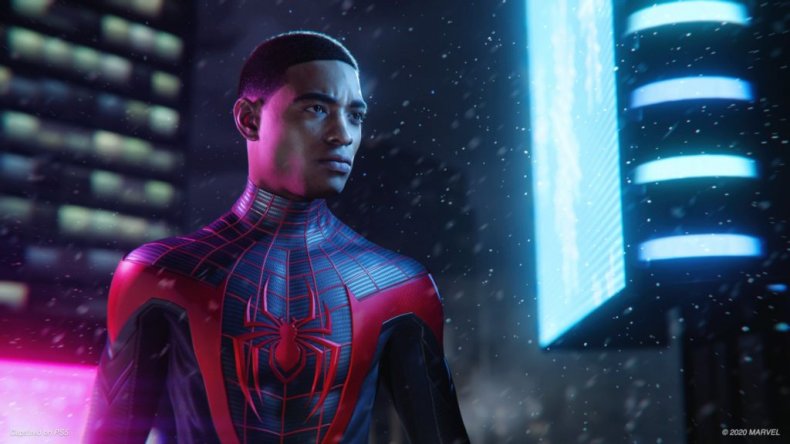 However, it would seem that Spider-Man: Miles Morales is a standalone expansion, similarly to Uncharted: Lost Legacy. Some fans have expressed their disappointment that it is simply a new DLC rather than its own game, but despite it not being a sequel, Spider-Man: Miles Morales will include content separate from the original game.
The original Spider-Man game was released in September 2018 and was well-received, with a "Might" rating on OpenCritic and a Top Critic Average score of 88, and was recommended by 96 percent of critics.
At the end of the game, Miles tells Peter Parker he has powers. And now, Spider-Man fans will get to explore the extent of Miles' powers in Spider-Man: Miles Morales.
The trailer for the new game was released on Thursday sees Spider-Man's suit burning off to reveal Miles behind the mask, as Peter says: "A hero is just someone who doesn't give up. Your dad said that. He was right. Now it's your turn. Go be a hero, Miles."
Miles says: "Okay, let's do this," before the trailer cuts to clips of him swinging around the city, fighting bad guys, and saving civilians.
Aside from Spider-Man: Miles Morales, Sony revealed other PS5 gameplay trailers in Thursday's event. Sony revealed PS5 trailers for Grand Theft Auto V, Gran Turismo 7, Ratchet and Clank: Rift Apart, Project Athia, Stray, Returnal, Sackboy: A Big Adventure, Destruction Allstars, Kena: Bridge of Spirits, Goodbye Volcano High, Oddworld Soulstorm, Ghostwire: Tokyo, JETT: The Far Shore, Godfall, Solar Ash, Hitman 3, Astro's Playroom, Little Devil Inside, NBA 2K21, Bugsnax, Demon's Souls, DEATHLOOP, Resident Evil VIII: Village, PRAGMATA, and Horizon: Forbidden West.

Spider-Man: Miles Morales will be launched on PS5 during the 2020 holiday season.
Newsweek has contacted Sony for comment.