'Spider-Man: Miles Morales' Announced for PS5 With Holiday 2020 Release Date
Spider-Man: Miles Morales, was officially announced on Thursday during the PS5 games reveal online presentation and will release on the PlayStation 5 this holiday season.
While many believed it to be a sequel to Insomniac Games' critically acclaimed 2018 Spider-Man game it's been revealed in subsequent interviews with Sony that Miles Morales is more of an expansion.
UPDATE: 6/12 13:00 EDT
Insomniac Games took to Twitter to clear up some misconceptions of the Miles Morales game. They specifically call Miles Morales a "standalone game." This means fans can expect an experience similar to Uncharted: Lost Legacy.
Update: 6/12
In an interview with The Telegraph, Simon Rutter, head of Sony Interactive Entertainment
"I guess you could call it an expansion and an enhancement to the previous game," Rutter said. "There's a substantial Miles Morales component—which is the expansion element—but also within the game as well there's been major enhancements to the game and the game engine, obviously deploying some of the major PlayStation 5 technology and features."
Not much was shown in regards to gameplay, but the trailer showed Miles Morales in full costume as Peter Parker's voice rings in his head. Parker is telling the young hero that it's his time to become the hero that the world needs.
The teaser's footage should look familiar to fans of the previous Spider-Man game—a lot of the mechanics look similar. We get glimpses of Morales in a black-and-red Spidey outfit, webslinging around New York City at around Christmastime, and even fighting off a few small-time enemies. There are also some shots of our hero in civilian gear, walking the streets.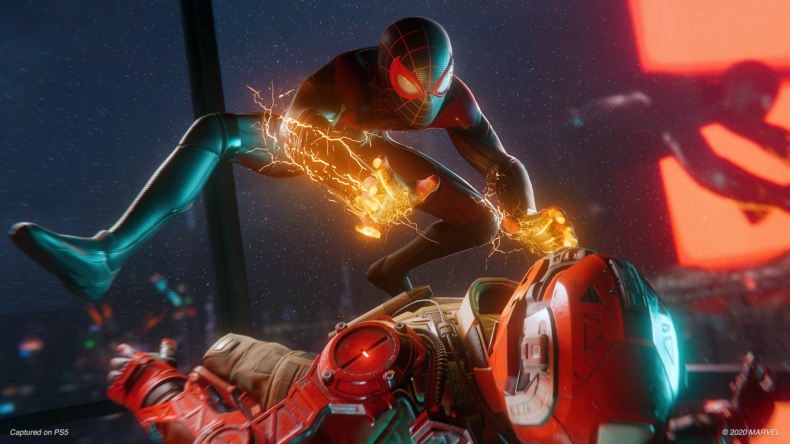 Insomniac Games' first Spider-Man game--lovingly coined Spider-Man PS4--released in September 2018 and quickly became one of the best titles of that year. It earned a Game of the Year nomination at the 2018 Game Awards where it would ultimately lose to another PS4-exclusive title, God of War.
The first Spider-Man game focused on Peter Parker, naturally, in a new re-telling of his story. While many of the elements from the comics, television series and movies remained the same it gave it a more modern twist.
Parker was already Spider-Man when the game begins, but players will earn new moves and gear to help the wall-crawler fight crime. Miles Morales played a minor role in the story as well. His father was a cop in the NYPD, and would eventually get powers when he's bit by a radioactive spider. While players never got to swing around the city of New York as Miles, there was a mission where players controlled Morales as he tried to escape some gang members.
At the end of Spider-Man PS4, Miles reveals to Peter Parker that he has powers and Spidey is happy to teach him the ropes.
How this upcoming story will tie-in to the 2018 game is yet to be seen, but with Miles taking center stage it could mean Peter is in trouble or worse.
What do you think of the Spider-Man: Miles Morales announcement? What do you hope to see in the upcoming expansion? Let us know in the comments section.