Spider-Men Recreate Iconic Meme Ahead of 'No Way Home' Digital Release
Fans of Spider-Man: No Way Home will soon be able to watch the film — at home.
In a minute-long YouTube video showcasing a series of new bonus features, Sony Pictures announced that the Marvel blockbuster will be available for purchase in less than a month.
Arriving on digital platforms on Mar. 22, No Way Home will be available on 4K Ultra HD, Blu-Ray and DVD three weeks later, on Apr. 12.
Posted yesterday (Feb. 23), the Sony Pictures video shows Jamie Foxx, Alfred Molina, and Willem Dafoe playing around in their villain costumes and promises "over 80 minutes of behind-the-scenes fun."
Bonus features will also include "20 minutes more" of Tom Holland's Peter Parker character interacting with "Peter 2" and "Peter 3," played by former Spider-Men, Tobey Maguire and Andrew Garfield. The video also previews an additional interview with Garfield, who played Parker in The Amazing Spider-Man and The Amazing Spider-Man 2.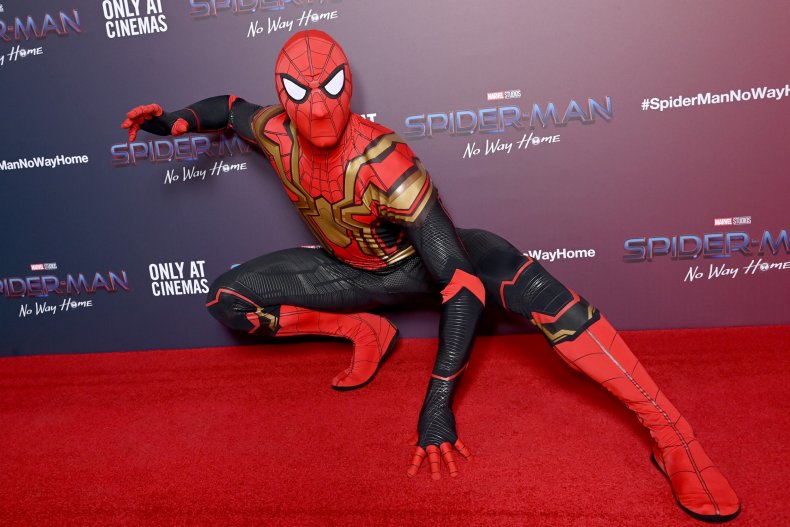 To celebrate the announcement that No Way Home will be available for purchase in a matter of weeks, Holland, Maguire and Garfield came together to recreate an iconic meme known only as "the Spider-Man pointing meme."
With all three actors standing in a triangle and pointing at each other, the meme calls back to a still from episode 19 of the 1967-1970 animated Spider-Man show, according to The Guardian, and has swept through the internet for the better part of a decade.
Included in a tweet directing fans to pre-order No Way Home on the Sony website, the photo of Holland, Maguire, and Garfield has received 69.3K retweets and has been liked more than 303K times.
While fans looking to purchase the film and all of its bonus features will be able to do so in March, fans looking to stream the film are reportedly facing a much longer wait.
Earlier this month, Deadline reported that the movie will first appear on Starz, and that it will be available for streaming "sometime over the next six months."
Despite excitement to watch Spider-Man from the comfort of the couch, No Way Home continues to put up impressive box office numbers across the United States.
A month after hitting theaters on December 17, 2021, the third installment in the Holland-led franchise became the fourth-highest grossing film at domestic box offices. Last week, IGN reported that, after a Valentine's Day push of $1.615 million, No Way Home had eclipsed James Cameron's Avatar, becoming the third-highest grossing film in history with more than $760.9 million in total sales.