Chris Hemsworth's 'Spiderhead' Netflix Release Date, Cast, Trailer, Plot
Chris Pratt, Miles Teller and Jurnee Smollett have teamed up to bring audiences Spiderhead, a gripping sci-fi thriller set in the not-so-distant future.
The movie follows prisoners in a state-of-the-art prison under the guidance of Steve Abnesti (played by Hemsworth) who are put under emotion-controlling drugs. The film is based on the dystopian short story Escape from Spiderhead by George Saunders.
Newsweek has everything you need to know about Spiderhead's release date, cast, trailer, plot and more.
When Is Spiderhead Out on Netflix?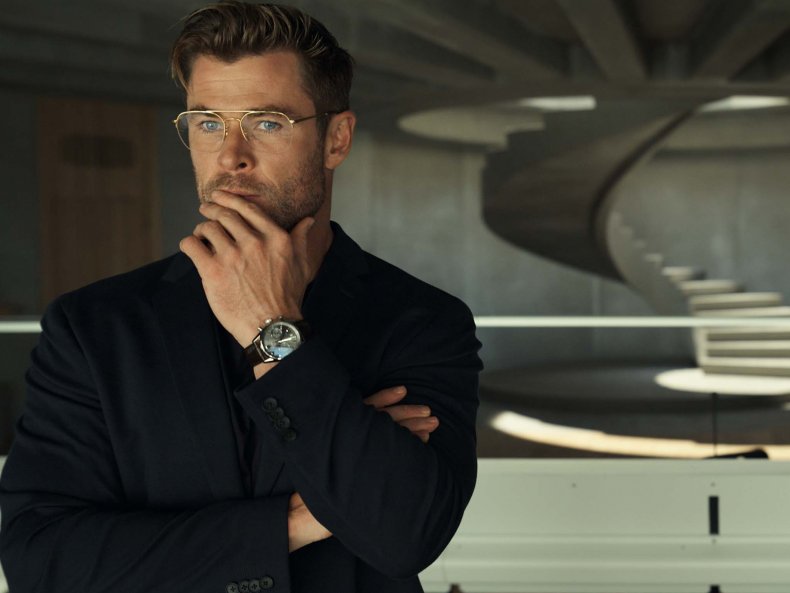 There is good news for audiences looking forward to Spiderhead, as the movie will arrive just in time for summer.
Spiderhead will premiere on Netflix on Friday, June 17.
To watch Spiderhead, you must be a Netflix customer. You can sign up to the global streaming platform now for $9.99 per month now. Netflix also has a download option which means you will be able to watch Spirderhead on the go via the Netflix app.
Who Stars in Spiderhead?
Thor's Chris Hemsworth, Whiplash star Miles Teller and Lovecraft Country's Jurnee Smollett lead the cast of Spiderhead on Netflix.
Hemsworth plays the role of Steve Abnesti, a prison overseer who is at the head of several experiments involving emotion-altering drugs.
Teller takes on the role of Jeff, a prisoner under Steve's care, and Jurnee Smollett stars as Lizzy, a fellow inmate.
Wolf Creek's Tess Haubrich plays the role of Heather in Spiderhead alongside The Dry's BeBe Bettencourt as Emma and The Last Ship's Charles Parnell as Knowles.
Also starring in Spiderhead are:
Mark Paguio as Verlaine
Sam Delich as Adam
Joey Vieira as Miguel
Daniel Reader as Ryan
Ron Smyck as Dave
Stephen Tongun as Ray
What Is Spiderhead About?
Spiderhead follows the story of two prisoners living in a near-future world as they try to process their pasts.
In order to be released early from prison, they have the opportunity to reduce their sentence by volunteering to be a part of an experiment using emotion-altering drugs. The entire program is overseen by Steve Abnesti.
The official synopsis per Netflix teases: "In a state-of-the-art penitentiary run by brilliant visionary Steve Abnesti (Chris Hemsworth), inmates wear a surgically attached device that administers dosages of mind-altering drugs in exchange for commuted sentences. There are no bars, no cells, or orange jumpsuits.
"In Spiderhead, incarcerated volunteers are free to be themselves. Until they're not. At times, they're a better version. Need to lighten up? There's a drug for that. At a loss for words? There's a drug for that, too. But when two subjects, Jeff (Miles Teller) and Lizzy (Jurnee Smollett), form a connection, their path to redemption takes a twistier turn, as Abnesti's experiments start to push the limits of free will altogether."
Is There a Trailer for Spiderhead?
Yes, there is a gripping trailer for Spiderhead available to watch now, and you can see it above.
In the trailer, audiences see various different inmates undertake Abnesti's mind-alternating experiment including fighting one another, having sex, screaming in pain and more. As chaos ensues in the cell, including blood-spattered walls, where the experiments are taking place, Hemsworth's Abnesti looks on in sheer delight.
After flashes of more violence, fire, stunning locations, and inmates screaming, the trailer comes to an end with Abnesti remarking: "Beautiful people get away with too much. I say that having benefited myself from time to time."
Spiderhead premieres on Netflix on Friday, June 17.