Who Is 'Le Spiderman'? In France, Migrant Given Citizenship After Climbing Building to Save Child's Life
A Malian migrant who was hailed as a hero after he saved the life of a 4-year-old boy dangling from a balcony in Paris will be made a French citizen, President Emmanuel Macron confirmed.
Mamoudou Gassama, 22, who had been living in France illegally, was praised worldwide after a video of him scaling an apartment building in order to rescue the child went viral.
Gassama was honored at a meeting with French President Emmanuel Macron at Élysée Palace on May 28, after saving a child in the 18th arrondissement of Paris.
Macron confirmed that the 22-year-old would be granted full French citizenship because of his heroics and would also be offered a job as a firefighter in the French capital.
"With Mr Gassama who saved the life of a child after scaling four floors with his bare hands. I told him that in recognition of this act of heroism he would be regularized as soon as possible and that the Paris fire brigade were ready to welcome him," Macron tweeted.
Gassama, dubbed "Le Spiderman" because of his climbing skills, told Macron he was "trembling" at the time, reported The Local. When asked by Macron how the boy was after he rescued him, Gassama replied, "He was crying, his feet were hurt."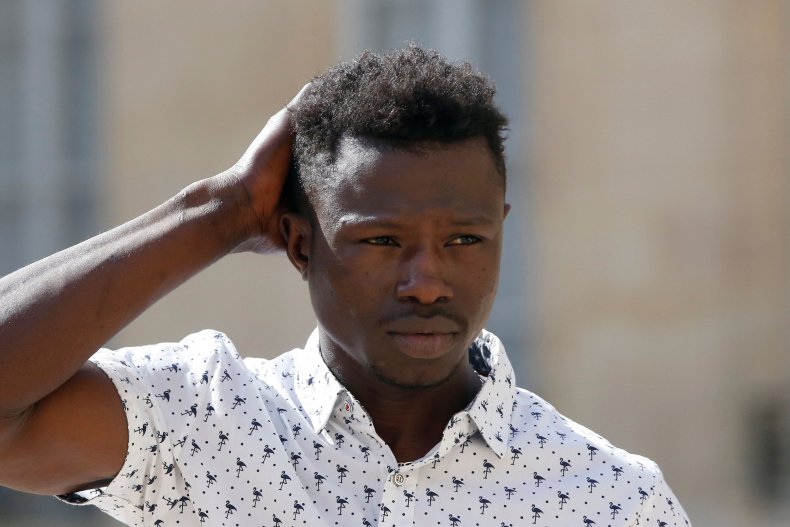 Paris Mayor Anne Hidalgo called Gassama to thank him for his bravery and said she hoped he would be able to stay in France.
"He explained to me that he arrived from Mali a few months ago with the dream of making a life for himself here," she wrote on Twitter.
"I replied that his heroic act is an example for all citizens and that the City of Paris will obviously be keen to support him in his efforts to settle in France."
The father of the child was later detained for alleged parental neglect. The boy's mother was reportedly not in Paris at the time of the incident.
"Luckily, there was someone who was physically fit and who had the courage to go and get the child," a fire service spokesman said at the time, reported Agence France-Presse.