A huge colony of spiders at a nature reserve on Australia's east coast have created an amazing spectacle that is enthralling visitors.
In an image shared by the Friends of Kooloonbung Facebook group, a sea of intricately-formed spider webs can be seen blanketing a field of long grass in the Kooloonbung Creek Nature Reserve, Port Macquarie, New South Wales.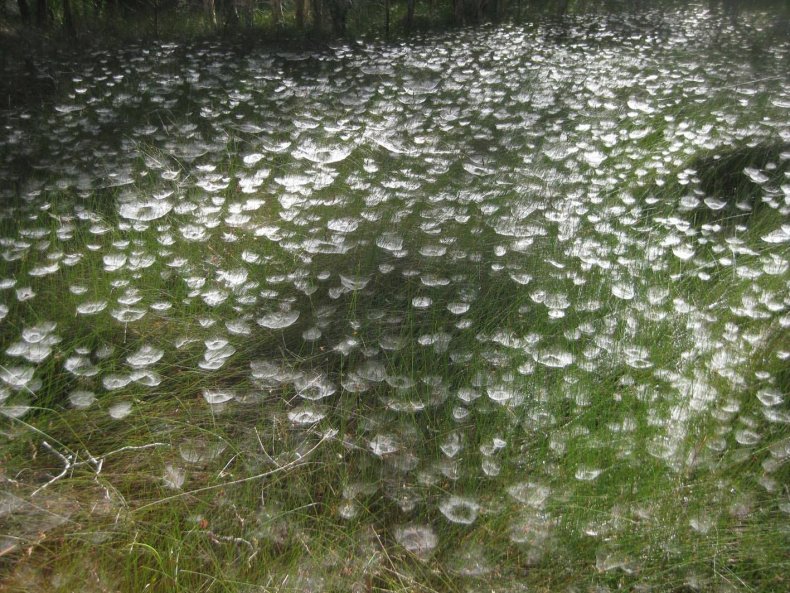 For much of the day, the webs are difficult to see, however, in the early morning and late afternoon they catch the sunlight, causing them to shimmer and shine.
Observers have likened the unusual display to everything from a swarm of floating jellyfish, a sprinkling of snow, a field of cotton wool or even a fleet of tiny floating spaceships.
"It reminds me of surfing in spring and paddling through a sea of jellyfish," local resident Adam Easter told Australian website ABC News.
Rex Moir, a volunteer at the reserve, described how the individual webs looked almost like miniature tents.
"Sometimes it looks like as though it's a tent—so an upright structure, but if you look for too long it can look like it's going downwards," Moir told Yahoo 7 News. "It's quite spectacular once you get up very very close."
Moir said that the webs can be deceiving to the eye, much like an optical illusion.
"One day they can be there and next day they can be gone," he said.
Currently, it is not clear which species of spider created the dazzling display. Experts have speculated that the webs likely belong to a type of tent spider.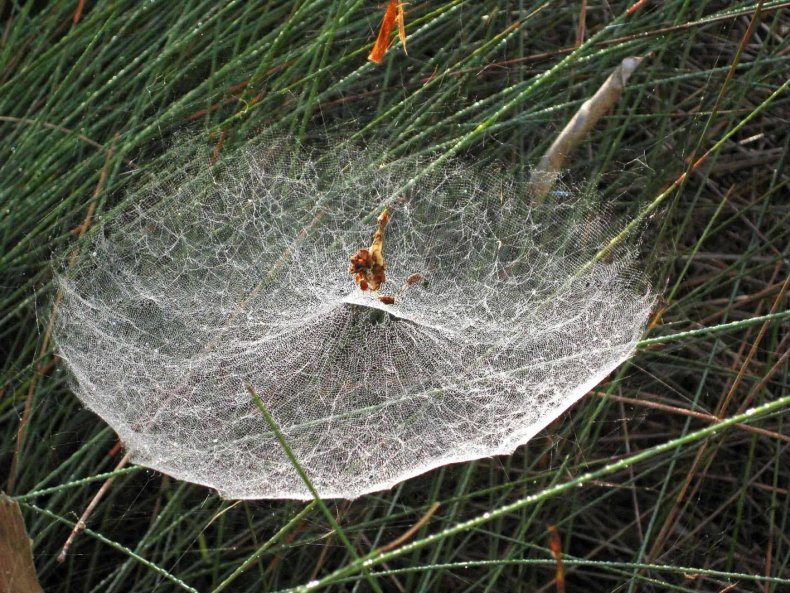 "[Tent spiders] all make slightly different webs but you can tell by the sheet structure with regular square mesh and the webs resemble a tent," Naomi Hyunh, a spokesperson for the Queensland Museum, said in a statement. However, to confirm that it is these spiders that are responsible, a picture will be needed, she said.
There are a number of species of tent spiders, which can be found across Asia, Oceania and parts of Africa. On Australia's east coast, where the reserve is located, Russian tent spiders are fairly common, according to the Queensland Museum.