Spigen's 'Liquid Air' Smartphone Case Is Lightweight With a Sharp, Subtle Design
Spigen's latest range of smartphone cases offer a variety of aesthetic designs while providing protection against bumps, scratches and scrapes.
The South Korean brand has evolved into something of an authority in the busy mobile accessory space, and it recently sent Newsweek a selection of its cases so we could judge which options are best-suited for keeping your premium phone pristine.
Out of the five rubberized cases, three stood out from the crowd: the minimalist "Liquid Air," the stylish "Rugged Armor" and the hulking "Tough Armor," which transforms any device into something that wouldn't look out of place on Batman's utility belt.
They were each tested in recent weeks on a black Google Pixel 4XL, a phone that can be extremely slippy on occasion thanks to its glass rear-panel.
The Pixel 4XL design is fairly simple, with the only standout color on the entire handset being a single white side button, meaning the use of a case wasn't going to obstruct any bright tints or unique design features—a perfect testing ground, then.
Priced at around $10, the Liquid Air case became my personal favorite. It is lightweight and retains the phone's slim frame without feeling flimsy. The case fit easily in pockets and didn't seem to attract fingerprints. The design itself is subtle, lacking a Spigen logo and instead using patterned rows of triangles that are pleasingly symmetrical.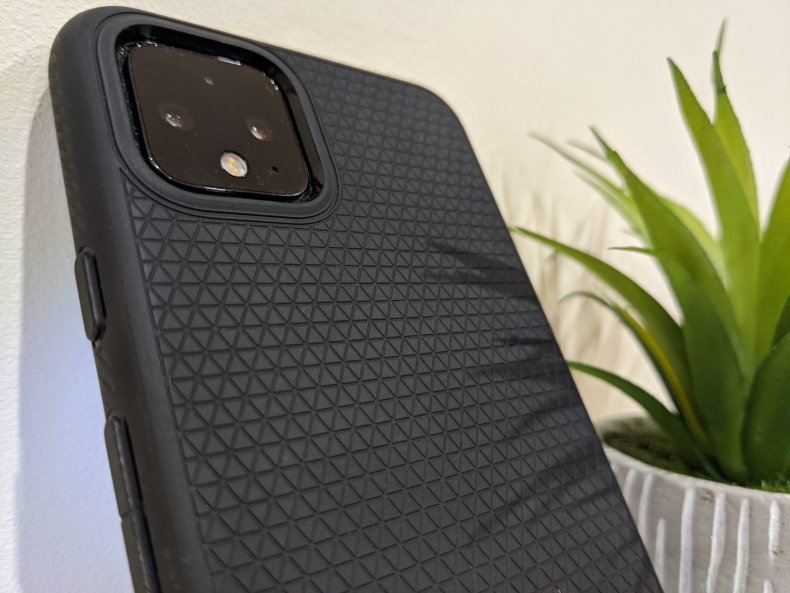 The only downside, which was a factor with most of the cases, was it covered the white power button, taking away the distinguishing feature of the device. Not a dealbreaker, but should be noted for anyone who wants to save the XL color scheme.
Coming in at second place was "Rugged Armor," another form-fitting case that takes a minimalist, but slightly sleeker, design. It has a small strip of carbon fiber at the bottom of the silicone back and shock absorption functionality. One aesthetic choice that may be off-putting for some consumers is the visible Spigen logo, which is kept fairly large and positioned facing upwards from the bottom right-hand corner of the case.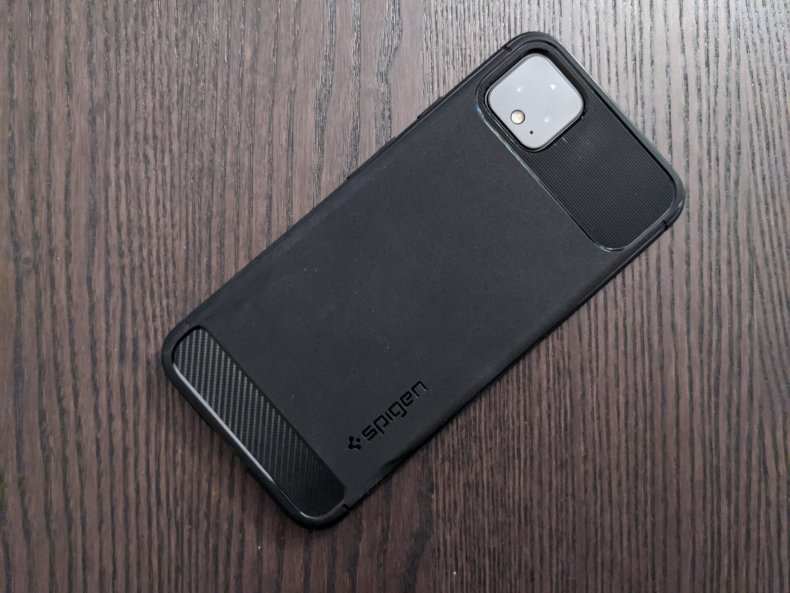 The wildcard of the three was easily the polycarbonate "Tough Armor," which came in as a third favorite and is a Goliath of a case that didn't care about maintaining slimline form factor, taking pleasure in adding both chunk and weight to the Pixel 4XL.
The Tough Armor is slightly pricer, at around $14, but it helps protect the edges and the cameras with raised edges, while also offering you anti-shock protection.
It comes with a kickstand that pops from a nook on the back of the case, making it the only one out of the group tailored for travel. It's bulky, so it won't be for everyone, but would be perfect for anyone needing extra protection, Batmen or builders alike.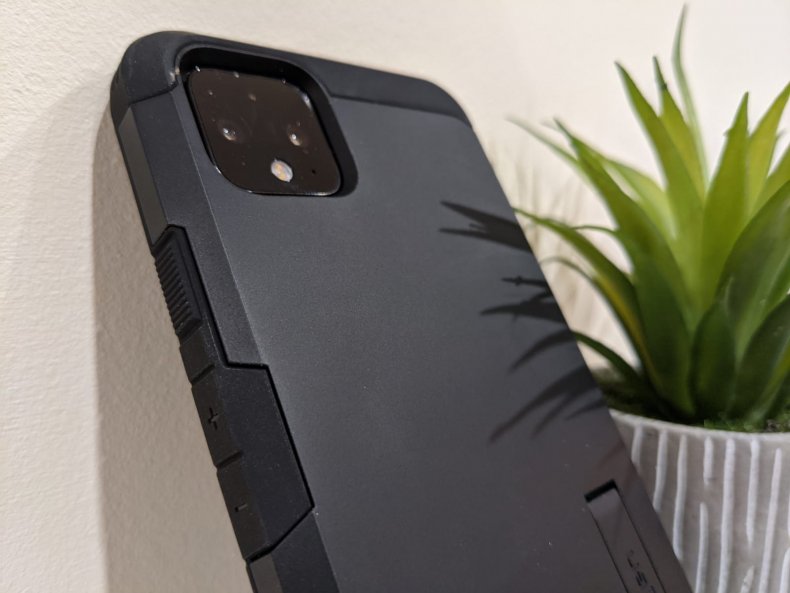 If the 4XL was one of the more colorful versions, such as the white or orange, I probably would have embraced one of the two transparent cases sent over by Spigen, "Liquid Crystal" or "Ultra Hybrid," however the matte black options suited much better.
Case Complexities—Thoughts and Impressions
With many smartphones more expensive than ever, often costing $1,000-plus, it makes sense you should want to keep it safe—an often overlooked aspect.
Whether it's trying to reduce the chances of that large high-resolution screen smashing into pieces from the smallest of drops, or simply wanting to cut down on wear-and-tear, it's clear a decent phone case can be one of easiest ways to offer protection.
In 2020, however, finding the right one is a bit complex. It's no longer a case of simply picking up a cheap black case with a plastic screen cover and a cool belt clip.
No, the better options have to strike a balance between utility and beauty, retaining any unique aesthetic choices of the handset while also acting as a buffer between your wallet-emptying new purchase and the cold, hard, smartphone-killing, floor.
Personally, I hadn't rocked a smartphone case in years, much preferring to keep a more slim and light design in the hand while not blocking any unique colors or materials used to make a handset unique. It started with the cool tint of the Huawei P20 Pro, and I have never really felt the need to force any shiny new handset to cover up since.
Some recently-tested mobile devices have challenged that notion, however, notably the glass-covered LG Velvet, which was super slim and looked fantastic but often felt like it was intentionally attempting to escape from my grasp every chance that it got.
After a few weeks of use, one Spigen case, the Liquid Air, remains snugly fit around my Pixel 4XL. It has stopped slippage, and provides an extra piece of mind. Spigen's cases are by no means the only option out there, but they offer a good balance of function and looks. If you are in the market for a new case, take a glance in that direction.
According to its website, Spigen offers cases for the majority of the mainstream phones, including ranges by Apple, Samsung, Google, LG, Sony, HTC, Huawei and OnePlus. Its accessories also cover tablets, including all iPads, and a range of wearables.