Calls to Spanish-Language Voter Hotline Signal Latino Mobilization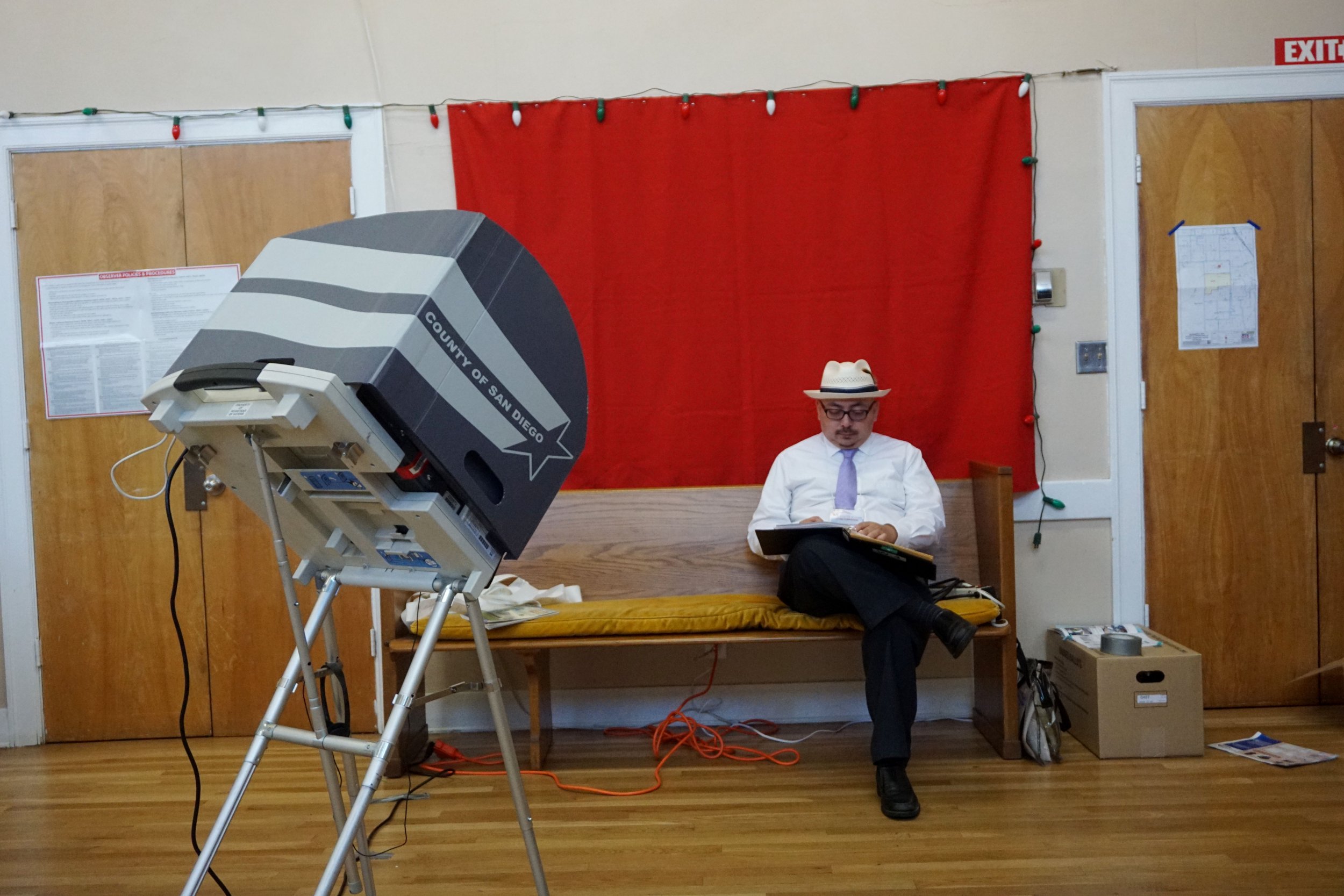 The surge in Latino turnout during early voting could be one of the most significant factors in the 2016 election and thus far, advocacy organizations say that spike hasn't resulted in any widespread problems at voting places. Instead of voter concerns, the volume of calls continuing to come into a Spanish-language voter hotline run by the National Association of Latino Elected and Appointed Officials (NALEO) Education Fund, signal Latinos' interest in voting remains enthusiastically high. And that could be bad news for GOP presidential nominee Donald Trump and his fellow Republicans.
In a packed conference room in a downtown D.C. office building a little before lunchtime on Tuesday, 14 bilingual volunteers were using smartphones to field calls patched in from the hotline number (1-888-VE-Y-VOTA) in seven states in the Mid-Atlantic and Appalachia. They entered any relevant information into a database to track and follow up on any problems or questions regarding voting. Laura Maristany, NALEO's director of policy and legislative affairs, says most of the calls thus far have been from "people asking where their polling location is, what kind of documents they need to bring in."
A large majority of the calls have been coming from Virginia, according to Sindy Benavides, civic engagement and community mobilization director with the League of United Latin American Citizens (LULAC), which is partnering with NALEO to host this and two other hotline call centers in California. In total, a coalition of Latino advocacy groups are working with NALEO to staff the hotline in 14 call centers nationwide. The largest, in Los Angeles, has about 50 lines. Call volume has spiked over the course of the 2016 election, Maristany says. The latest tally, from two weeks ago, was a total of 110,000 calls to the hotline, which has been operating going back to the primaries.
In recent days, hotline operators have received reports of a few isolated problems—instances of harassment in Virginia and North Carolina; a polling site that didn't open on time in the Bronx Tuesday morning; and a lack of bilingual poll workers in Massachusetts and in Pennsylvania. But overall, most callers just want to make sure they can vote. That includes one woman who was preparing to go to the airport in Maryland and wanted to make sure she'd have time to get to her polling place in Miami before polls closed. (She was told she'd have to go straight there to make it ahead of the 7 p.m. cutoff.)
Before the election started, NALEO had forecast that of the 27.3 million eligible Latino voters in the 2016 election cycle, 13 million would turn out and vote. Now, Maristany says, analysts on Latino turnout are beginning to tell her the number could be even higher, up to 14 million. "That would be, obviously, unprecedented. Even the 13 million was an increase."
Those kind of figures would be a major victory for the Latino political community, giving it the kind of political clout pundits have long forecast for the fast-growing demographic group. Until this election, Latino voter turnout had largely underwhelmed. The challenge for groups like NALEO and LULAC is maintaining Latino voter interest piqued in the 2016 election cycle by a Republican presidential candidate who consistently denigrated Mexican immigrants. They're already working to do so.
"We just got a call from someone that just naturalized" and wanted to vote, says Maristany. Unfortunately, the caller was from Maryland, where, unlike some other states, new citizens are not allowed to register at their polling sites on Election Day. The hotline volunteer took down the caller's information anyway. Maristany says, "That's someone that we might want to reach out to in the future to provide more information as to where to register and when."