Spike in COVID Cases Prompts Japan to Extend State of Emergency
Japan's central government is considering extending its coronavirus state of emergency, which is set to expire on May 31, in nine prefectures as the country faces a new spike in COVID-19 cases.
On Sunday, Chief Cabinet Secretary Katsunobu Kato said the administration "will discuss whether to scale down (the state of emergency) to quasi-emergency measures, or whether to continue the declaration for a while, then bring (the nine prefectures) back to a normal state if the situation significantly improves."
In an effort to curb a fourth pandemic wave, Prime Minister Yoshihide Suga has declared a state of emergency for Tokyo, Osaka, Kyoto, Hiroshima, Hokkaido, Aichi, Hyogo, Okayama, Fukoka prefectures, where restaurants and bars must close at 8 p.m. and are barred from serving alcohol or offering karaoke.
Kato said the final decision will be made by Saturday, likely extending the order in the nine prefectures until the June 20 expiration date, which was also announced for Okinawa Prefecture on Sunday.
"We are expected to see questions about setting different deadlines for each region, so we will consider them in groups," Kato said.
The central government will weigh the number of infections, hospitalizations and data on people's movements throughout the country when contemplating lifting the order.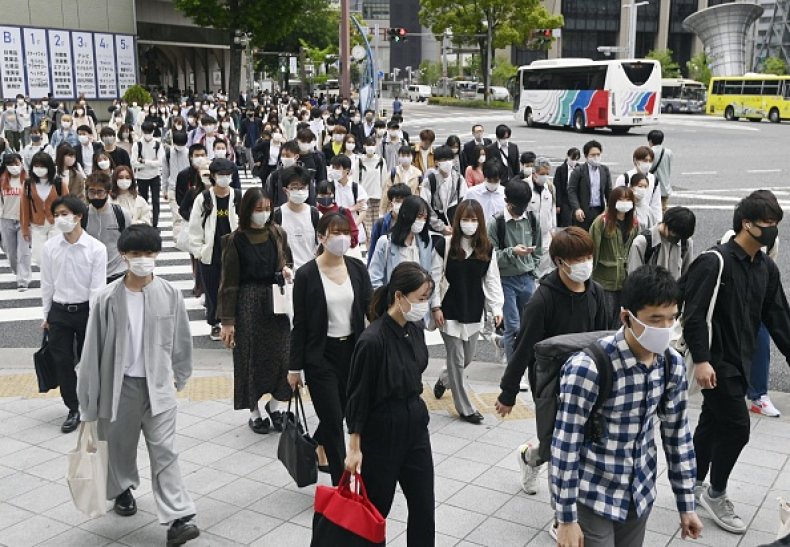 Japan reported more than 4,000 new daily COVID-19 cases on Sunday, with 605 in Hokkaido and 535 in Tokyo.
"Although the number of infected people has decreased from the previous week, it has not been controlled," Tokyo Governor Yuriko Koike told reporters.
Toyko is still set to hold the summer Olympics game in July despite protests and pushback that the event could make the current surge even worse.
Keiichiro Kobayashi, a professor at Keio University and a member of a government advisory panel on the COVID-19 response, warned that lifting restrictions too quickly could lead to a resurgence in infections ahead of the games.
"If the government hastily lifts the declarations, that would lead to a rebound (in the number of cases) and put a major brake on the economy," Kobayashi said at the Sunday panel.
Hospitals in Japan's second largest city of Osaka have been hit the hardest by the fourth coronavirus wave, with officials warning that the systems are on the brink of collapse.
"Simply put, this is a collapse of the medical system," Kindai University Hospital Director Yuji Tohda told Reuters.
On the other hand, COVID metrics have improved in places like Ehime Prefecture, where the central government ended emergency orders on Saturday, earlier than the planned May 31 end date based on judgement that the region's situation has improved.
Newsweek reached out to the government of Japan for further comment but did not hear back before publication.