What Spike Lee Said About Donald Trump in Fiery Awards Speech
Spike Lee has compared Donald Trump to Adolf Hitler in a scathing speech for an awards ceremony.
The acclaimed director, 63, described the violence at the Capitol as a "sad day for America" while accepting a special prize from the New York Film Critics Circle.
"We are living in a very serious time in America," said Lee. "President Agent Orange will go down in history with the likes of Hitler ... all his boys, they are going down on the wrong side of history."
The message had been recorded on January 6—the day of the deadly insurrection by Trump supporters in Washington, D.C.
The Oscar winner was being recognized for his 2020 short film New York New York, which was filmed earlier in the coronavirus pandemic.
"It's a very sad day in the history of America," the director said. "We're at the crossroads now ... and everybody please be safe. This is not a game."
Following President Joe Biden's victory in the November 2020 presidential election, Lee was spotted celebrating at an impromptu New York street party, where he was filmed popping champagne.
He later joked to Deadline that it was actually prosecco.
"OK, it wasn't champagne, it was handed to me," he said earlier this month. "But it was a glorious day. It's very sad that this guy is still saying that he won and trying to dismantle democracy and his gangsters, co-conspirators, won't acknowledge it, a lot of them. I'd say [his presidency] was a goddamn shame and history is not going to be very kind to Agent Orange."
It's not the first time the Do the Right Thing and Da 5 Bloods director has spoken out against the former president.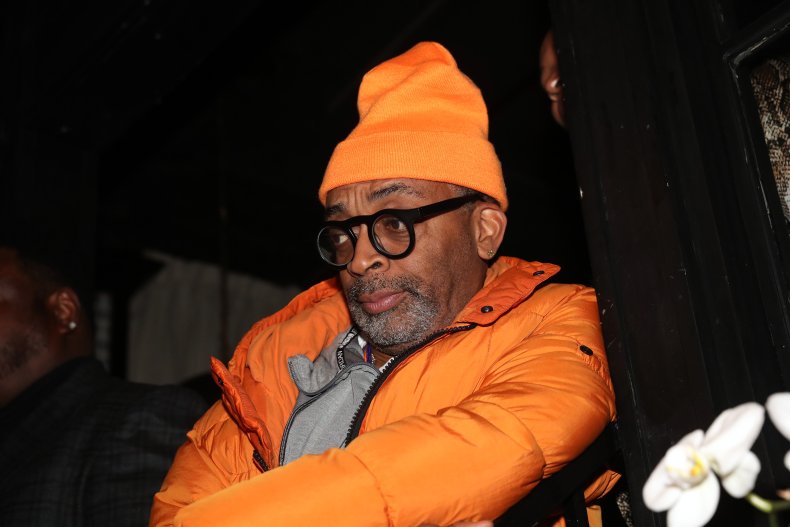 Reflecting on Trump's legacy earlier this month, Lee told Deadline that the past four years were a "terrible mark on American democracy."
"No matter how bad we talk about Agent Orange, it's even a more condemning comment on Americans as a country that 70 million people voted for this guy," he said.
He added: "That's a comment on an America that is OK with the president saying all Mexicans are rapists, murderers and drug dealers. That's 70 million people who believe it's OK if you separate mothers from their newly born sons and daughters, many still breastfeeding.
"That's one of the highest immoral acts: separating mother from infant child. Who does that? Nazis? Slave owners? That's f****** shameful. That's a f****** disgrace and that is a terrible mark on American democracy."