Spike Lee Once Again Pledges His Love for New York City With New Short Film
Oscar-winning director Spike Lee has once again demonstrated his love for New York City—this time, with a new short film, posted to Instagram.
Appropriately titled "New York, New York," this new joint is a montage of famous New York landmarks from all over the five boroughs. Viewers get glimpses of the Statue of Liberty, Yankee Stadium, Corona park, One World Trade Center and more, set to Frank Sinatra's classic rendition of "New York, New York."
Before the end of the short, Lee cuts to health care workers and first responders who are keeping the city safe, showing an ambulance from Lenox Hill Hospital, Brooklyn Hosptial and Elmhurst's trauma center, along with pop-up centers that have become all too common for people to get tested for COVID-19. As much as the video is an ode to the city, it's also a tribute to those healthcare workers who are putting themselves at risk. In the Instagram caption, Lee called it "A Love Letter To [New York]'s People."
Lee also thanked Sinatra's daughter Tina (presumably for letting him use the song), his camera operator Kerwin Devonish, editor Adam Goode, location manager Tim Stacker and Kodak "For The Super 8 Film And Cameras" in the caption.
The film also reiterates a message that Lee gave in a March interview about the Cannes Film Festival being postponed due the virus. "We're doing whatever everybody else is trying to do—come together, love each other and just try to ride it out," he told Variety. "This s**t is crazy. This s**t is bananas."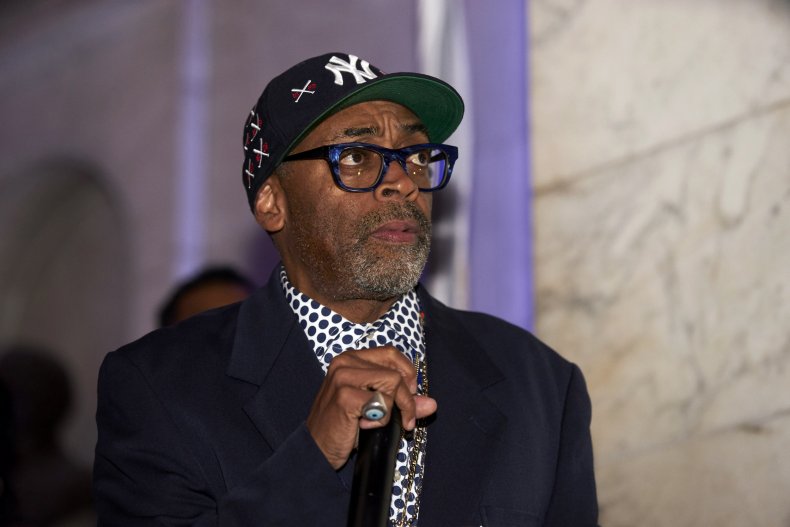 Lee's next full-length film, Da 5 Bloods, will be released to Netflix on June 12. The movie, which features Black Panther star Chadwick Boseman, BlacKkKlansman actor Paul Walter Hauser, Jean Reno and Delroy Lindo, is about four African-American veterans returning to Vietnam to recover their dead leader's body and a gold fortune that he helped hide. Lee announced that the film would premiere on Netflix in a video posted to Twitter and Instagram on Thursday.
"It's coming out, coming out-the world premiere, for the world. It's coming out globally!" he announced. "June 12, Friday. The new Spike Lee joint Da 5 Bloods, ya dig? Sho-nuff."
With the new short being released Thursday and a feature film coming in June, the iconic director has certainly kept himself busy lately. Lee also joined Twitter in early April to participate in a School Daze watch party, along with journalists Jasmyn Lawson, Sylvia Obell, Tre'vell Anderson and Nina Parker, offering commentary along with his classic 1988 movie.