Spike Lee Slams Trump After Oscar Win for Failing to 'Reject' the KKK Following Charlottesville Riot
Spike Lee took aim at President Donald Trump following his Academy Award win for BlacKkKlansman; a film that was awarded Best Adapted Screenplay and told a timely story that targeted Trump's America.
Lee, 61, is no stranger to showcasing his political views. He's been very outspoken against Trump as well. A reporter asked the filmmaker his thoughts on how BlacKkKlansman has "changed society" as many people were unaware of the presence the Ku Klux Klan in today's society. To this, Lee recognized this was a "hard question" to answer but he responded by citing Trump's controversial stance following the deadly Charlottesville, Virginia, riot from August 2017 that resulted in the death of Heather Heyer.
"That car drove down that one street in [Charlottesville], Virginia, and the president of the United States did not reject, refute [or] did not denounce the Klan, Alt-Right and Neo-Nazis," Lee said. "This film, whether we won Best Picture or not, this film will stand the test of time being on the right side of history."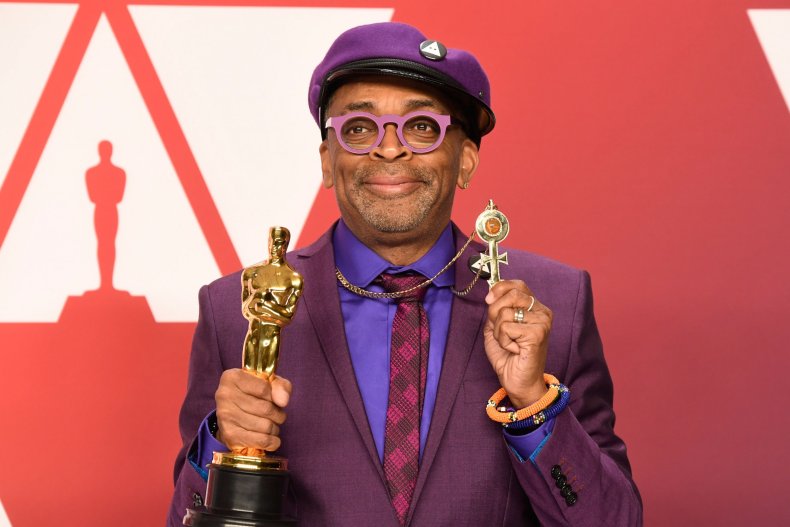 BlacKkKlansman is based on the true story of Colorado police officer and detective Ron Stallworth and how he infiltrated the KKK. John David Washington starred as Stallworth. The film also featured Adam Driver, Topher Grace, Laura Harrier and Ryan Eggold. Lee penned the film's screenplay with Charlie Wachtel, David Rabinowitz and Kevin Willmott.
Lee gave a powerful speech during Sunday's 91st Oscars upon winning for Adapted Screenplay; marking his second Oscar after scoring an Academy Honorary Award in 2015. In his speech, he tackled black history and its progression over the years. His speech also appeared to touch on Trump as he seemingly suggested for viewers to vote him out during the 2020 presidential election.
"Before the world tonight, I give praise to our ancestors who have built this country into what it is today along with the genocide of its native people," he said. "We all connect with our ancestors. We will have love and wisdom regained, we will regain our humanity. It will be a powerful moment."
Lee continued, "The 2020 presidential election is around the corner. Let's all mobilize. Let's all be on the right side of history. Make the moral choice between love versus hate. Let's do the right thing!"
The infographic below, provided by Statista, illustrates how this year's Oscar nominees for Best Picture fared in critic and audience ratings.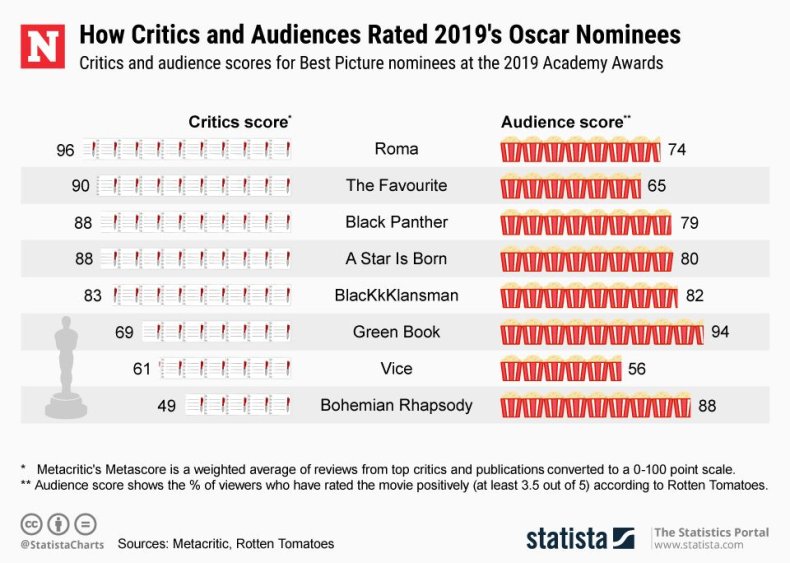 This article was updated to include an infographic.