Woman Demonstrates Just How Easy it Is to Spike Drinks by Doing it For Herself
Of the nearly 1.5 million rapes reported by women in a 2015 survey conducted by the Center for Disease Control, more than a third were described as alcohol or drug facilitated. Shining a practical light on the statistics this week, a TikTok video posted by a self-described "big sister" demonstrates how easy it is for rapists to target women with date rape drugs.
Mell Hall, a feminism and personal development TikToker from Toronto, opens her viral video, which has been seen on TikTok more than 1.7 million times (it picked up millions of additional views on other social media platforms like Twitter), with an imaginary handshake. She reaches over a wine glass filled halfway with clear water to introduce herself. It's the first of several techniques for slipping a drug into a drink, demonstrated in rapid-succession.
She uses playful familiarity, "accidental" mix-ups, bumps against the bar and passing money, all as excuses to surreptitiously drop a potential date rape drug—she used popcorn kernels instead—into someone's drink. Even paying close attention, it's tricky to catch the exact moments she slips the corn kernels into the glass.
"I've never done that before," Hall says at the video's end. "It took me two minutes of practice, and I now have five kernels in the bottom of this glass."
"I feel really icky after doing that," Hall added in the caption to her video, "even if it wasn't real."
Appearing on TikTok and Instagram under the screenname renaissancewomanhood, Hall created the video after skeptical responses to a previous TikTok video, in which she recommended keeping a coaster on top of drinks at bars. Responding to several commenters, one of whom doubted the need to even guard against date rape drugs, Hall released several short explanatory videos before demonstrating specific techniques in her viral release.
"It's so easy and it happens so fast to drop this tiny little dissolvable, flavorless pill into a drink," Hall said, describing the coaster on top as a condom for her drink.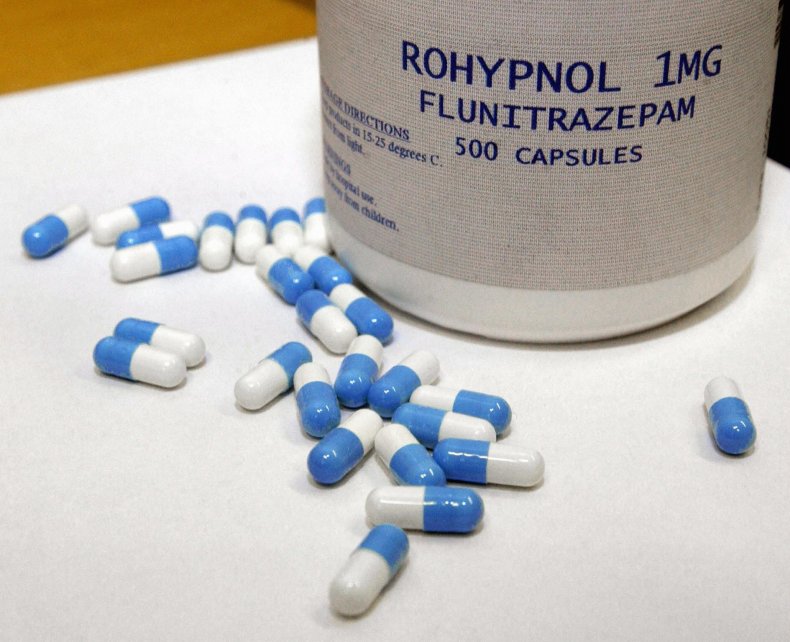 Hall created seveal follow-ups to the viral video, including a TikTok in which she mock sorrowfully admits to having exposed herself as a Canadian with her accented pronunciation of "sorry."
Other responses were more informative, such as a follow-up in which Hall descibes how some date rape drugs used to "spike" drinks can be nearly impossible to detect, including liquid-form drugs and quick-dissolving powders.
The Office on Women's Health, part of the U.S. Department of Health and Human Services, describes a variety of sleep aids, tranquilizers and other drugs that can be used to impair someone, making vulnerable to sexual assault. They name specifically flunitrazepam (the generic name for Rohypnol), GHB (and the related GBL) and ketamine.
"Some date rape drugs look like regular drinks or other drugs you may be used to seeing," the Office on Women's Health warns. "Drugs such as Rohypnol, GHB, GBL, and ketamine may look like pills, liquid, or powders. Often date rape drugs have no color, no smell, and no taste when added to a drink or food."
While date rape drugs can sometimes change the color of a drink, by making a clear drink cloudy, for example, small changes can be hard to detect in a bar or night-time situation.
"This is real. It happens," Hall wrote in an Instagram caption accompanying the video. "It only takes a moment for someone to slip something into your drink."
In a two-part follow-up posted to TikTok Thursday, Hall told of her own encounter with date rape drugs, when two men bought a pitcher of beer for her table of friends at her 19th birthday party and drugged it without their knowledge.
The Office on Women's Health recommends against accepting drinks from other people and advises people to keep control of their drinks at all times. They also recommend watching out for friends and asking "your friends to the same for you."
"Get help right away if you feel drunk and haven't had any alcohol or if you feel like the effects of drinking alcohol are stronger than usual," the advice on date rape drugs recommends. "If you think someone has drugged you or a friend, call 911 or go to a hospital emergency room. Even though it may be difficult, it is important to tell a doctor or nurse what happened and that you might have been drugged so they can test for the right drugs."