Spinal Tap Turns it Up to 11 After Settling Copyright Dispute with Universal Music
After a three year legal battle with Universal Music, faux rockers Spinal Tap can finally crank their amps up to 11 and celebrate.
The members of the fictitious band and creator Rob Reiner have reached a settlement that will see the group getting paid and eventually claiming the rights to their music, according to The Guardian.
In 2016, Harry Shearer, the actor who played bassist Derek Smalls in the mockumentary This is Spinal Tap, filed a lawsuit, which cited "anti-competitive behavior" and "fraudulent accounting," as reasons for his claim to $125 million since the group had allegedly received only $98 in soundtrack royalties from 1989 until 2006 and only $81 for merchandise between 1984 and 2006, probably not even enough money for a miniature Stonehenge replica.
Shearer was later joined in the lawsuit by Christopher Guest, who portrayed guitarist Nigel Tufnel, Michael McKean, who performed as singer David St. Hubbins, and Reiner, the film's director, with the group seeking $400 million in damages.
The settlement assures that "eventually the rights will be given to the creators."
Billboard reports that Shearer praised Universal for their level of respect. "I must admit, from the moment we first began mediation with them to now, I've been impressed by UMG's respect for creatives and their distinctive desire to seek a prompt and equitable solution to the issues," Shearer said.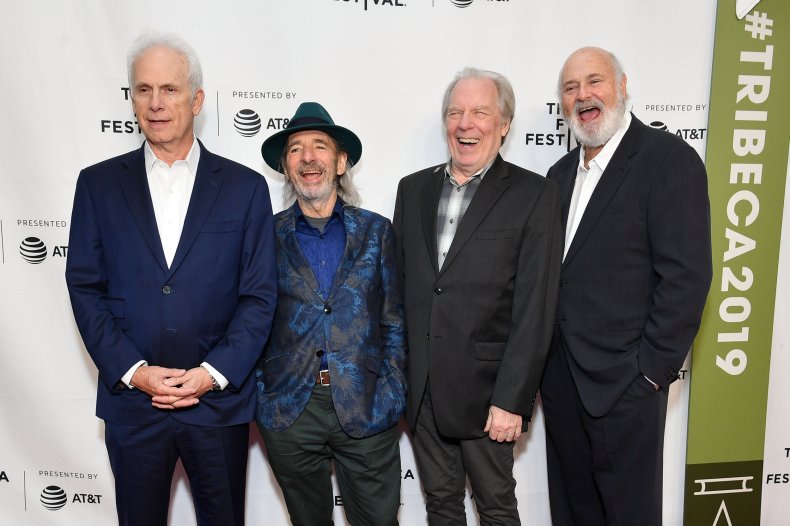 Billboard does specify that while the dispute with UMG has ended, the band is still seeking legal action from film production company Studio Canal and their executive Ron Halpern for fraud, breach of contract and anti-competitive business practices.
The group formed for the 1984 mockumentary film This is Spinal Tap, which parodied overblown documentaries of rock bands like Led Zeppelin's The Song Remains the Same or Martin Scorsese's The Band documentary The Last Waltz. The actors have reassumed their roles for various reunions since the film's release, including an April 2019 show and screening of the film at the Tribeca Film Festival, where Elvis Costello joined them, Brooklyn Vegan reports.
In 2019, The New York Times reported that master recordings of the band had been lost in 2008 Universal Fire, alongside masters from artists such as Elton John and Guns N' Roses.
The settlement states that this is not only a victory for the band but for fans. "The Parties look forward to making these beloved recordings available to existing and new Spinal Tap fans for years to come," the statement says.
Spinal Tap Turns it Up to 11 After Settling Copyright Dispute with Universal Music | Culture