'Spinning Out' Cast: Who Stars in the Netflix Series?
Netflix's latest drama is Spinning Out, centered around the world of figure skating, with the cast led by British actress Kaya Scodelario as troubled skater Kat Baker alongside Mad Men's January Jones as her bipolar mother Carol. The cast of newcomers also inculdes Willow Shields, Evan Roderick and Amanda Zhou among others, as well as famed Olympic figure skater Johnny Weir.
Who is in the cast of Spinning Out on Netflix?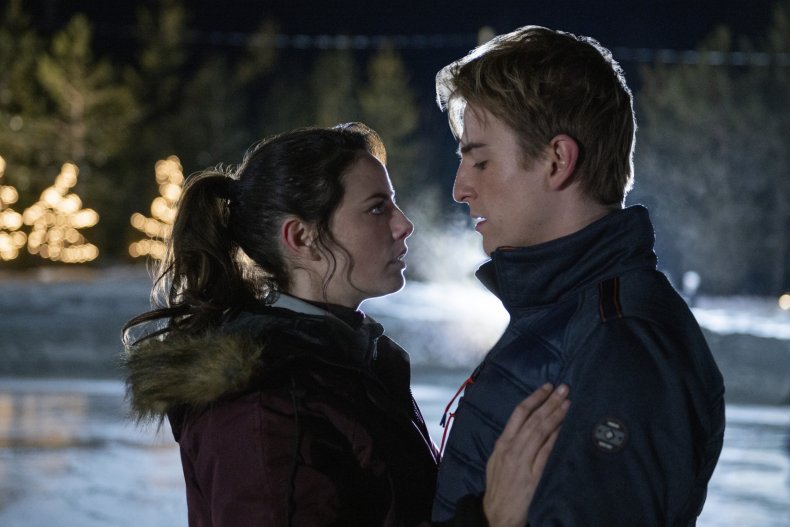 Kat Baker — Kaya Scodelario
Spinning Out's lead is Kat Baker, a promising skater spooked by an on-ice accident. Early on in the series Kat embarks on a new career as a pair skater while trying to chase away her various personal demons. Speaking to Variety, Spinning Out executive producer Tory Tunnell said of the character, "Kat is one-of-a-kind. She's elegant, but she's not even trying to be elegant. She's entirely watchable, and it comes to her so naturally. Her peers are really hard-working athletes — and not to say she isn't — but she has 'it'; she has that thing that everyone wants, and she didn't conjure it, but it comes naturally."
The role is played by British actor Kaya Scodelario. Best known in her home country for playing the younger sister of Nicholas Hoult's character in cult drama Skins, in the U.S. she will be better known for roles in films like Crawl, The Maze Runner and the most recent Pirates of the Caribbean film.
Speaking to Bustle about her role, the actor said, "I always had in the back of my mind that Kat needs to have this mask of perfection on all the time. She's never late, she pays her bills on time, she knows exactly how much money she has in the bank account. Because she needs to feel completely in control of the image of herself."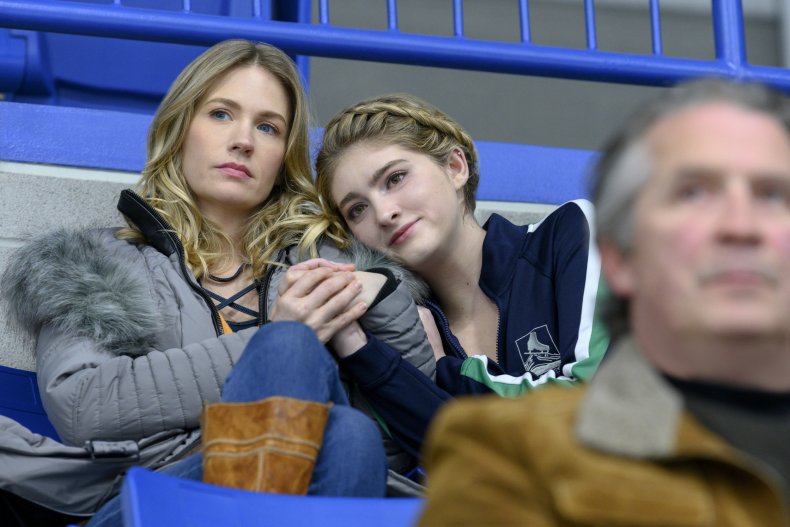 Carol Baker — January Jones
After an unexpected pregnancy put an end to her Olympic-standard ice skating career, Carol is determined to push her daughters to have the success she never had, even if it means not properly treating her bipolar disorder.
Two-time Golden Globe nominee January Jones' defining role is as Betty Draper on Mad Men, though the actress has also starred in X-Men: First Class, The Last Man on Earth and another recent Netflix series, The Politician.
Serena Baker — Willow Shields
Kat's sister, and also her greatest rival, is Serena, who at the start of Spinning Out finds herself being pushed to breaking point by her mother after Kat's accident makes it seem like her skating days are behind her. Best known as Prim from The Hunger Games films, Willow Shields has also recently starred in Hulu series The Unsettling.
Justin Davis — Evan Roderick
Kat enters the world of pair dancing as the partner of Justin, a very privileged young man whose world could not be more different from hers.
Evan Roderick has appeared in shows like BH90210 and Arrow, and has some of the most extensive experience on the ice of any of the main Spinning Out cast after playing years of ice hockey.
Speaking to Pop-Culturalist about his skating experience, Roderick said, "I had to re-learn how to skate... I spent a lot of time on skates and in the rink. But figure skates are completely different. They have a toe pick at the front. For me, it was like a tripping device... I bailed about five or six times before I really got the hang of it."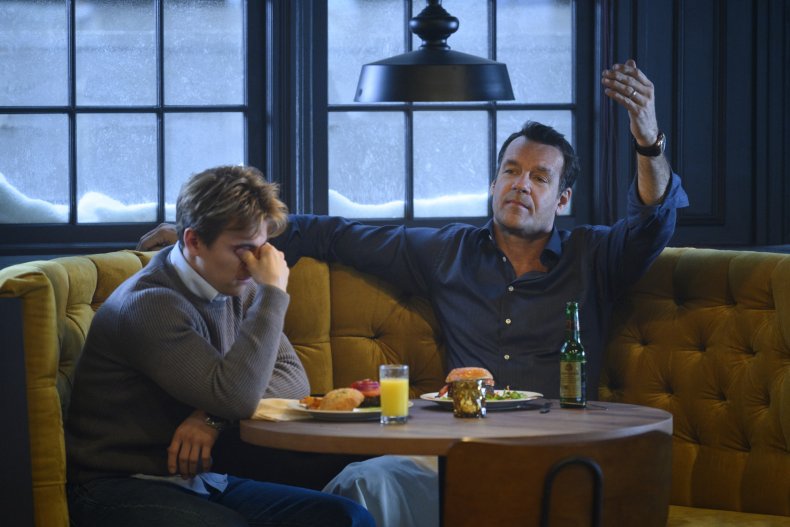 James Davis — David James Elliott
James Davis is Justin's brash father, who believes he can simply buy his cherished son out of any problems he might be facing at any given time—though this does not make the relationship between them any stronger.
The character is portrayed by David James Elliott, best known for his leading role in JAG, which he recently reprised in NCIS: Los Angeles.
Mandy Davis — Sarah Wright
James' much younger trophy wife is Mandy, who acts as the softer side of the family, often providing comfort to Kat as she considers ending her career. She is played by Sarah Wright, star of Parks and Recreation, Mad Love and films like The House Bunny.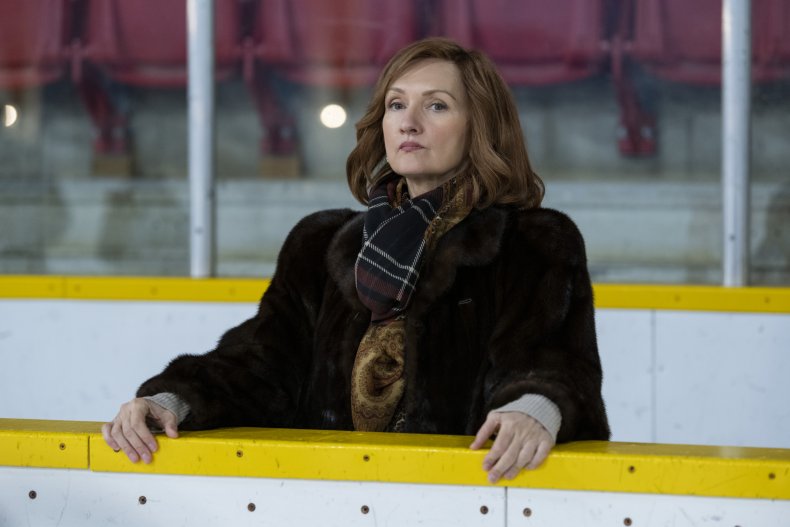 Dasha Fedorova — Svetlana Efremova
Dasha becomes Kat's coach when she takes up pairs, offering motherly comfort when her actual mother is unable or unwilling to give it. Svetlana Efremova, who plays the role, has been seen in series like The Americans and movies like Phone Booth.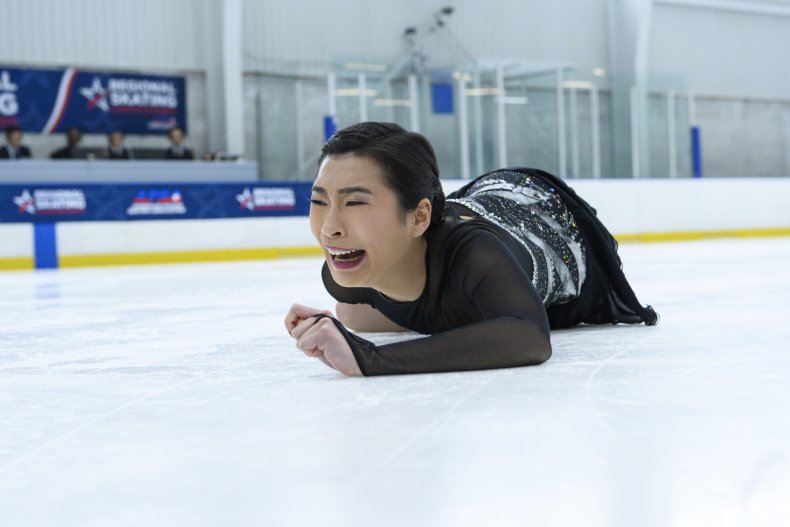 Jenn Yu — Amanda Zhou
Kat's best friend is Jenn, who, like Kat, has suffered injuries in the rink that make her reconsider her life choices. Amanda Zhou, a newcomer who will soon star in upcoming Netflix show October Faction, did much more of her own skating compared to her cast mates, with Variety reporting that she did all of her own ice work save for the jumps, which were performed by a stunt double.
Gabe — Johnny Weir
Johnny Weir, the NBC sports commentator and two-time Winter Olympics competitor, has a role in Spinning Out as Gabe, one of Kat and Justin's rivals in the rink.
Also starring in the Netflix series are Will Kemp as Serena's skating coach Mitch, Charlie Hewson as skating doctor Ethan, and Kaitlyn Leeb as Leah, Gabe's skating partner. Also cameoing in the series is Queer Eye's Jonathan Van Ness as Leah and Gabe's choreographer Bruce.
Spinning Out is on Netflix now.