'Spinning Out' Ending Explained: What Happened at the End of the Netflix Show and What It Means for Season 2
Netflix figure skating series Spinning Out was always willing to pile on the drama, but the show saved its biggest reveal until its ending. It left us on a cliffhanger as to Kat Baker (played by Kaya Scodelario) and Justin's (Evan Roderick) professional chances, provided explosive revelations about Dr. Parker (Charlie Hewson), and suggested a very different Season 2 for Kat's mother Carol (January Jones).
Throughout Spinning Out, Kat's fellow skater and sister Serena (Willow Shields) has been extremely suspicious of her coach Mitch (Will Kemp) who she suspected may be taking advantage of Kat. However, her suspicions of Mitch, who it turns out is more interested in Serena's mother than her sister, made her blind to the true sexual predator in the Pinecrest skating community.
In Episode 10 of the Netflix show, we learn that underage Serena has been in a secret romance with Dr. Parker, but she is not the only young girl the specialist has been preying on. After Kat's best friend Jenn (Amanda Zhou) had her on-rink accident, Dr. Parker has been in charge of her rehabilitation. However, he has also been romancing her while caring for her.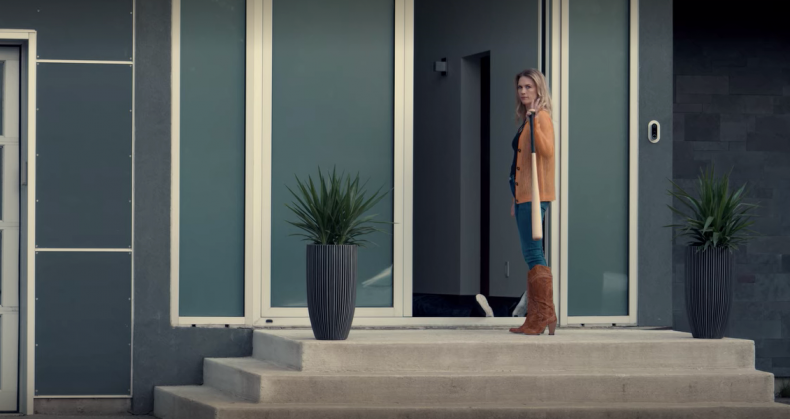 This revelation has an impact on all three of the Baker women in varying degrees. Kat loses her best friend after she confronts Dr. Parker and he denies any connection with Serena, leading her and Jenn to fall out. Serena breaks down and stumbles in her competition, ruining her chances of any success in the rink.
The biggest impact, however, is on Carol, who looks sure to be facing jail time if there is a Season 2 of Spinning Out.
Finding out what the doctor has done to her daughter, she confronts him with a baseball bat, calmly hitting him in the head with it. She even waves at a witness, suggesting she is making no attempt to disguise her crime.
Season 2 may see Kat face a further burden, then, as she is forced to care for herself and Serena without their mother, who at the very least will probably find herself in psychiatric care if she somehow gets off the crime on account of her bipolar disorder.
One thing we do not see at the end of the season is how Kat and Jason's dance actually goes. Season 2 will either see Kat juggling her increasingly unstable personal and family life while further chasing Olympic success, or facing the fact that her dreams have passed her by again due to her failures on the ice.
Season 2 of Spinning Out has not been confirmed yet by Netflix, but the streaming service is likely to reveal whether the series is renewed or not in the coming months.