Spirit Airlines Flight Attendant Argues With Passenger Over Gaiter Face Covering, Says Police Will Be Waiting
A Spirit Airlines passenger was told to expect local police to be waiting for him after an argument with a flight attendant over face masks was captured on video and shared to social media.
The video begins during the conversation with the passenger—who is unnamed—telling the Spirit Airlines employee that he is wearing a mask.
In response, the flight attendant asks what he is wearing under his mask and that the cloth around his nose and mouth is not "legally" a mask.
"Legal by who?" the man asks, flipping the camera around to show himself wearing a neck gaiter printed with an American flag.
"It is not legal according to the CDC," the attendant says in a video posted to Twitter.
The passenger then asks the attendant to "show me those rules" to which the attendant replies that he is not required to.
"Well I don't have to wear the mask that you gave me," the passenger says, implying that the airline provided him with a face mask that met its standards. "I'm wearing the mask that I have."
The passenger tells the attendant that he has been on 20 flights with the same face covering. When the passenger refuses to comply, the attendant tells him the police will be waiting at the airport when the plane lands.
"Our flight attendants asked this Guest to double up his American flag gaiter as required by our policy, and in line with CDC guidelines for dual-layered face coverings that hug the chin closely," Field Sutton, a spokesperson from Spirit, told Newsweek. "He would have been welcome to keep wearing it like that, but he refused to follow the rules."
Sutton said the protocol had nothing to do with the design of the passenger's face covering.
In a statement made Friday, the airline also said it "proudly welcomes anyone onboard who wants to show their pride with an American flag on a face covering that complies with our policy."
"Our flight attendants asked the Guest in this video to double up his gaiter. When he refused, they offered him an alternative face covering, and he refused that option too," the statement read.
Spirit's current face covering policy, which has been in effect since August 5, requires guests to wear a covering while at the airport, on the jet bridge and while onboard the aircraft. The covering "must fit snugly cover the nose and mouth and be secure under the chin and have at least two layers of fabric," according to the airline's policy.
However, neck gaiters are not on the list of inappropriate face coverings, which include triangle bandannas, coverings with valves or mesh material, and face shields. Passengers who do not comply with the requirements are subject to "lose future flight privileges" with the airline.
Although neck gaiter's are not on that list, the airline said, "The CDC cautions that gaiters may not be effective, which is why we require Guests to either double up neck gaiters so they're dual-layered and hug the chin, or to switch to a standard ear-loop face covering."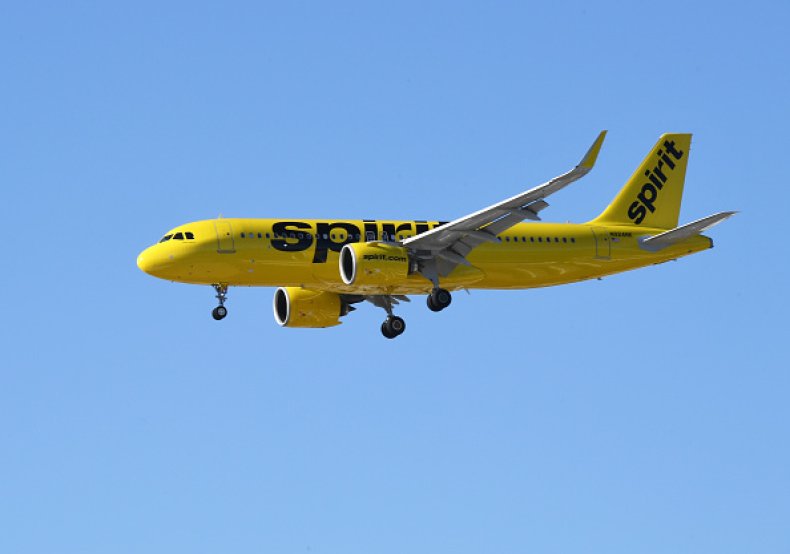 Spirit has one of the stricter face mask policies when compared to other commercial airlines. Their policy does not allow passengers to claim medical exceptions or underlying conditions that prevent wearing a mask. American Airlines and Southwest also prohibit passengers who have medical exemptions from failing to wear a face coverings on flights.
Southwest, unlike Spirit, specifies that neck gaiters are classified as face coverings under its policy so long as the gaiter covers the passenger's nose, mouth and chin.
Other airlines, such as Delta, does allow passengers to be medically exempt from wearing a face mask while flying if they have a doctor's note.
Update 18/09/20 5:15 p.m. This story was updated with comments from Sutton and Spirit Airlines.