Spirit Airlines Grounds Planes Nationwide Over System Glitch
Spirit Airlines has been forced to temporarily ground its flights across the U.S. due to a glitch in the low-cost carrier's online and internal systems.
A slate of IT-based issues on Monday afternoon caused a number of components to be taken offline, Spirit stated. This includes the airline's website and other scheduling and flight-based operations.
When attempting to access the company's website, users were greeted with a screen stating that it would be "back up shortly," noting that those who were looking to travel could still book a flight on a third-party website. The page then provides a link to Spirit's preferred booking partner, OneTravel.
"We are currently experiencing IT issues that affect our website and other systems, and we implemented a temporary ground stop for upcoming flights because safety is our top priority," Spirit said in a statement. "We're working with our partner to restore connectivity as soon as possible. We apologize for the inconvenience this has caused our Guests and will provide updates as we work toward resolving this issue."
Sam Sweeney, a transportation reporter for ABC News, shared an image of the air traffic control advisory that noted all Spirit flights would be grounded for the time being due to "internal equipment issues."
Despite the stoppages, Spirit stated in an additional tweet that its airport operations were still functioning. This likely refers to the airline's check-in counters and arrival gates.
Spirit has not currently released statistics on its delayed flights due to the IT issues.
However, the website FlightAware, which independently tracks the aviation industry across the globe, noted that at least 209 Spirit flights were listed as delayed on Monday. This represents approximately 29 percent of the airline's total daily number of flights, which Travel + Leisure states is around 500.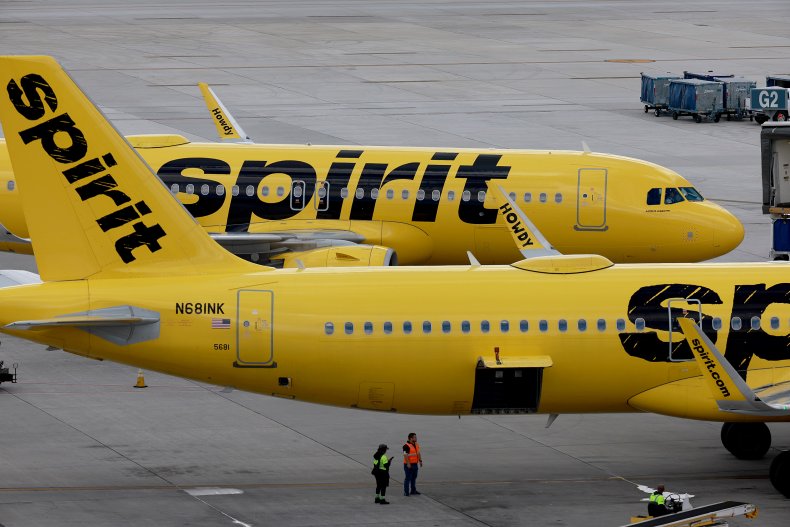 While the majority of Spirit's itineraries were only listed as delayed, FlightAware reported that five flights have been officially canceled.
"If your flight was canceled, you have the option to receive a refund, reservation credit, or to be rebooked on another Spirit flight," the airline said in another statement. "If a Spirit flight is not available today or tomorrow, we will look for other options including other airlines and hotel accommodation as needed."
Spirit Airlines has not yet stated when they expect the systems to be back up and running. Newsweek reached out to the airline via Twitter for comment.
The groundings represent a standstill for one of the United States' most prominent low-cost carriers.
For this upcoming Saturday, the third-party website Travelocity offered a one-way ticket from Los Angeles to New York on Spirit for just $74. In comparison, American Airlines and Delta Airlines were offering the same flight for $157 and $208, respectively.
Despite only having a reported fleet of around 170 planes, its low airfares help to keep Spirit competitive among the nations' larger carriers. As a result, the airline is currently listed as the eighth-largest in the United States.
These rankings could soon change, however, as another low-cast entity, Frontier Airlines, announced in early February that it was planning to acquire Spirit in a deal estimated to be worth $6.6 billion. If finalized, the merger would create the fifth-largest airline in the United States.