Spirit Airlines canceled hundreds of flights on Wednesday in the fourth day of travel disruptions for the airline. In a statement to Newsweek, the company blamed widespread system outages, poor weather and staffing shortages.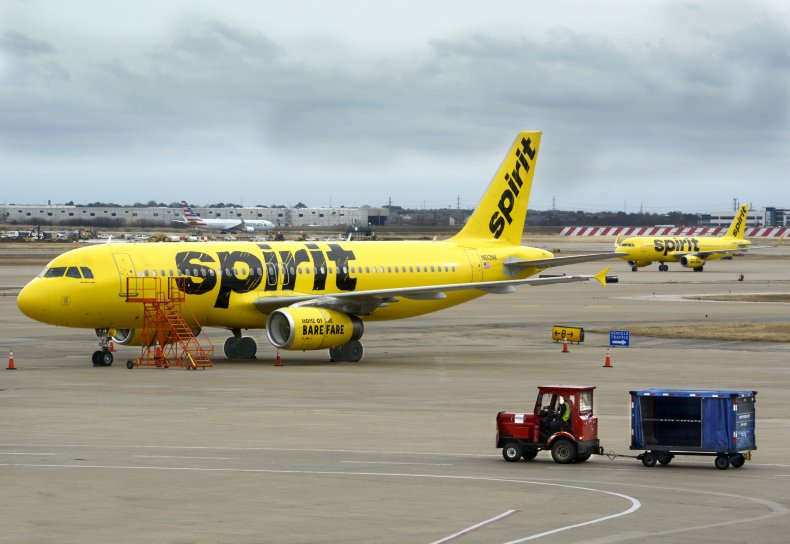 The Florida-based airline, known for its inexpensive rates, had already removed 343 Wednesday flights from its schedule by 11 a.m. EDT. This accounts for roughly 50 percent of Spirit Airlines' flights for the day and comes on the heels of the airline canceling 61 percent of its Tuesday flights and 42 percent of its Monday flights, according to industry tracker FlightAware.
The Spirit Airlines' flights scratched for Wednesday make up a great deal of the entire industry's U.S. flight cancellations of the day, which had totaled 523 at the time of this writing.
American Airlines had also canceled hundreds of flights in recent days, but it had only removed 3 percent of its scheduled flights on Wednesday morning.
Spirit apologized to its customers in its Wednesday statement. The company's message read, in part, "We've dealt with overlapping operational challenges including weather, system outages and staffing shortages that caused widespread irregularities in our operation and impacted crew scheduling."
"These issues were exacerbated by the fact that we are in peak summer travel season with very high industry load factors and more limited options for guest re-accommodations," the statement added.
The entire airline industry has seen a spike in travelers this summer. Data from the Transportation Security Administration (TSA) showed the agency screened more than 2.2 million U.S. passengers on Sunday alone. That figure represents the highest amount of people screened since the start of the pandemic more than a year ago.
One rumored factor for the cancellations was ruled out by the Spirit's pilot union on Tuesday. The union's official Twitter account said: "Spirit Airlines has recently been experiencing a series of operational struggles. These issues are not due to a pilot strike. Any such rumor or report is completely false."
The Association of Flight Attendants-CWA, a union that represents approximately 4,500 Spirit Flight Attendants, also released a statement on Tuesday. It said union representatives were scheduled to meet with Spirit CEO Ted Christie and Chief Operating Officer John Bendoritis to discuss the airline's disruptions.
"Spirit management has begun treating this irregular operations as a hurricane recovery and strategically canceled flights around the system with the possibility of a system reset," the union wrote in its statement.
Spirit Airlines' statement to Newsweek said the company believes the issues will be sorted out in the near future.
"After working through yesterday's proactive cancellations, we've implemented a more thorough reboot of the network, allowing us to reassign our crews more efficiently and restore the network faster," the statement said. "As a result, cancellation numbers will progressively drop in the days to come."