Spirit Airlines Passenger Attempts to Open Emergency Door Mid-Flight, Grounds Plane
A Spirit Airlines flight that departed from Cleveland was diverted Wednesday from its California destination to Colorado after a passenger allegedly tried to open one of the plane's emergency doors in midair.
The airline said in a statement shared with Cleveland news outlets that none of the flight's passengers were harmed during the incident. After the plane landed in Denver, law enforcement officials took the passenger into custody, the airline's statement said.
"Spirit Airlines flight 185 diverted to Denver on the way to Los Angeles due to a passenger who appeared to attempt to open an exit door," the statement Spirit Airlines shared with WJW-TV said.
The airline said in its statement that successfully opening a plane's exit door during a flight was "impossible" due to the cabin's air pressure: "It is important to note that opening a door inflight is impossible due to air pressure inside the cabin pinning the door against its frame with force stronger than any person could ever overcome."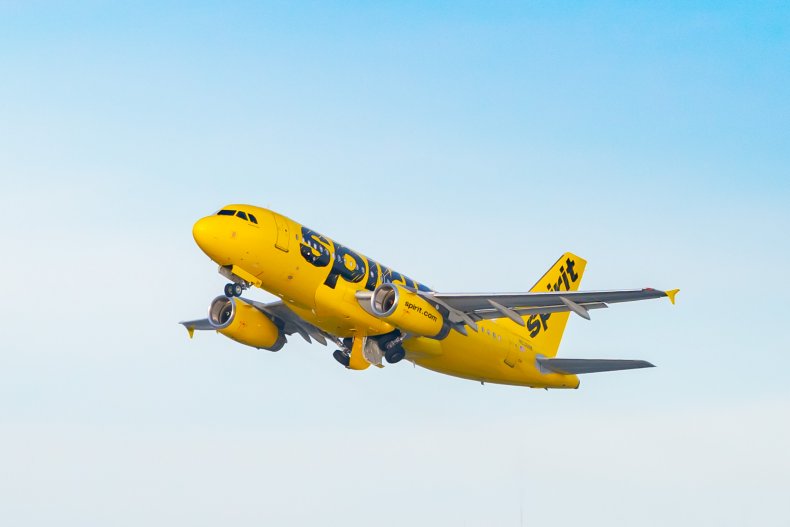 The Denver International Airport referred Newsweek to Spirit Airlines and the Denver Police Department for further information. An airport official did confirm that the flight Spirit Airlines mentioned in its statement to local media outlets—Flight 185—was diverted to Denver. The plane landed at about 8:22 p.m. local time "due to a disturbance on board," the airport official said.
When contacted for comment, the Denver Police Department referred Newsweek to the FBI, which the department said handles in-flight incidents. Newsweek reached out to the FBI's Denver Field Office for comment and will update this article with any response.
Spirit Airlines' statement to local media went on to emphasize that safety is the airline's top priority. No passengers were injured in connection with the incident, the airline told local media outlets.
"Safety is our number one priority at Spirit Airlines," the airline's statement said. "Law enforcement met the aircraft in Denver and took the passenger into custody. We thank the crew members and Guests who assisted for handling this situation quickly prior to arrival."
According to the Federal Aviation Administration, 108 unruly passengers were reported by the end of November in 2020, down from between 140 and 160 per year in both 2018 and 2019. The FAA signed an order earlier this year allowing penalties for passengers "who interfere with, physically assault, or threaten to physically assault aircraft crew or anyone else on an aircraft." The fines can reach up to $35,000 and include time behind bars, the FAA said in announcing its policy, which was set to remain in effect through the end of March.
Information on whether the passenger involved in the incident that diverted the Spirit Airlines flight to Denver would face fines or other charges was not immediately available.
Newsweek reached out to Spirit Airlines for comment and will update this article with any response.