Spirit Airlines Plane Slides After Safe Landing Following Winter Snow Storm
A Spirit Airlines flight slipped while taxiing to an airport terminal in Maryland on Thursday morning, in an incident that did not result in any injuries to the 111 passengers and crew members on board.
A spokesperson for Spirit Airlines told Newsweek the plane landed on the runway without issue. It was while the aircraft was taxiing to a terminal at Baltimore/Washington International Thurgood Marshall Airport (BWI Marshall Airport) that its nose wheel slipped.
"After safely landing and entering the taxiway this morning, the nose wheel of Spirit Airlines flight 696 slowly slid onto the grass while turning a corner and taxiing to the gate," Spirit Airlines Media Relations Manager Field Sutton said. "All 111 Guests and Team Members are safe and were transported by bus to the terminal."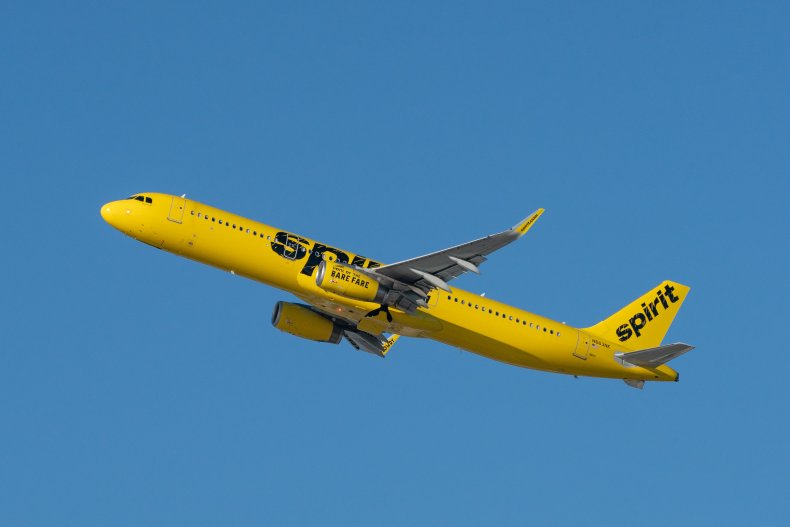 The plane took off from Las Vegas and landed at the airport in Anne Arundel County, Maryland, at about 6:18 a.m. ET, according to a statement from BWI Marshall Airport. After the plane slipped off the taxiway onto some nearby grass, personnel with the BWI Marshall Airport Fire and Rescue Department arrived to assist those on board, the airport said.
Shuttles were then deployed to take all of the passengers and crew members from the plane to the airport terminal.
The passengers and their luggage arrived at the terminal by 8:35 a.m. ET, according to WBAL-TV.
The plane slipped the morning after snow coated the region, leaving roads slippery with ice. According to The Baltimore Sun, about 1.6 inches of snow fell at BWI Marshall Airport on Wednesday, while other spots in the state saw snowfall totals exceed 3 inches.
Shortly before 9 a.m. ET on Thursday, the Maryland State Highway Administration issued a warning to travelers about the risks of black ice. "Overnight precipitation has created slippery conditions on both roads and sidewalks," the administration tweeted. "If the surface looks wet, assume it is ice."
In the hours immediately following that warning, the administration's Twitter feed was littered with reports of vehicle crashes and a couple of vehicle fires.
BWI Marshall Airport on Wednesday said in a tweet its employees were tending to outdoor surfaces in response to the snow and rainfall. The airport also reminded passengers to check the status of their flights prior to arriving due to possible delays or cancellations.
According to flight tracking company FlightAware, Spirit Airlines canceled about 3 percent of its flights initially scheduled to land in or take off from the U.S. on Thursday, and another 7 percent of its flights were delayed.
By early Thursday afternoon, BWI Marshall Airport cancelled about 15 percent of its outgoing flights for the day and another 14 percent were delayed, FlightAware reported.