Spirit Customers Claim They Were Given $50 Vouchers as Travel Chaos Reaches 5th Day
Spirit Airlines canceled hundreds of flights on Thursday for the fifth day in a row, while some frustrated customers have claimed on social media they were given $50 vouchers after they were left stranded at airports.
A spokesperson for the airline had previously said refunds would be issued for travelers whose flights had been canceled. Newsweek contacted Spirit Airlines regarding the voucher claims but did not hear back in time for publication.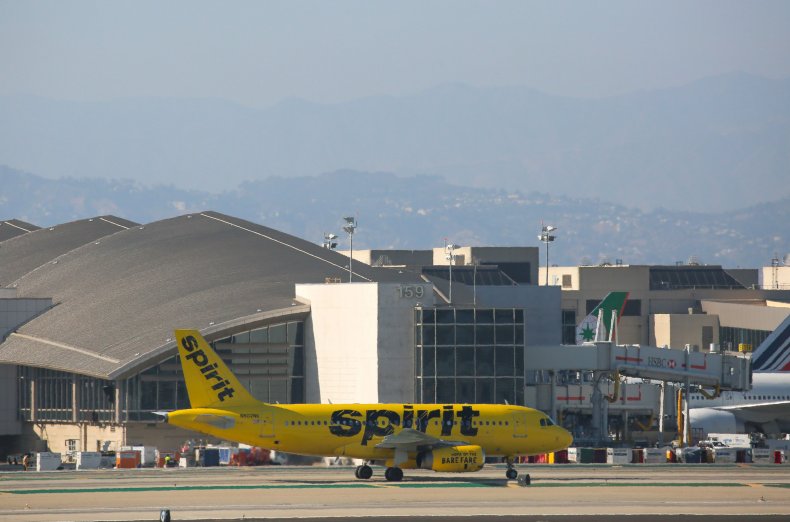 Spirit Airlines has cited widespread system outages, poor weather and staffing shortages for the recent travel disruptions. As of Thursday morning, the airline had already canceled almost 400 flights for the day—approximately half of its schedule for Thursday—according to industry tracker FlightAware.
Thursday is the fifth day that Spirit has scrapped hundreds of flights, and altogether the airline has thus far had more than 1,700 cancellations since last weekend.
FlightAware's data also showed that about 80 percent of all flights canceled in the United States on Thursday morning came from Spirit Airlines.
Along with being left stranded at airports while trying to connect to other flights, travelers who have been affected by the issues with Spirit have also been angry with the company's response. Many took to social media to claim they were given only $50 vouchers for their inconvenience.
One person who said they had booked with the company wrote: "@SpiritAirlines - a $50 voucher to fly on Spirit isn't what travelers need or want. We want to be compensated for the arrangements we had to make because of your complete failure to ensure your customers got to their destinations. You failed us."
Another person's message read: "Anytime I have had an issue with AA, Delta, Jet Blue or SW they own the issue and compensate. Spirit will give you a useless $50 voucher and tell you that the next flight they can put you on is in 3 days."
Several people who said they had used the airline also claimed the vouchers had an expiration date within a month. As one person stated, "#spiritairlines canceled my $300 flight and all they'll give me is a $50 Spirit flight credit that expires in a month and a lousy meal voucher."
Other Twitter users said they were expecting to get an immediate refund instead of the vouchers they said they received.
On Tuesday, Spirit Airlines spokesman Erik Hofmeyer said, "We're working to provide refunds for cancellations and, when possible, to re-accommodate our guests" on other flights.
Spirit also apologized to its customers in a Wednesday statement. The company's message attributed part of the reason for the rash of cancellations was an increase in travelers. It said, "These issues were exacerbated by the fact that we are in peak summer travel season with very high industry load factors and more limited options for guest re-accommodations."
The statement from Wednesday also said the company was working to fix the issues it was experiencing and that "cancellation numbers will progressively drop in the days to come."
American Airlines canceled hundreds of flights earlier in the week, as well, though issues with that airline have seemingly subsided. Only 43 cancellations were shown for American on Thursday morning.