Tasers Used on Children under 11 in U.K, UNICEF says
The use of Tasers and spit hoods on children should be banned in the U.K., according to the United Nations Children's Fund (UNICEF).
The agency said that they were being disproportionately used on children of color and that their continued use went against international children's rights standards. UNICEF called for the use of Tasers on children under the age of 18 to be banned.
It also criticized inhumane practices such as spit hoods which it says are also disproportionately used on children of color. A spit-hood is a bag made out of mesh, which is placed over the head of a detained person by a police officer to stop them spitting or biting.
According to the report, "A Rights-Based Analysis of Youth Justice in the United Kingdom", data gathered from 29 police forces reveals that 51 percent of children who had Tasers used on them in England were from a BAME (Black, Asian, Minority Ethnic) background.*
It also called on the Home Office to assess the reasons "for the disproportionate use of spit hoods on BAME children in England."
The report stated: "Across the whole period requested for 2017 and 2018, BAME children accounted for 34 percent of spit-hood use nationally and 72 percent of MPS (Metropolitan Police Service) use. This shows hugely disproportionate use of spit-hoods on BAME children given that they make up approximately 18 percent of the 10 to 17-year-old population."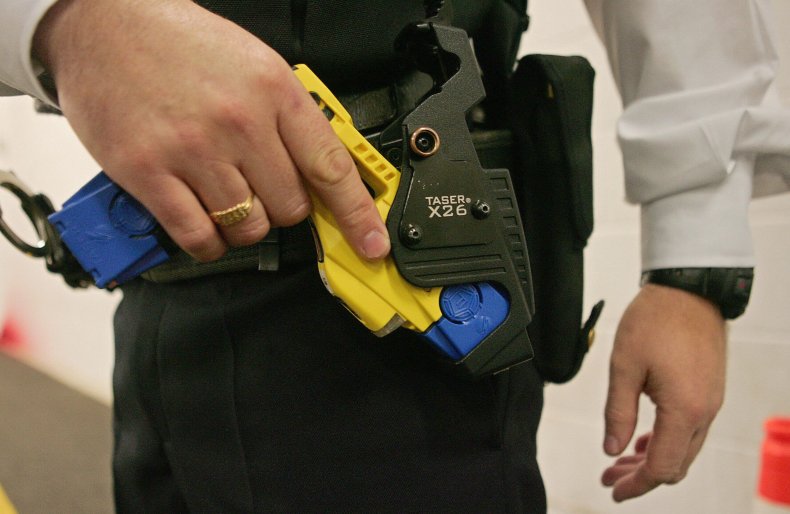 The report also highlighted how the four U.K. nations also have some of the lowest ages of criminal responsibility in the world, where children as young as 10 in England, Wales and Northern Ireland can be charged with a criminal offense and processed within the criminal justice system.
Scotland voted to increase its age of criminal responsibility from eight years to 12 years old but this is still below the UN recommendation of at least 14 years old.
Louise King, director of the Children's Rights Alliance for England (CRAE) told Newsweek: "The UN Committee on the Rights of the Child that monitors the U.K.'s rights obligations, they've been very clear that Tasers should be prohibited on children. They last examined the UK in 2016 and we support the UN committee in that but we're actually concerned that although that recommendation was made in 2016 the use of Tasers on children has actually increased since that time and it's going up year on year."
According to the latest available figures from the Home Office, Tasers were used against under 18-year-olds in England and Wales 3,280 times in 2018-2019. They were also used on children aged 11 or under on 29 occasions.*
Between April 2018 and March 2019, spit hoods were used on children on 312 occasions, up from 47 occasions the previous year, according to Home Office statistics obtained by the Children's Rights Alliance for England (CRAE).*
King said that there was a lack of awareness about how Tasers impacted children. She said: "Some of it is about just not recognizing that there needs to be a completely different approach to children and that they are not mini-adults, they are children, they have their own rights they are at a different developmental stage."
King also questioned the use of spit-hoods. She said: "They [the police] use spit-hoods if they think they are at risk of being spat at but one of the sorts of key arguments about why they are used is to prevent police officers that might be at risk of catching an infection from the saliva of a person, when we think about it in the context of children a lot of those illnesses children are very unlikely to have. We've also seen that there's been a lot of misinformation around things like it's possible to catch Hepatitis C or HIV from spitting when obviously that's not actually correct. There has been a lot of fear-mongering around that. We think they're not appropriate for children."
Recalling her organization's work with one 14-year-old who had a spit-hood placed on them, she said the child still found it extremely traumatic and has nightmares about it to this day.
A Home Office spokesperson said the use of Tasers and spit-hoods was to provide officers with protection. The spokesperson said: "Police put themselves in harm's way to defend us and the use of Taser and spit and bite guards provides officers with an important tactical option when facing potentially violent situations.
"We are clear that no one should be subject to use of force based on their race or ethnicity - it must be lawful, proportionate and necessary, and subject to proper scrutiny. Officers undergo comprehensive training to factor in potential vulnerabilities, and must take age and stature into account when assessing each situation."