Spoilers: Who Is Rubber Man? 'American Horror Story' Star Cody Fern Slams Season 8 Theory
Rubber Man isn't who you think he is, at least according to American Horror Story: Apocalypse star Cody Fern. The character returned to the FX anthology series at the beginning of Season 8, but his (or her) identity has not been revealed since he was first shown with Evan Peters's character, hairdresser Mr. Gallant. Fern plays Michael Langdon, the antichrist and antagonist of Season 8.
There's a reason why viewers don't know Rubber Man's identity. "Rubber man is a variety of different people," Fern told Newsweek in an exclusive interview. He mentioned how Tate has been just one of the people who donned the creepy black suit.
"Don't forget that Rubber Man also started off as a demon," Fern said. "There are moments where people have stepped into the suit."
Just people can wear the suit, doesn't mean that Rubber Man only exists if someone is wearing the costume. "Rubber is also a mythological creature of sorts who lingers in the background," Fern said. "I think people can get confused... When nobody is wearing the suit there is an element of supernatural embodying what rubber man is."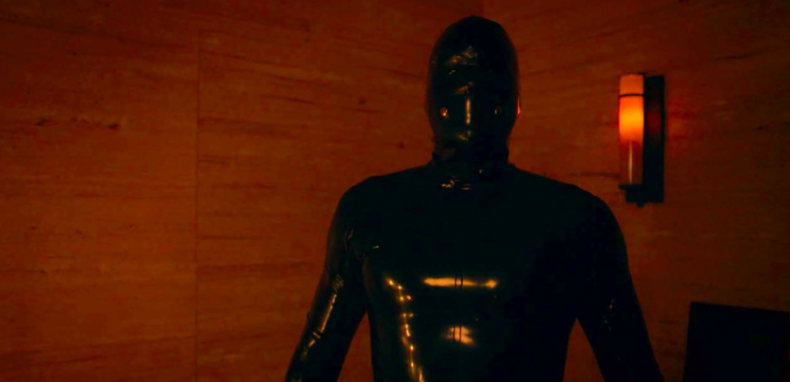 So who is the person wearing Rubber Man's suit in Outpost 3? "I don't want to ruin anyone's theories, but rubber man in outpost 3 is not Michael," Fern said about his character, who is the antichrist on Season 8. He wants people to "remember the supernatural in which the spirit or demon of Rubber Man functions… we all know that Michael is very close to demons."
Fern seemed to imply that while Michael not be wearing the Rubber Man suit, he still could control it. The actor gave a specific example, noting Michael didn't kill anyone in Outpost 3. It was robot Ms. Mead (Kathy Bates) and Ms. Venable (Sarah Paulson) who distributed the poison apples that killed everyone in the bunker. Mr. Gallant thought he was stabbing Rubber Man, but it was actually his grandmother, Evie Gallant (Joan Collins). Michael walked in on him afterward.
Wednesday's AHS is the penultimate of the season, which will likely bring viewers back to the current time. For the past few episodes, AHS has shown fans what happened before the apocalypse. Now, hopefully, viewers will get to see Michael, the antichrist, battle the witches.
Don't miss American Horror Story: Apocalypse when it airs Wednesday at 10 p.m. ET on FX.