Spoilers: Are 'Bachelorette' stars Colton and Tia Together? Corrine Olympios Doesn't Want Him to be 'Bachelor'
Update | Former Bachelor fan favorite Corinne Olympios doesn't think Colton Underwood should be the next Bachelor. Olympios quickly shut down the Bachelor prospect in a Monday interview with TMZ.
"Don't do it. No. He sucks. They all suck," she commented.
Olympios explained her view on Underwood, a proclaimed virgin. Underwood revealed his virginity to bachelorette Becca Kufrin during a one-on-one date. He was sent home the next week.
"Oh God, I don't believe that for a second," Olympios told TMZ.
She continued: "I feel like guys do that when they just want attention. Yeah, he's hot. Obviously, he's not a virgin. Like, hello."
Underwood responded to Olympios in Tuesday a conversation with TMZ.
"First of all, that's Corrine. And second of all, she just said 'they all suck,' and I can tell you the final four guys that were in here, they're all stand-up, quality men. So, I don't know what she's talking about."
He continued: "I, for one, don't understand when people look at me and they're like 'well, you have to be lying.' Why would I go on National television and say that...I feel like I shouldn't have to defend that because that's something that is sort of my morals and my values. It's who I am. It's what I say. It's my truth and that's all that I speak."
Kufrin and Underwood's relationship sparked quickly on the ABC reality show, though Kufrin's friend, Tia Booth, seemed to stand in the way. Booth and Underwood had briefly dated before the show aired. The past relationship was an early source of conflict between Underwood and Kufrin, and ultimately ended their relationship when Booth admitted having current feelings for Underwood.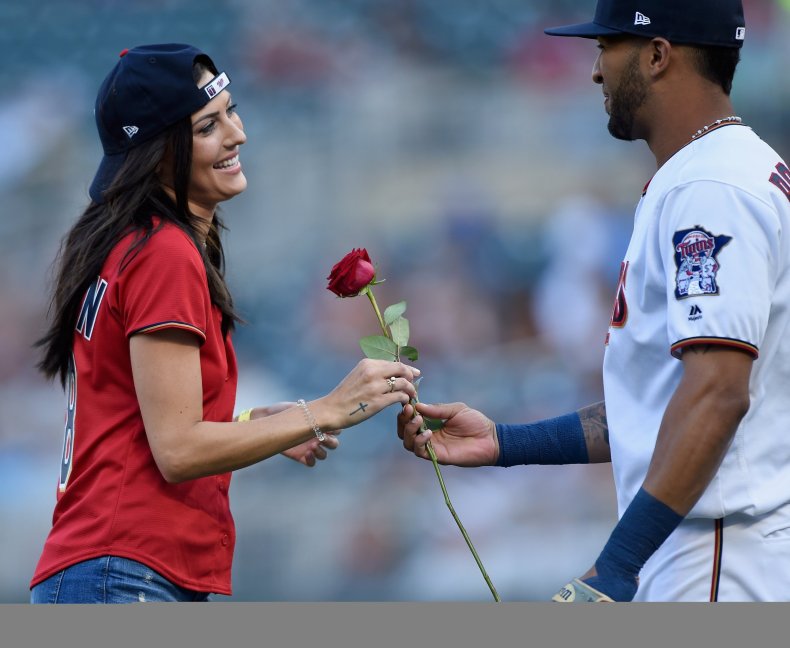 "I thought it was done, so the fact that she does still have some feelings and isn't on board with me being with Colton makes me frustrated," Kufrin said on the Monday episode. "It makes me angry."
Both Underwood and Booth will be on this summer's Bachelor In Paradise spinoff. The couple was photographed together on set which implied they may have attempted a reconciliation. The pair, however, did not leave filming as a couple, according to Reality Steve.
If Underwood left Paradise without a partner, he may be eligible for a shot at being The Bachelor next January. Jason Tartick and Wills Reid, two of Kufrin's fan favorites, are also possible nominations.
Reid will be on Bachelor In Paradise. Tartick is one of Kufrin's final three suitors. It has not yet been announced if Tartick will be in the summer spin-off.
Kufrin is reportedly engaged to Garrett Yrigoyen who was publically reprimanded for liking controversial posts on Instagram as the season aired. He was accused of liking photos that took aim at feminists, the transgender community, and a Parkland school shooting survivor. Kufrin responded to the backlash briefly.
"I've heard a little bit about it these past couple days," she said. "I've just been so busy traveling around the country with the press that I haven't really been able to read too much on it, but everyone is entitled to their own opinions."
This article has been updated to include Colton Underwood's statement to TMZ.