Spoilers: Are Hannah Brown and Peter Weber Back Together? 'Bachelor' Teaser Shows Reunion
A new Bachelor teaser shocked fans during Dancing With The Stars on Monday night. A trailer for Peter Weber's season, which will air on January 6, showed himself getting cozy with Hannah Brown, former Bachelorette.
Fans of the franchise know there's a thick history between Weber and Brown. Weber appeared on Brown's season of The Bachelorette in 2019. Though they didn't end up together—Brown ended up engaged, and then separated from Jed Wyatt—the pair made headlines for having sexual relations in a windmill on the show.
The trailer showed Brown showing up to speak with Wyatt as he led his own journey to find love. Clips of Brown speaking imply she was talking about following her own heart and wanting to find love. Weber then asks if she'd join the show.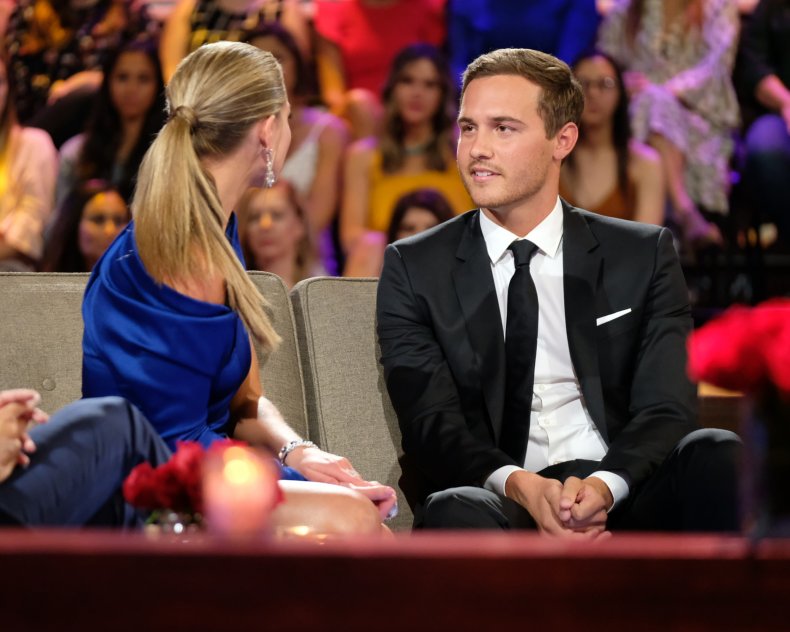 Spoilers about Brown's involvement on the show are already available online. Bachelor spoiler blogger Reality Steve first revealed Brown's visits in October. He recounted Brown's true lack of involvement in a tweet on Monday.
"B4 everyone freaks out when first promo airs tonight, Hannah WAS NOT a contestant on Peters season," the spoiler blogger wrote. "She gets out of the limo to talk to him night 1 (didn't join the party), & shows up on a date in ep 3 again to talk. Both were in LA. She just took a couple hrs off DWTS to do it."
Reality Steve expanded on this in an October blog post. "By the way, if any of you are still wondering why Peter was chosen as the 'Bachelor' this season, these spoilers are pretty much your reason why," he wrote about Brown's involvement, claiming the pick was premeditated. "They're weaving Hannah into as many storylines as possible. This wasn't done in a moment's notice."
He gave his opinion. "Shoe horning Hannah into the season to freak out the other women just seems kinda lame. I mean, these women all know she's on DWTS and will be for the next month and a half, right?" he wrote. "Hannah can't be a contestant on Peter's season. She's currently filming another show every day until the finale probably. So yeah, while they're in LA and it's a hop, skip, and a jump for Hannah to appear on Peter's season, it's easy to pull off. But Hannah isn't going to Ohio this week to show up again. Or head down to Costa Rica, Peru, and Chile in the coming weeks."
Despite the available spoilers, Twitter users gawked at the possibility of a Brown/Weber reunion. Some also asked why Dancing With The Stars and ABC would premiere a possibly emotional clip before Brown was scheduled to take the stage. Most claimed the storyline presented in the promo seemed inauthentic.
Brown didn't say much when asked if the "third time is a charm," by host Erin Andrews. Brown appeared on Colton Underwood's season of The Bachelor in early 2019.
Weber's season of The Bachelor just finished filming. Brown was not included in a spoiler list of his final three women, also by Reality Steve.