'My Big Fat Fabulous Life' Spoilers: Watch What Happens When Whitney Way Thore Makes a Mistake [VIDEO]
My Big Fat Fabulous Life star Whitney Way Thore might have taken on a little too much when she decided to take her Big Girl Dance Crew on the road. She and her friend, Todd Beasley, have been teaching a dance class in Greensboro, North Carolina, for years, but Whitney wants to expand her business. The only problem is that too many people might have signed up for the experience in Pittsburgh. According to her an exclusive clip obtained by Newsweek, friend Buddy Bell tells her they are over capacity by more than 200 people.
In a confession to TLC cameras, Whitney weighs her options. "Either I turn people away or I just have to do classes back-to-back," she says. "Both thoughts are terrifying."
"We'll go down, we'll go backstage and you fit as many as you can," Whitney tells Buddy about possibly solving the problem.
Todd is quick to blame Whitney. "Now, I know this happened because Whitney is not a tour manager," he tells the cameras. "We are dance teachers. Like, can we just go back to Greensboro and what we know where we know it."
Preview clips for Tuesday's episode show that Whitney and Todd bump into each other while on stage, but that the crowd didn't seem to mind the mix-up.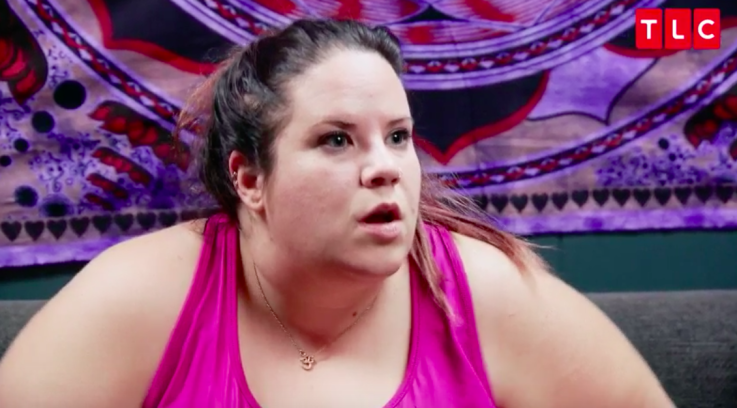 Previously, Whitney told Newsweek that she had recently gotten "wild" with her fitness journey. It's the first time she's taken her exercise routine seriously since 2011, but that at that time she had taken it too extreme. For years, she was afraid of becoming consumed by it again.
"I haven't trained very consistently since 2011. That was when I had lost 100 pounds and had an eating disorder. It was all a big mess," she said. "I think what I learned was that the gym environment, in general, felt threatening to me and it felt scary. It felt like I don't want to get back into this obsession. I think that's why I hadn't really given it 100 percent."
But in the past eight months, something new for Whitney clicked and she's found a new love for working out—and it doesn't have anything to do with losing weight. "I will say for the first time in my life I'm training real hard just for the sake of it," she said. "There's no expectation of weight loss. And I have lost weight, but I haven't tried, and that's never happened to me in my entire life. I started to really fall in love with my fitness family."
To find out what happens next for Whitney and Co., don't miss My Big Fat Fabulous Life when it airs Tuesdays at 8 p.m. ET on TLC.
'My Big Fat Fabulous Life' Spoilers: Watch What Happens When Whitney Way Thore Makes a Mistake [VIDEO] | Culture