Spoilers Claim The Next Bachelor Has Been Chosen, and Some Fans Aren't Happy
A handful of men were in the running to be the next Bachelor, but one has ultimately won the title, according to Reality Steve. Bachelorette viewers on Twitter had some passionate opinions about which man should take the lead role as it came down to Tyler Cameron, Mike Johnson and Peter Weber.
Johnson and Weber had a rally of public support after all three men appeared on Hannah Brown's season of The Bachelorette. Johnson's support came from those who felt he went home too soon, and Weber's from those who wanted to see him win.
Cameron was seemingly the majority fan favorite on the show, though, but host Chris Harrison implied Cameron may not land the role after he started publicly dating model Gigi Hadid. In Harrison's words, the Bachelor needed to be "sincere" and because of his outside dating, Cameron may not be that, he told Entertainment Tonight at the start of August.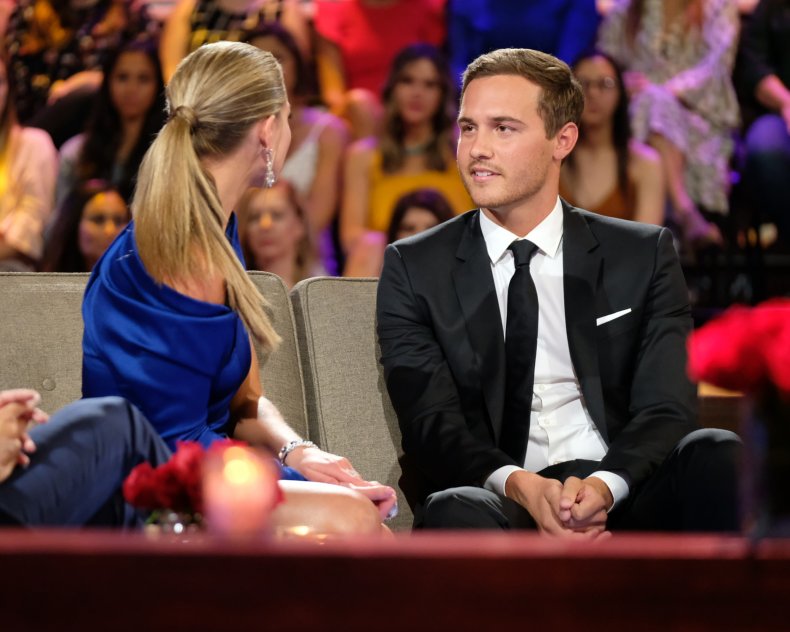 Outside of the show, singer Demi Lovato had expressed interest in a date with Johnson, though it appears the two never met up: at least not publicly. Weber has stayed primarily out of the spotlight, except for drama that claimed he had a girlfriend shortly before he left to film The Bachelorette.
A woman named Calee Lutes claimed Weber ended their long-distance relationship via FaceTime, two days before Christmas in 2018. " Things didn't work out simply because he chose to go on The Bachelorette instead," she told Entertainment Tonight in July.
Lutes claims came just after new Brown's final choice, Jed Wyatt, left a girlfriend at home to film the show. The news, which sparked a public backlash against Wyatt, led to the ultimately broken engagement between Brown and Wyatt.
So who will be the next Bachelor? Though Johnson seems the only frontrunner with no public drama holding him back, spoilers say Weber has officially accepted the position. His position will be announced in the next two weeks, Reality Steve claims.
The popular spoiler blog revealed Weber's new role in a tweet on Sunday. It explained Weber's name is not a prediction or a rumor, and the spoiler site simply stated: "It's him."
Fans were immediately disappointed in the comments because Johnson could have been the first, African American Bachelor. The franchise only just had its first Black Bachelorette with Rachel Lindsay in 2017.
Others are thrilled to see Weber in the lead role, as many have been outspoken about his "nice guy" aura.