'Dr. Pimple Popper' Spoilers: What Is A Ganglion Cyst? About The Lump Sandra Lee Cannot Remove
Dr. Sandra Lee, better known as "Dr. Pimple Popper," can seemingly do anything when it comes to dermatological problems. Even though ganglion cysts are not cancerous, she cannot permanently help "cysters" Lauren and Aziza when they come to her for help, as featured on Thursday's edition of the TLC reality show.
Since Lauren and Aziza have matching bumps, they joke that they're in a "cysterhood." They make Lee laugh when they "cyst bump" their lumps together.
"These two women—who met on the internet—they are the cutest," Lee tells the TLC cameras. "It's the weirdest thing. It's as is they've known each other for years and years, yet this is the first day they've ever met in person. It's very unusual to have matching bumps and I think cysts really brought them together. They are truly 'cysters.'"
Upon examining the friends, Lee determines they have ganglion cysts. They are noncancerous lumps that are usually on top of the joints or tendons of hands and wrists. The sacs are filled with fluids that the body makes to help lubricate the joints. For whatever reason, sometimes the fluid pops threw and fills up a bubble in the hands or wrists. Lee describes it as a "hair gel-like substance."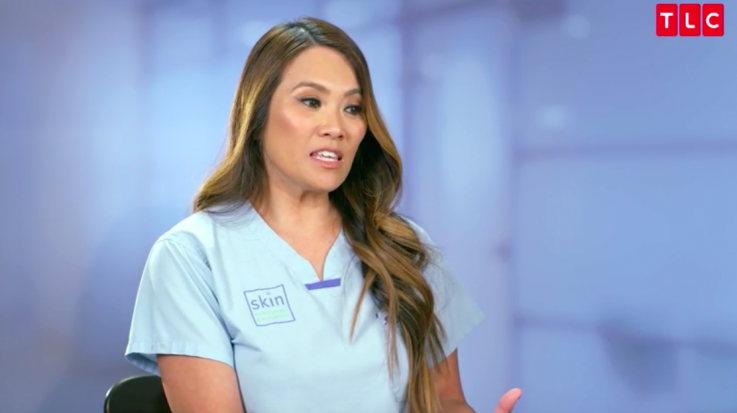 They normally are not painful unless they are on the nerve and they typically do not interfere with movement. According to the Mayo Clinic, they are relatively common, with more than 200,000 cases per year. The cause, however, is unknown. They sometimes go away on their own, but if not, they can be removed or drained by a doctor.
But because of its location, Lee explains why she may not be able to remove it permanently. "They are connected right between the bone," she tells her patients. "They're down underneath there—deep—and that's a little too far for me as a dermatologist to get to. A lot of times, if my patients have them, a lot of dermatologists can either refer them directly to orthopedics or a hand surgeon because if you want to get rid of it definitely, you want to go in there and seal that connection."
While Aziza and Lauren were disappointed, Lee tells them she will attempt to extract some of the fluid and make the bump as flat as possible. She just can't promise that it won't come back.
'[I'm] really nervous about the idea of having to get another procedure after this one, especially if Aziza isn't with me," Lauren tells the cameras.
"I know," Aziza adds. "That was a little disappointing but she did say she could go in and actually remove the fluid from the cyst so we won't have the same problem when we leave here so that's good."
To find out what happens next, don't miss Dr. Pimple Popper when it airs Thursday at 9 p.m. ET on TLC.
'Dr. Pimple Popper' Spoilers: What Is A Ganglion Cyst? About The Lump Sandra Lee Cannot Remove | Culture