'My Big Fat Fabulous Life' Spoiler Video: Whitney 'Wants to Die' While Hiking for Alaska Preparation
My Big Fat Fabulous Life star Whitney Way Thore is training for her trip to Alaska, but she might have overestimated herself. On last season of the hit TLC show, Whitney attempted an 8K race in Hawaii, but things didn't go as planned and she struggled to finish. This year, Whitney wants redemption and is planning to complete a ten-mile Whit-a-thon, where she plans to complete a bike ride, hike, and also rappel down the side of a mountain.
The only problem is that she might not be prepared. "There's a part of me that's like OK, Whitney, you should just turn back because this is already difficult and this just isn't safe. Then, there's the other part of me that's like if I can't do this then I can't do Alaska," she says in an exclusive sneak peek clip, obtained by Newsweek.
She's overwhelmed with the task. "How many steps is this?" she asks her hiking partner. "I can't even see the top."
It's certainly more than she planned to do. "There are steps and steps and steps," she remembers in a confessional. "If I had known that this is what it was I would have never have come here. It's rainy and slippery and that makes me nervous. My body doesn't feel stable: Like I'm going to slip and fall. I don't really trust my body in this situation."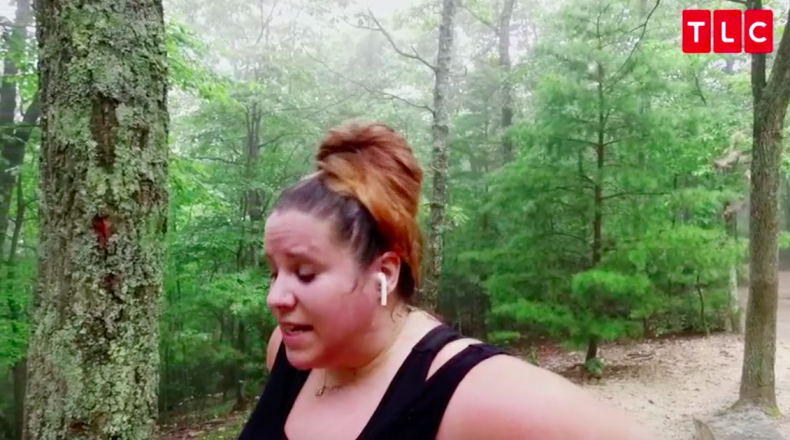 Whitney continues: "This trail isn't even a quarter of what I have planned for Alaska and it's already so hard that I want to die. I don't know what I was thinking. I might have to reevaluate this entire thing."
It's also revealed in the episode that Whitney is in better shape than last year, but she's worried about her eating habits and obsession workouts. They are reminiscent of a time when she had an eating disorder and she wonders if she will need to seek treatment.
Whitney previously told Newsweek that she's on a journey to become healthy, but that weight loss is not her main prerogative.
"All of a sudden—about eight months ago—something just changed for me. I started to really love working out. For the first time in my life, I'm training really hard just for the sake of it," she said. "There's no expectation of weight loss. I have lost weight, but I haven't tried, and that's never happened to me in my entire life. I started to really fall in love with my fitness family."
To find out what happens next, don't miss My Big Fat Fabulous Life when it airs Tuesdays at 8 p.m. ET on TLC.