Spoilers: What 'Married at First Sight' Season 9 Didn't Show You About Matt and Amber
Married at First Sight has arguably never seen a bride as taken with her new husband as Amber Bowles was with Matt Gwynne on their wedding day. Amber continued to gush over her new partner, slathering him with kisses and compliments. While it seemed like a good start—despite Matt's family not being at the wedding—there was one thing Married at First Sight didn't show viewers.
Amber was undeniably pleased with Matt's looks, but she was skeptical about his heart. "I do think Matt is super cute... his smile is just wow. On our wedding day, he did seem kind of closed off and his walls were up, so from the start, I was a little worried about having a successful, lasting marriage with him," Amber told Reality TV World. "For me, I came into this with my walls down and my heart ready to invest in the other person, so I was hopeful my husband would do the same."
When Amber met with the experts, it was most important for her to be with someone who was kind—not handsome. "I requested a guy who wouldn't be bothered by my Tomboy ways," she said. "I asked the experts for someone who was expressive and communicative, and more than anything, someone who was kind. Looks were never anything that I was concerned about because attraction can grow, but being a good person is innate."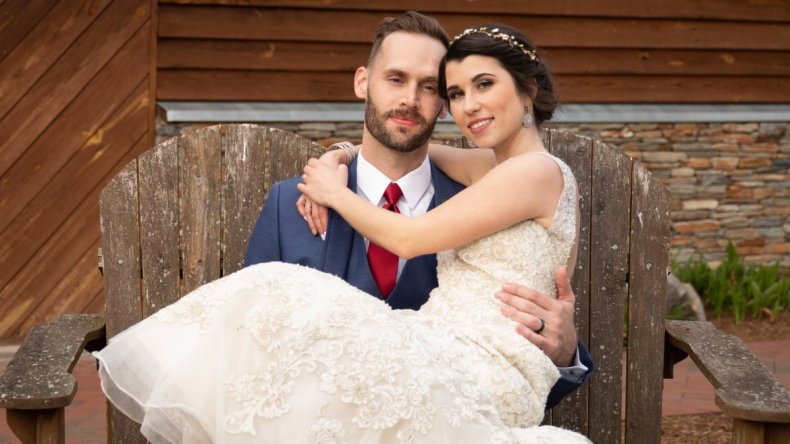 Matt's walls being up could potentially be a problem for the couple. On a preview for the upcoming season, a friend tells Amber that he saw Matt at a bar with another woman. That doesn't necessarily count as cheating, but Amber's tearful reaction to the news arguably makes it worrisome.
In talking to the cameras on his wedding day, Matt admits he wasn't ready to be so enveloped with Amber. "Today I married a stranger and she is beyond what I expected," the 31-year-old athlete said. "There's a connection there that I was not ready for. It's not awkward and it's not weird to be around her." He added, "My wife's very forward and it's not what I was expecting but wanting to kiss and make out with me just makes me more attracted to her."
Amber didn't reveal any of her trepidation to the cameras, instead, she only focused on Matt's looks. "He has really good lips," Amber told her guests at the wedding. "I kiss my husband quite a bit because he's so hot and I feel bad because I should not be this forward but he is so cute I just can't stop."