Ethan Slater Talks About Playing SpongeBob SquarePants on Broadway
Since SpongeBob SquarePants premiered on the Nickelodeon channel in 1999, the yellow sponge has managed to become a beloved household name. Nearly 20 years later, the famed cartoon was resurrected when SpongeBob SquarePants: The Broadway Musical debuted in December 2017.
The show's equally lovable star, Ethan Slater, was thrilled to land the role. "It is an honor that I didn't know I wanted. Playing SpongeBob...it's amazing," Slater, 25, told Newsweek. "I would say that SpongeBob at his core is this optimistic, loving, best friend. Getting to play him every day has sort of rubbed off on me and improved my life."
The musical, directed by Tina Landau, tells the story of Slater's SpongeBob banding with his underwater friends to save their world from destruction. It features original music from John Legend, Lady Antebellum and Sara Bareilles, among several other big names.
As a child, Slater was a casual watcher of the animated series that inspired his Broadway role, watching it at friends' houses after school, since he didn't have cable. In high school, the Washington, D.C., native played an active role in the school's theater department and also was on the wrestling team, which he said "helped in a lot of ways" when playing SpongeBob: It takes a lot of flexibility to pull off the character who lives in a pineapple under the sea.
Slater, a Vassar College alum, was recruited to play SpongeBob due to his "shape" after he auditioned for a role in Shakespeare's Romeo & Juliet. Slater didn't mention if shape was a literal term, but the musical was a pretty big secret for years.
"This was six years ago. I did workshops and development stuff for years. I think it finally became public only two and a half [to] three years ago," Slater explained. "It was a good two or three years of sworn secrecy in which nobody I was close to knew I was working on it. I didn't tell anyone."
On the Nickelodeon show, SpongeBob is voiced by actor Tom Kenny. Slater tells Newsweek that he didn't audition with SpongeBob's signature voice, which he chalked up to nerves. In recognizing that the voice is a "big part" of what makes SpongeBob himself, he did his homework to get it just right.
"It really took a number of years of working it into my body instead of having to push it into this nasally place," Slater said. "I think it's taken a while for it to be something that feels comfortable and second nature. The most important things to Tina about the show—and everyone—is that it comes from a very truthful, emotional place."
Slater's hard word is paying off with fans and critics alike, and his performance has generated early Tony buzz. "The human element of this story makes it relatable," Slater said. "We're not playing to the lowest common denominator. This is a story worth telling, and I'm really proud with the way it's being told."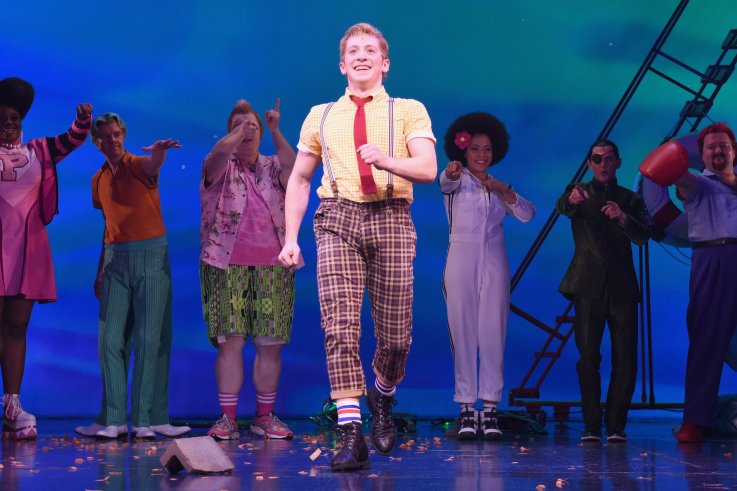 Ethan Slater Talks About Playing SpongeBob SquarePants on Broadway | Culture