New SpongeBob Meme Toys Bring Mocking SpongeBob, SpongeGar and More to Life
To celebrate 20 years of SpongeBob greatness, a new line of Spongebob Squarepants Meme toys has been released. Find out when and how to buy the new collectible figurines, including Mocking SpongeBob, here.
"Are you ready kids!?!"
In celebration of a wild and crazy 20 years of Spongebob Squarepants, Nickelodeon has released a brand new collection of Spongebob Squarepants figurines that capture the true essence of what Spongebob is all about -- the memes of course.
Though the show was initially billed as children's entertainment, Millenials who grew up with the antics of Spongebob and his oddball friends have carried the beloved character with them into adulthood, making the show a multi-generational hit.
As the ultimate tribute, many of Spongebob's most memorable moments have been transformed into meme form and virally distributed across the internet by its fandom.
What better way then to celebrate the childhood icon than to take some of the most well-known Spongebob memes and turn them into collectible figurines?
With the new Spongebob Squarepants Masterpiece Meme collection, Nickelodeon has done just that. Taking five of the most popular Spongebob memes and transforming them into 8-inch collectible figurines, fans can now proudly display a tangible symbol of what Spongebob means to them. The new figurines come in an attractive window box packaging that makes them perfect to display both in and out of the box.
The collection features the following memes:
Mocking SpongeBob
Imaginaaation SpongeBob
Surprised Patrick
Spongegar
Handsome Squidward
Where to Buy Spongebob Squarepants Masterpiece Meme Figurines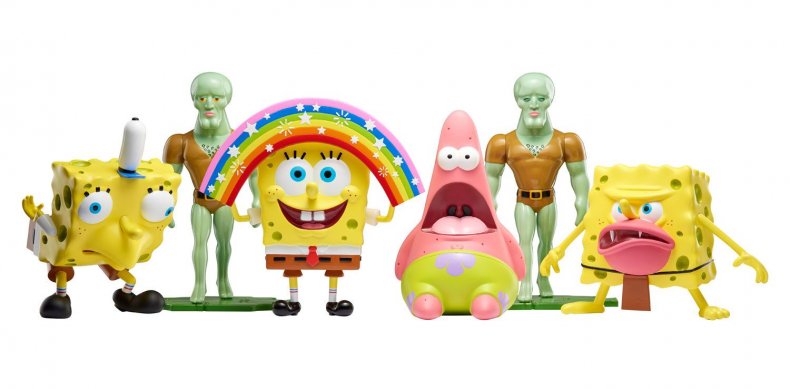 The figurines were first announced in February and showcased at the International North American Toy Fair the same month. The toys were made available on Amazon April 24 and can be purchased for $21.99 a piece. At the time of this writing, all the memes are available except the Mocking Spongebob figurine, which has either not been released or is currently sold out. You can find and purchase all the currently available figurines here. Once the Mocking Spongebob Masterpiece Meme figurine becomes available again, we'll be sure to update this post.
In the meantime, please enjoy this collection of Spongebob Memes to tempt you all the more.
Watch: Mocking Spongebob Meme
Watch: Handsome Squidward Meme
Watch: Surprised Patrick Meme
Watch: Caveman Spongegar Meme
Watch: Imaginaaation SpongeBob Meme